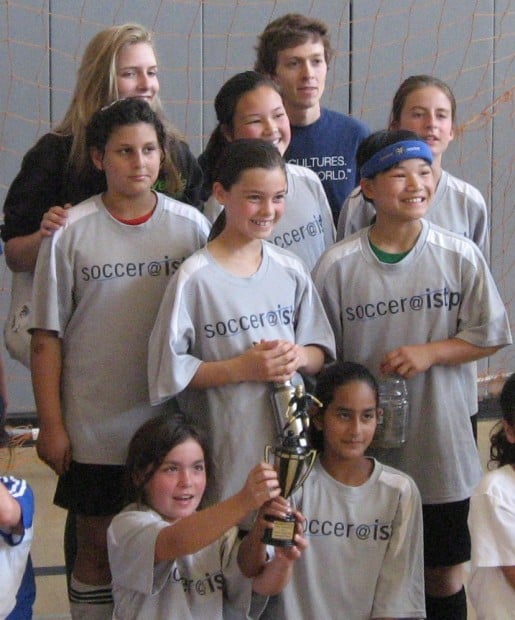 Our journey into an expanded sports program continued this spring with a one-day futsal tournament hosted by the French American International School in San Francisco.
Leading up to the tournament, our student-athletes had busy weekly after-school practices led by one of our alumni, Lucas. Despite graduating this year and playing for a local soccer club team, Lucas somehow found time in his busy schedule and graciously accepted to coach for a second season. As you may remember, Lucas had coached the INTL* team last year for the Tournoi des Amériques.
During these practices, the students learned key individual futsal skills through challenging drills. While teamwork was not particularly focused on, it was an inherent part of pickup games, which typically ended the practice sessions.
The tournament's 4-game schedule over 2 hours created a great challenge that our older players were able to overcome, but was slightly more difficult for our younger 4th grade team, as they finished 3rd overall. A scheduling conflict also led to a last-minute coaching change, which may have caused some confusion.
The experience gained in the Winter Futsal League was certainly apparent in the boys' 5th grade team and the girls' 4th/5th grade team, as our players were more confident and made more precise passes. Both teams finished 2nd in their respective groups.
This is a great case to expand our winter futsal program to the 4th grade classes.
The focus now shifts to our fall season, for which we should have some exciting news coming in the next few months.
Have a great summer!
*In 2020, the International School of the Peninsula (ISTP) formally changed its name to Silicon Valley International School (INTL) to better reflect its bilingual programs, location, and international values.