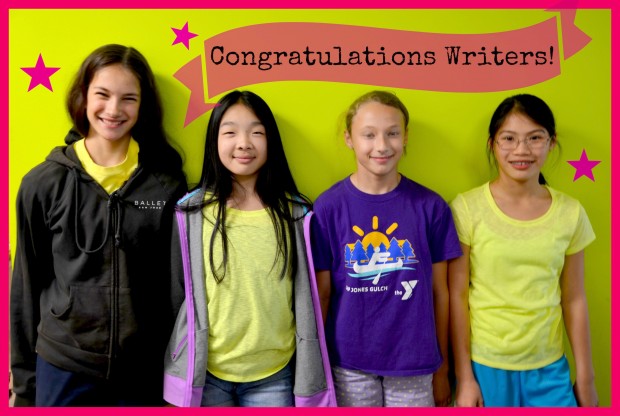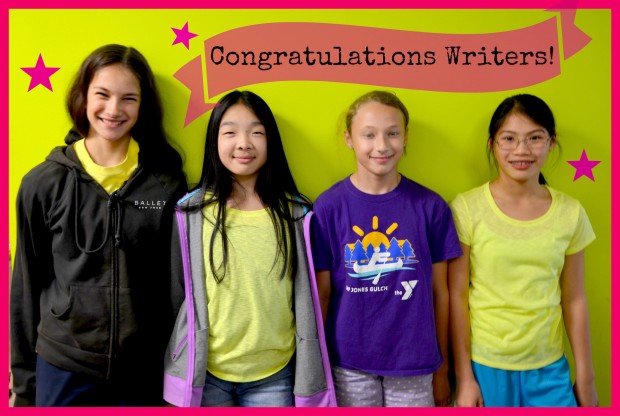 This past Sunday, four INTL* 6th Graders were honored for their excellence in creative writing at Mercy High School in San Francisco. Catey V., Ariana P., Alexa N., and Marnie D. all won awards in the 5th and 6th Grade division of the California Council of Teachers of English Writing Competition.
Alexa N., Ariana P., and Catey V. were all honored for the myths they wrote as a final assignment for their unit on Greek Mythology in English teacher Heidi Smith's class. All three winning students dreamed up incredibly creative tales. Alexa N. won First Place for her story about the goddess Delphin and how floods first came to the earth. Catey V. was awarded Writer of Distinction for a story featuring a cook-off between a masked girl and Zeus' chef. Ariana P. also won Writer of Distinction for her myth about how the solar system was made.
Marnie D. was recognized as a Writer of Distinction for her beautiful poem inspired by the novel Tuck Everlasting. Marnie did not write the poem as part of a class assignment, but wrote it simply because she loves to write!
At the awards ceremony, each student read her piece out loud. Marnie reported that although she was "nervous and shaking" before she read her poem, in the end the day was "really fun." All four girls read very confidently. Each was awarded a certificate of recognition and a gift card to Barnes and Noble. The winners' proud parents and teacher Heidi Smith were on hand to celebrate their achievements.
During the ceremony, the contest director pointed out that every one of the four winners in the 5th and 6th grade division came from INTL! He identified teacher Heidi Smith in the audience and everyone clapped. Catey V. said, "There were only 14 kids honored, and it was really cool that 4 were INTL. The whole 5th and 6th division was INTL!" It was a very proud moment for INTL, made possible by our four very talented writers!
*In 2020, the International School of the Peninsula (ISTP) formally changed its name to Silicon Valley International School (INTL) to better reflect its bilingual programs, location, and international values.