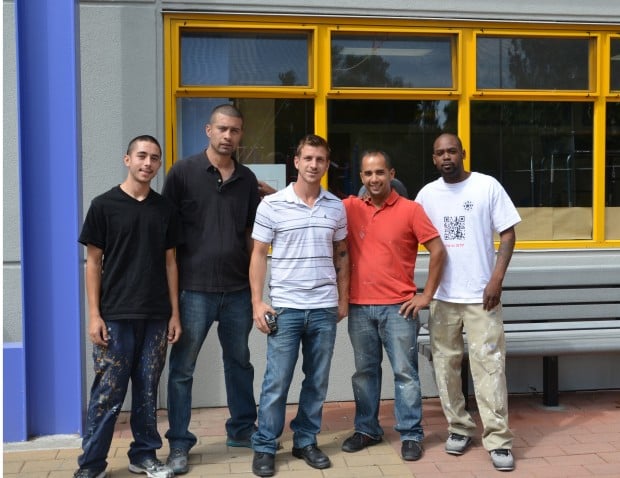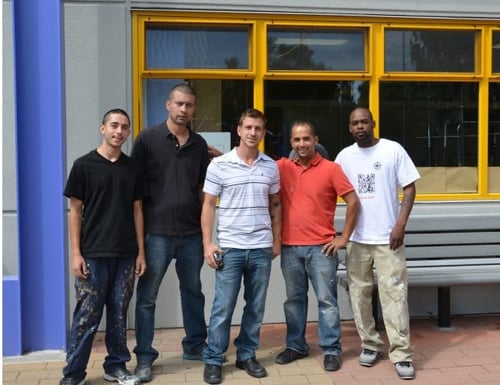 When school starts again next week, our students will return to an impressive new Cohn Campus. Seeing the end result of the transformation that took place over the summer, it is easy to forget all the time, sweat, and hard work that went into making all these changes possible. INTL*s maintenance team, working alongside the general contractor's crew throughout the summer, was the central force that helped make our vision for Cohn Campus a reality. The INTL community is truly in debt to the team, including Facility Manager Nic Guèdenet, and Maintenance Associates Joel Ockimey, Ramiro Rodriguez, Jose Barron, and Rafa Barron.
The crew went above and beyond expectations, and showed incredible dedication to finishing the difficult Expansion for Innovation renovations in time for our students to return to class next week. It was not an easy task. Nic Guèdenet reports, "This was the busiest summer of our lives, and the hardest we have ever worked. My guys worked 10 to 14 hour days, 6 days a week. There was definitely more work to do than we had time to do it. I really can't believe how much we worked."
From demo to painting, to constructing furniture and eventually putting our classrooms back together, the maintenance crew had a hand in every project happening on Cohn Campus. The crew was in charge of repainting every inch of the school, inside and out. This "saved INTL a lot of money compared to what the contractor would have charged for the same service," reports Director of Finance and Operations François Guèdenet. "They did all the normal things they do each summer, in addition to all the exceptional things they had to do for the renovation," Francois adds, which added up to a monumental undertaking.
Vance Brown Contractors brought a huge crew to Cohn as well, and throughout the summer the campus was swarming with workers all working towards finishing the renovations on time. All these workers had to be organized and supervised, "Nic did a tremendous job coordinating all our personnel and coordinating with the general contractor," Francois says.
Luckily, the summer weather was rather mild. Still, Nic recalls a two-week heat wave that made working conditions challenging. On top of the heat, "the air conditioning had to be shut off to minimize dust. It was 90° outside and 100° plus inside."
Our steadfast crew persevered and helped create the amazing new learning environment our students will soon be able to enjoy. They should be proud of all their hard work. At the recent staff retreat, Head of School Philippe Dietz thanked the maintenance crew for all they had done, adding, "they always did it with a smile." Because of their hard work, "Everything we have envisioned has become a reality."
*In 2020, the International School of the Peninsula (INTL) formally changed its name to Silicon Valley International School (INTL) to better reflect its bilingual programs, location, and international values.