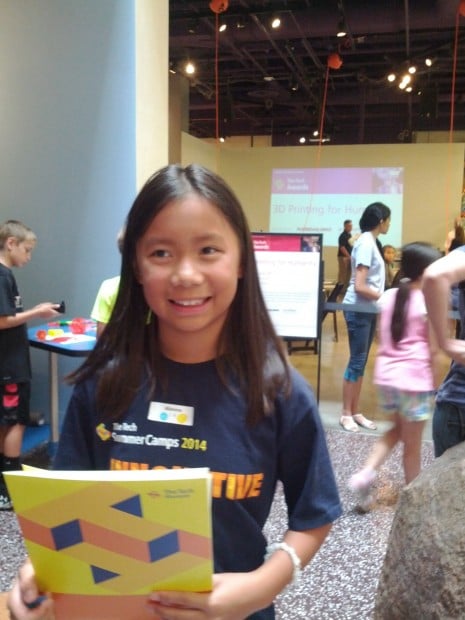 At INTL*, we try to nurture our students' talents, and to give them a love of learning that motivates them to pursue their passions. 5th grader Alanna Y. is a perfect example of an INTL student who finds something she loves and pursues it with enthusiasm, hard work, and creativity.
Alanna, a 5th grader in INTL's Chinese Program, first discovered 3D printing when her friend showed her a frog figurine she had made using a 3D printer. "It looked really cool," Alanna says, and she became inspired to try 3D printing herself. Alanna's favorite subjects in school are art and science, so 3D printing, which combines both her interests, was a perfect fit.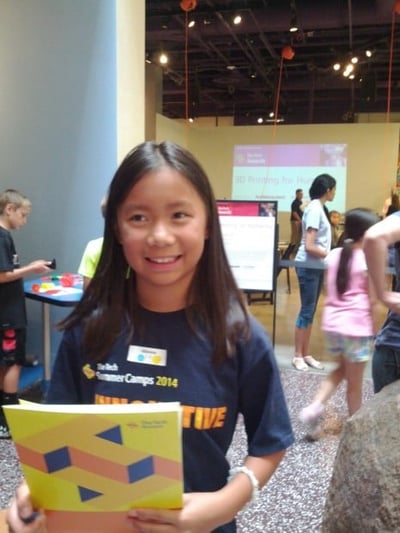 This summer, Alanna's mother helped her find two camps where she would be able to try 3D printing technology. At one camp, Alanna was able to design and print both a penguin and a cube on a 3D printer.
Alanna explains, "To make a 3D print, you use a special program to design things out of shapes. Then, you can print things out in 3D instead of 2D. Sometimes it takes a few hours to finish because it prints it layer by layer." The designer can choose what color plastic to print with. For example, Alanna used green plastic to create her 3D penguin.
The design aspects of 3D printing come quite naturally to Alanna, who has always loved art class, especially painting and drawing with pastels. At INTL, we understand the importance of incorporating both technology and design-thinking into our curriculum, and it is satisfying to see a student employing these skills doing something she loves.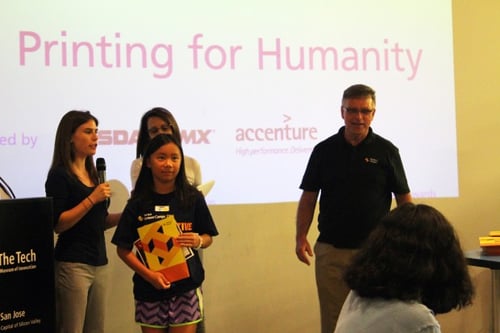 One of the camps Alanna attended this summer was at the Tech Museum in San Jose. At the Tech, Alanna and her mother saw a flier for The Museum Scholarship for Young Social Innovators – 3D Printing for Humanity, which included the opportunity to participate in a special 3D printing workshop. It seemed like the perfect opportunity for Alanna, and she decided to apply.
Alanna's mother Anita explains that the program "was open to competitive application to high school students, but Alanna was enthusiastic about the technology-in-humanity program, and decided to apply anyways."
Her talent and enthusiasm for the technology were very apparent, and Alanna was "the only elementary school student in the entire application pool to be awarded the scholarship."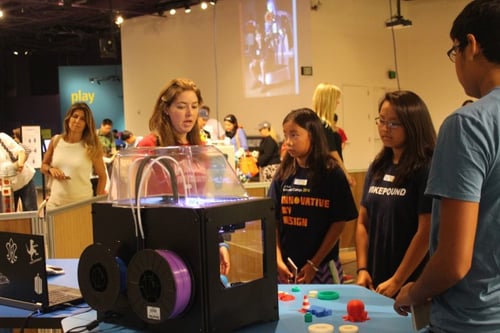 To compete, applicants had to propose a way that 3D printing might be used in the future to help humanity. "Her winning essay was about how she could use 3D printing technology to print human body parts for medical use (in transplant and emergency) especially in remote places in the world," Alanna's mother explains, adding that "thanks to Stephanie's dissection class in 4th grade, Alanna has developed a keen interest in the human body."
"Science is one of my favorite subjects. Last year we dissected a cow heart with Stephanie, and I liked it a lot," Alanna adds.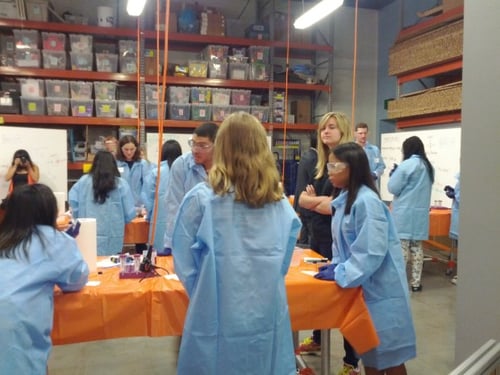 Alanna got the idea for her winning entry when she saw a story on the news about indigenous people in the Amazon who lived very far away from any medical facilities.
At the awards ceremony and 3D printing workshop at the Tech Museum, Alanna created a 3D DNA molecule. Next, she says, she would like to print a 3D octopus.
For anyone interested in 3D printing, Alanna says, "You should try it. It's fun!"
INTL is very proud of Alanna for finding a technology she was passionate about and pursuing it with enthusiasm and creativity.
Congratulations Alanna!
*In 2020, the International School of the Peninsula (ISTP) formally changed its name to Silicon Valley International School (INTL) to better reflect its bilingual programs, location, and international values.