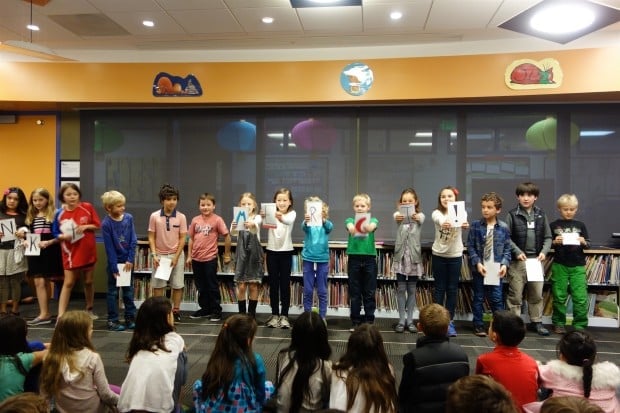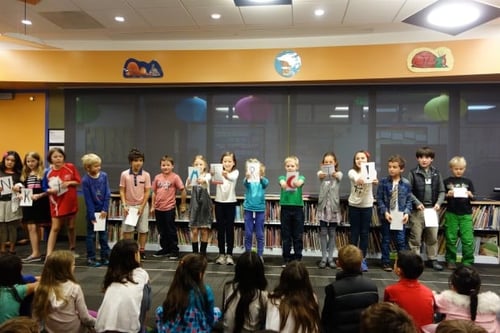 One morning, the whole of third grade went to the Bean-O'Sullivan Media-Hub and participated in a poetry slam. We had a poetry slam because we were learning about poetry in all three third grade classes. The poetry slam was truly amazing and fascinating. We heard and recited poems in English, French and Chinese.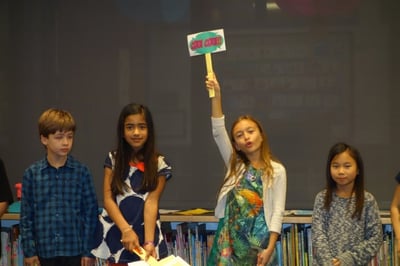 Third grade Vincent/Jacqueline went first to recite some poems. They did some famous English poems (including one by Maya Angelou) and some of their own poems and then they started some French poems. The French poems were written by the pupils but based on real and published French poems.
The next class to go was third grade Ya-Ching/Mike. Both classes went up together. At first, they recited some of their own poems in English, then some English class poems, and then they started their Chinese ones. When they recited their Chinese poems, each student had about 2-4 lines to say. They all stood in groups based on what they said, and each group had 3-5 people.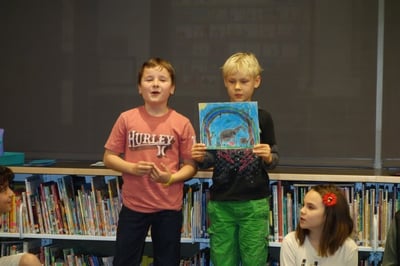 Third, was Valerie/Jacqueline's class (my class). This was the one I know best. First we all recited some of our own poems in English. Almost everyone recited their own, except for some students who didn't want to recite more. Then we recited, "The Dentist and the Crocodile" by Roald Dahl. It was rather a long one but it was easy to memorize because of the rhymes. Then we recited a shorter but more complex (to understand) poem called, "Stopping by Woods on a Snowy Evening" by Robert Frost. Then all of us recited some French poems. One very unusual part of third grade Valerie's poetry slam was one French poem. Some people read the poem and others acted it out. One funny part was when two young ladies, Aurélie and Libby, started blowing kisses to the main character, Alexi because it said to do so in the script.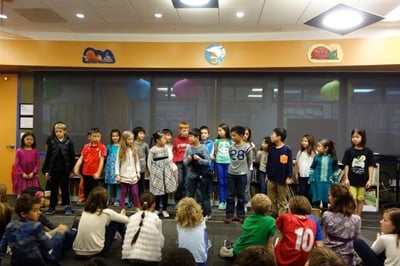 At the end, everyone had snacks at the tables and talked to parents, adults or friends because the poetry slam had ended and we had some time before recess.
I really liked the poetry slam because it was fun hearing other poems. It was super exciting getting to see people reciting poems to the audience. I think that when the children in the Chinese program recited their poems in groups and with music, it was very entertaining. I also liked when 3rd Vincent/Jacqueline's class did poems with anagrams.
At the end, the parents said goodbye to the children, the children said goodbye to the parents and the children and teachers went back to class to learn. And that is how it comes to…The End!
*In 2020, the International School of the Peninsula (ISTP) formally changed its name to Silicon Valley International School (INTL) to better reflect its bilingual programs, location, and international values.