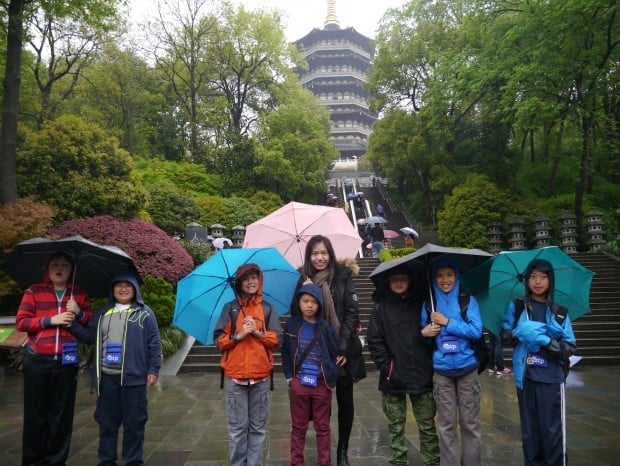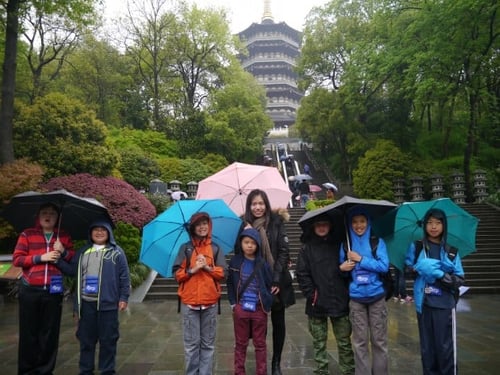 The Chinese Program 4th Graders are in China for a 9-day cultural exchange trip. Students will be living with Chinese host families and attending school in the city of Hangzhou, experiencing Chinese life and culture firsthand. Chinese Program Director Chris Livaccari is accompanying our students, and offers his insights into this wonderful experiential learning opportunity.
Arrival in Shanghai: We started the day with tours of the Bund and the French Concession, and a shopping experience among the stores that line the streets around Yu Garden. You'd be amazed at the aggressive bargaining skills some of our students have!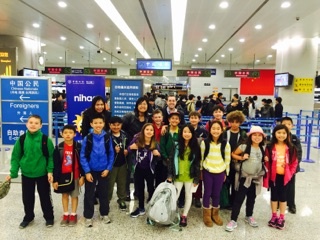 Everywhere the students went, they were a big hit, and had lots of compliments about their Chinese and their intuitive feel for Chinese culture.
We also gave them a Shanghai history lesson to help them understand what it means to have other countries carve your city into "concessions" the way the Western powers did to Shanghai between the end of the Opium Wars in the 1840s and the end of World War II. But I think the shopping ultimately made a bigger impression!
We ended the day at the feet of the three giant skyscrapers that dominate the Pudong skyline, and made our way to the top of the Shanghai World Financial Center, now China's second largest building (and the world's seventh). Unfortunately our view was blocked by massive rain clouds and fog on all sides. It usually provides quite a spectacular nighttime view of all of Shanghai.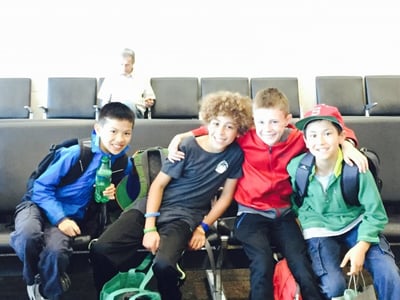 At the end of the evening the kids had a chance to socialize together in their rooms to celebrate the end of their time in Shanghai, after which we had them all get settled back into their rooms.
Tomorrow morning we leave early for Hangzhou. We'll start with an overview and city tour, followed by arrival at school and meeting with the host families.
So far, the kids have been just fantastic, and have showed a lot of mutual respect and collaboration, patience, and an openness to new experiences and perspectives. Those global skills that are part of the INTL* package are starting to manifest themselves, which is a very good thing indeed.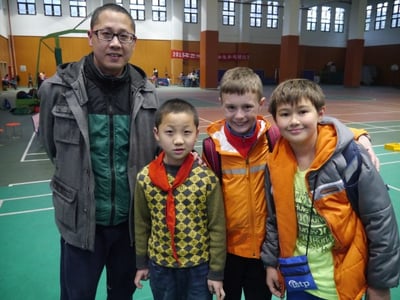 Arrival in Hangzhou and First Night with Host Families: The students did a great job on a cool and rainy Tuesday in Hangzhou with their first foray into the historic and cultural legacies of the city. They toured some of the famous sites on and around the West Lake that are the setting for such classic Chinese stories as The Story of the White Snake.
They were impressed by the sprawling campus at our partner school and enjoyed their first meetings with the host families. We are looking forward to a wonderful week with them.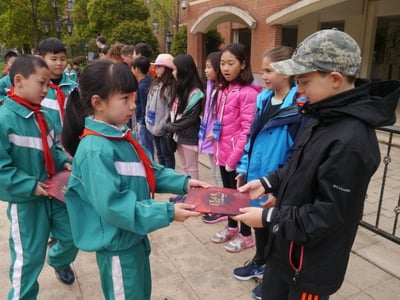 First Day at School: Today was the end of our first full day at school in Hangzhou and the kids had a blast. They sampled traditional Chinese foods and deserts, tried their hands at calligraphy, and joked and played basketball with their Chinese and American classmates.
The kids came up with a lot of ideas comparing Chinese and American schools and lifestyles.
Everyone was in good spirits and starting to feel more at home in their new surroundings. We're looking forward to seeing them in the morning. The teachers and I met with all the host families at school yesterday and tomorrow we will visit each host family at home.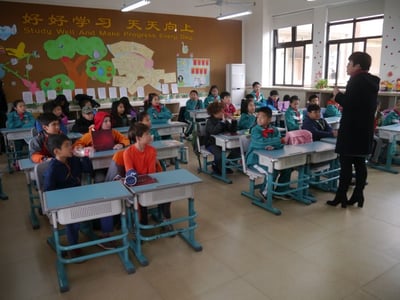 The kids are looking forward to their lesson tomorrow on Chinese cuisine and dumpling making.
Thursday and Friday in Hangzhou: We had a great day today in Hangzhou! The students made dumplings, played Chinese chess and ping-pong, and participated in a relay race with their Chinese peers. They also showed off their soccer and basketball skills.
In addition, they worked with the Chinese students during math and science class, and had a full day of new experiences. Our kids are becoming quite the celebrities at school!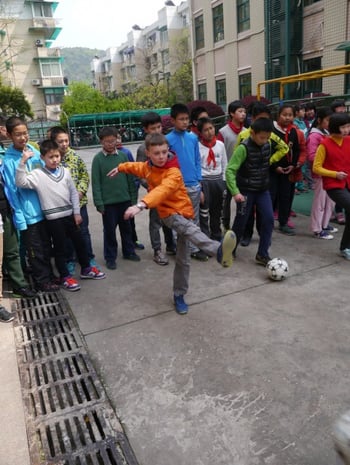 Ying, ChuHsi and I visited the host families yesterday evening to thank them for their generosity and check in on how things are going. Everyone is doing well and looking forward to the warmer weather this weekend. All of the families live in a lovely new development with lots of trees, grass, and flowers.
It's early Friday morning in Hangzhou and the students are looking forward to their Chinese music class today.
*In 2020, the International School of the Peninsula (ISTP) formally changed its name to Silicon Valley International School (INTL) to better reflect its bilingual programs, location, and international values.