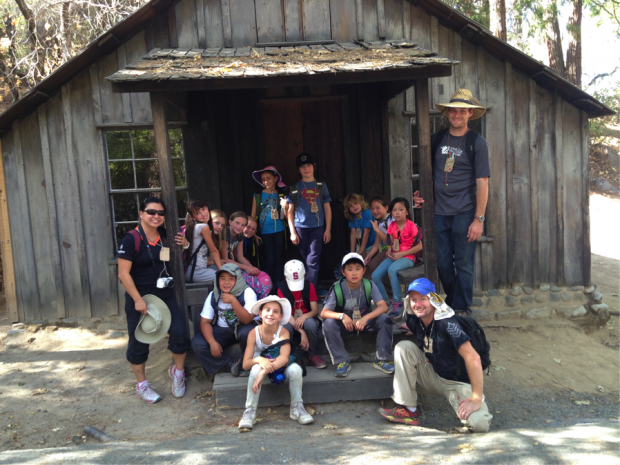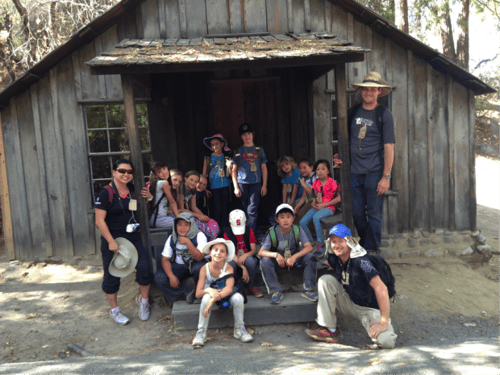 On Wednesday, September 23rd, the fourth graders made their way to Coloma, the center of the California Gold Rush. The children were transported back to 1848, when gold was first discovered on the American River by James Marshall. On our first day at Coloma, the greenhorns (a term to describe people new to the Gold Rush) lived life as 49ers as they made cornbread using a Dutch Oven, built their own settlements, learned how to wash laundry, visited the country store, and learned how to pan for gold. After all of that adventure, the miners were ready for fun that night! We had our very own hoedown in which we learned all kinds of new dances, and heard the live music of Slim Pickin's!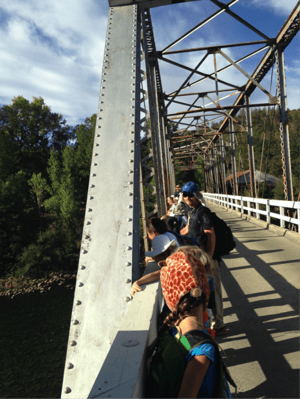 After such a wild day, we were happy to sing songs around the campfire and fall asleep with friends in the bunkhouses.
We woke up early the next morning, ready for another day's worth of adventures. After a delicious breakfast, we hiked to the Gold Fields, where we started by seeing the exact spot where James Marshall found gold, and saw John Sutter's sawmill!
After that, we started on our six-mile hike on Monroe Ridge. We saw lots of amazing plants and animals. Our naturalists told us all about the different uses of each of the plants, and even helped us to teach about some of what we saw! Along the way, we had lunch, doused our warm heads with plenty of water, played games, and went on a silent hike. At the end of our hike, we stopped at James Marshall's monument and grave. It was so interesting to learn about what happened to James after he began the California Gold Rush. We also got to see his house (it was much smaller than you might expect for the first person to find gold in California!).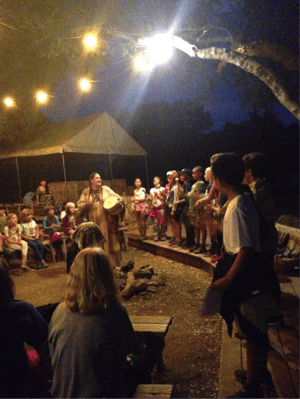 When we returned back to camp, we had some much needed showers and dinner. Many students did a lot of gold panning in order to strike it rich in Coloma!
After dinner, we experienced one of the best parts of our trip - a presentation by Kimberley Shining Star, whose ancestors are from Coloma and are a part of the Nisenan and Miwok Native American tribes. She told lots of amazing stories and played music using her homemade instruments- she even let some kids play them!
We had another relaxing night's sleep and woke up the next morning ready to stay for another week at Coloma!
We spent the morning discussing how to conserve and save the environment we have left since the gold rush. Finally, students were able to put their gold pouches in the American River to become Sourdoughs (a term used during the gold rush to show experience in the gold fields). As we returned home that afternoon, we were all smiles thinking about our amazing trip to Coloma Outdoor Discovery School.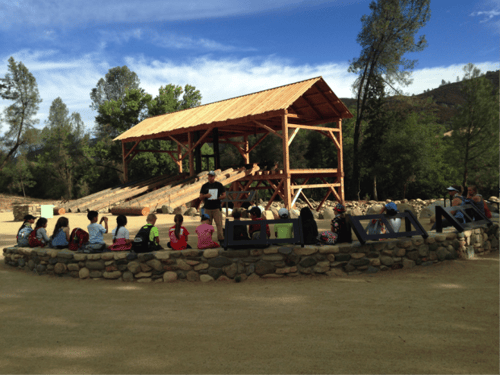 *In 2020, the International School of the Peninsula (ISTP) formally changed its name to Silicon Valley International School (INTL) to better reflect its bilingual programs, location, and international values.