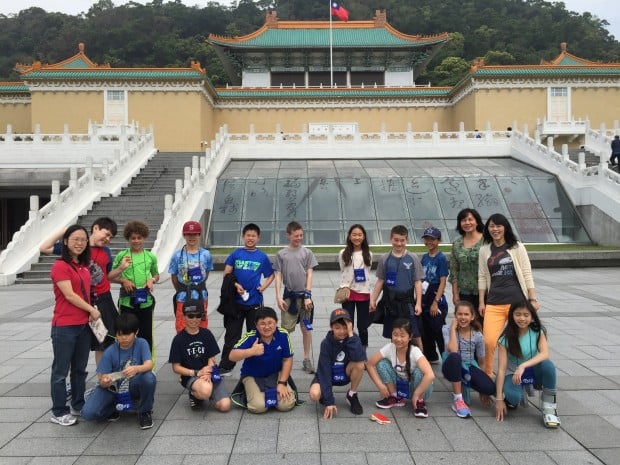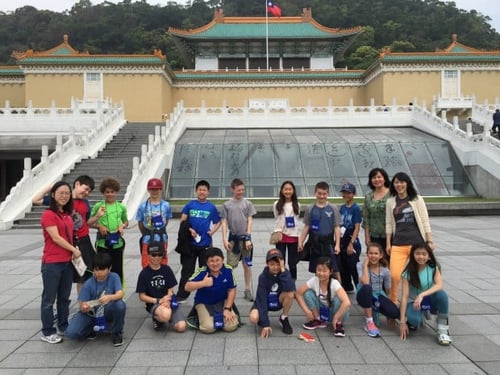 The Chinese Program 5th Graders are in Taiwan for a 10-day cultural exchange trip. Students are exploring Taipei, living with Chinese host families, and attending Gao Yuan Elementary School with their Chinese peers. Chinese Program Teacher Cindy Chiang chronicles their adventures in this blog!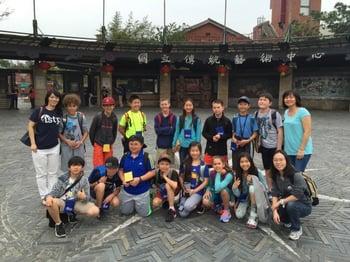 Day 1: Our first day in Taiwan was full of excitement and activities! We arrived this morning at Taoyuan International Airport at 4:30am. The students changed money on their own and went through customs. After completing these tasks with a long wait, we were officially admitted to Taiwan! Once we stepped outside of the airport, we felt Taiwan's typical humid weather right away. We then went to a Taiwanese breakfast restaurant, where the students really enjoyed the typical Taiwanese-style breakfast. They were surprised that such yummy food was so inexpensive, and by how much they could order for just under 3 US dollars!
The second stop was Shun Yi Aboriginal Museum. We watched a 3D movie about a tribe called Bu Nong, followed by a docent tour where the students learned about some new tribes that we hadn't learned about in class. I was very impressed with students' listening comprehension and how engaged they were during the tour. After the very educational tour, we had a hands-on activity where the students decorated a notebook with aboriginal patterns.The students also put on traditional aboriginal clothes and fake tattoos, and then took some pictures!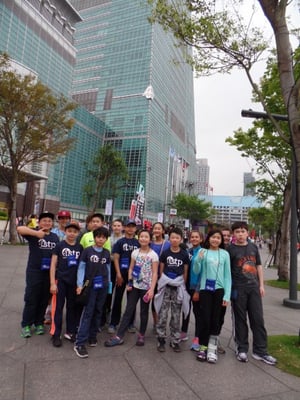 At lunch, we went to a buffet restaurant at Dr. Sun Yat Sen's Memorial. We saw a huge statue of Dr. Sun Yen in the main hall, and took some great pictures with him. The students enjoyed this lunch very much, especially those well-known Taiwanese watermelons and ice cream! Following this, we watched the ceremony of soldieries changing shifts.
After the memorial, we went to the Taipei 101 building. The students were amazed by the building, as well as the stores inside. We took an elevator that took only 35 seconds to reach the 89th floor observatory. The students took some great pictures of Taipei, although it was pretty foggy. Before we left, we paid a visit to the gift shop. Tonight's dinner was a typical round table family-style meal.
The students did a great job today, and we are all very proud of them. Although in the afternoon they were all starting to get quite tired, they were respectful, cooperative and on their best behavior as a group.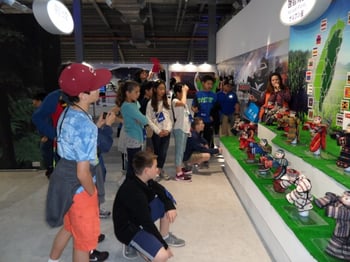 Day 2: Today was such an awesome day for our students. After a delicious buffet-style breakfast, we went to YiLan Traditional Culture Center. On the way there, we learned about the tunnel that was built nine years ago from Taipei to YiLan. Yesterday happened to be Children's Day in Taiwan, and all the students received a Rainbow Loom as a free gift. Because of the holiday, the center offered many DIY activities for children. Some students designed a postcard while others made a pin. They bought some Taiwanese folk art toys, and the highlight of the center was definitely a visit to 7-11 for slurpies!
After the center, we went back to Taipei Pingxi for a hot air lantern activity. Students worked in pairs to write down wishes. They all worked very hard to make sure they wrote 'traditional' characters! That was very cute of them. All of the lanterns were successfully set off into the sky!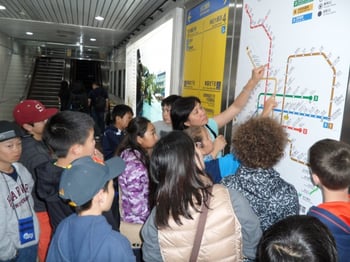 Next, we had an adventure to ShiLin night market. We took Taipei MRT from San Want Hotel station to JianTan. Students figured out what line to take and how many transfers we needed. Although everyone was very tired at this point, when they learned they could find bubble tea and mango shaved ice at the night market, students were once again very excited about the adventure. We split into our three study groups to explore the market, and shared our experiences on the way back to the hotel on MRT. It was a very long day for all of us, but I was so impressed with the students' overall performance.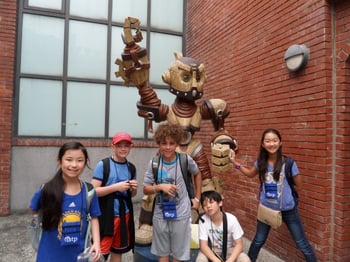 Day 3: Today we went to Taipei Palace Museum to see the famous Jadeite Cabbage, Meat-Shaped Stone and Mao-Kung Ding artifacts. Students were shocked at the vividness of the stone. Unfortunately, the Jadeite Cabbage is now being displayed in the Palace Museum's southern branch. After this, we did some hands-on activities in the children's learning center and paid a visit to the gift shop. In the afternoon we visited XiangYi robot factory. In the factory, we were given a docent tour and students were introduced to different types of robots and XiangYi's technology.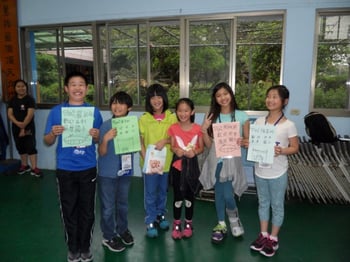 After visiting the robot factory, we then headed to Gao Yuan Elementary School. We discussed some cultural differences and etiquette with the students on the bus, getting them prepared for real cultural exchange. Students all seemed a little bit nervous to meet their host families and their host buddies. However, with Gao Yuan's well planned welcoming ceremony and welcoming song icebreaker, our students and Gao Yuan students hit it off from the very beginning. They gave our students a school tour and helped them get familiar with the campus. The welcoming ceremony was very heartwarming and it went extremely smoothly. It was really nice to see some of the same host families from the previous two years!
The students are all looking forward to beginning their time as students at Gao Yuan Elementary!
*In 2020, the International School of the Peninsula (ISTP) formally changed its name to Silicon Valley International School (INTL) to better reflect its bilingual programs, location, and international values.