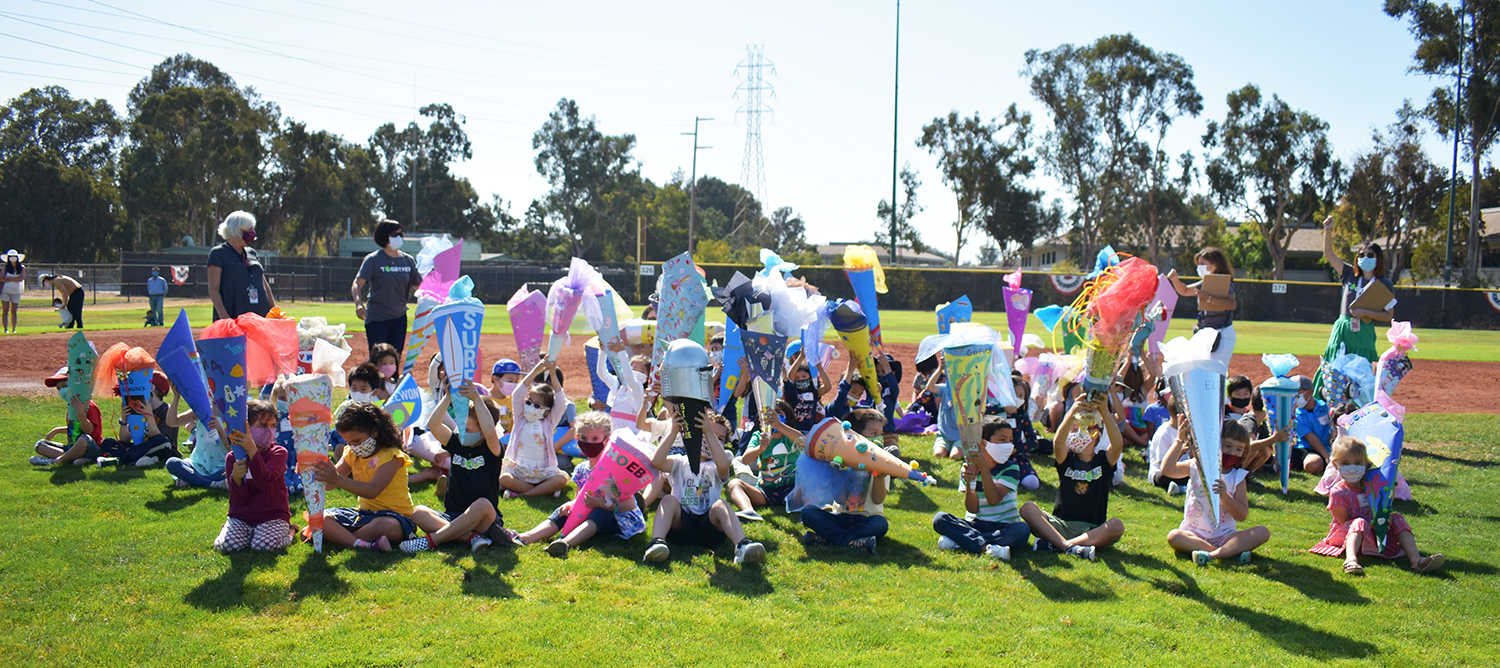 An expectant crowd of parents and children gathered in anticipation on the Baylands Athletics Field's shaded bleachers. There was an almost tangible sensation of community and goodwill. For the first time, Silicon Valley International School (INTL) was about to hold a Schultüte celebration - a German tradition that would be shared across all 1st grade programs at school!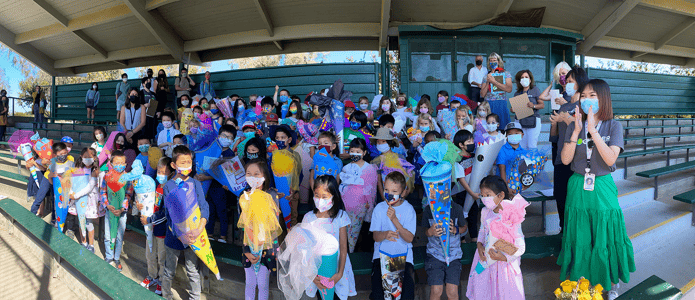 A Schultüte ("school cone") is a large cone-shaped decorated container traditionally made of paper or cardboard and filled with toys, school supplies, and other special treats. On their first day of 1st Grade, German children will receive a Schultüte that their parents made for them. This rite of passage began in the early 1800s in the larger cities, but was soon embraced by the surrounding towns and villages.
Although the tradition is German in origin, the families from all three language programs engaged in the merriment, coming together with a festive international spirit to start the school year. Planning for the event began just before the summer break, with families watching a training video on how to make a Schultüte. Parent Marie Bathiche-Suidan described the experience: "As a mom, I really enjoyed making the Schultüte for my daughter and was excited to fill it up with all of her favorite things. I always loved the first day of school more than the last, as there are exciting things that lie ahead, and this was the ideal way to start the school year. I hope INTL will keep this tradition as it's really a precious one."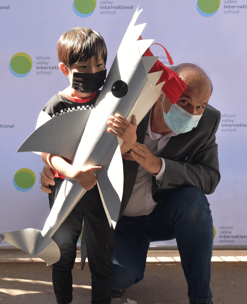 Patricia Colin, Chief Advancement Officer, welcomed the excited crowd and thanked them all for their enthusiastic participation. After quickly explaining how things would work, she handed things over to Philippe Dietz, Interim Head of School. Philippe gently joked with the children that "the cones are here to fool you, tomorrow it is backpacks and homework" before he began distributing them to the waiting children. One by one, the eager students came forward to claim their goodies.
The Schultüte ranged from traditional paper cones lovingly decorated with stickers to whimsically themed creations like sharks and dinosaurs. One particular cone that drew acclaim from the crowd involved a 3D-printed Mandalorian helmet, complete with Baby Yoda inside. Afterward, the children mingled in the field before trading them to their parents for lunchboxes and starting their school day.

The joy of the event is best captured in the words of Christopher Krebs, Board Director and proud parent of two INTL students.

"Back in Spandau in the early 80s, I, too, entered first grade with a Schultüte in my arms (I still have the photograph of my teacher, Frau Dibbert, myself, and the Schultüte). It was therefore touching watching our daughter go through the same rite of passage a few years back at ALTO; today, however, when our son started first grade, was doubly special: for all the children in the other two language programs each had their own Schultüte too! What a nice way to start the school year for all involved, sharing one particular tradition in our international context!"