Diversity and Belonging in an International Context
Dec 2, 2019
As an international school home to families of 30+ different nationalities that celebrates language and culture all year round, it might seem that diversity is inherent to an INTL* education.
However, as our faculty/staff learned from Dr. Derrick Gay – an internationally-recognized educational consultant on issues of diversity and inclusion, cultural competency, and global citizenship – international schools often have unique blind spots and challenges when it comes to these topics.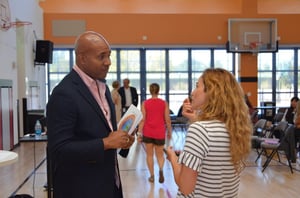 This year, we were honored to welcome Dr. Gay to INT'L for two days of professional development – one day in August before the start of school, and one day during Thanksgiving break (he will be returning again for a third day in March). Dr. Gay's focus on curating global citizenship and his work with international schools around the world made him the perfect choice to lead our own reflections on diversity, equity, and belonging.
Including Everyone in the Discussion
To begin, Dr. Gay introduced us to the concept of the "double-edged sword of diversity" (check out his TED talk on the subject here). In the United States, we often conceptualize diversity as dividing us into "diverse people" (those from minority and historically marginalized communities) and "normal people." This framing can be counterproductive, as those who are deemed "not diverse" may feel the topic is not meaningful or relevant for them.
Instead, Dr. Gay works to reframe "diverse" back to its original meaning – "difference." In this sense, each of us is "diverse" in our own way, each contributing to the diverse makeup of the community, and each having a stake in working to create an equitable environment both at INT'L and the world at large.
Aren't We Already International?
Going into our training, many of us had the attitude, "we might need to study issues of diversity, inclusion, and belonging to prepare our students for the world outside of INT'L, but here at school, everyone is already included and accepted!"
However, as Dr. Gay explained, one of the most common obstacles to diversity work at international schools is the belief that no work needs to be done!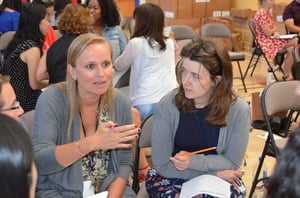 At international schools, students often have very complex identities (for example: an American girl with parents from Japan and Germany, who speaks Japanese and German at home and English and Chinese at school).
Because international school students are already taught to value diversity, conflict around identity will often express itself in more subtle ways. For example, a diverse group of friends may engage in identity-based jokes that are "all in good fun" but that may privately bother a student. At a school like INT'L, teachers need to look for the subtler stereotyping students engage in, instead of only stepping in when conflict is more obvious.
Dr. Gay also taught us that although many parents and teachers believe that young children are "color-blind" and unaware of difference in identity characteristics (race/ethnicity, family makeup, gender, social class and religion), research actually shows the opposite. Even young children see differences among their peers, and perceive how these differences are judged and treated by our culture.
As a result, Dr. Gay advises that discussions of identity, stereotypes, and difference should start early both in the classroom and at home – ignoring the issues only perpetuates stereotypes.
Diversity/Belonging in the Classroom – The Importance of "Mirrors and Windows"
One important aspect of creating an equitable classroom is ensuring that diverse identity groups are represented throughout the curriculum.
"If you can't see it, you can't be it." Research has shown that it is essential for all students to see themselves reflected in their schoolwork. For example, if girls are exposed to women succeeding in a STEM field, they will be more likely to believe they can succeed in science, math, and engineering themselves.
Books, as Dr. Gay explained, are powerful tools for representation that can serve as both "mirrors and windows" for students. A book is a "mirror" when it reflects a student's own culture/identity. A book is also a "window" into the world, allowing students to learn about the lives of others.
It is critical that all students, no matter their identity, are exposed to books that serve as both mirrors and windows, showing them the world and showing them a reflection of themselves. Our faculty has begun to examine the literature we use in the classroom to evaluate how well it reflects our diverse student body and see how we can improve going forward.
"Mirrors and windows" pave the way to a positive sense of identity and self-confidence, as well as empathy for others. As educators, we have the ability to create these mirrors and windows for our students. Our professional development with Dr. Gay this year has helped us become even more aware of the importance of fostering an educational community that fully embraces and reflects all its members.
For more insight into our diversity, equity, and inclusion initiatives at INT'L, and more detail on how we are incorporating these lessons into our curriculum, look for updates in our 2020 printed newsletter!
*In 2020, the International School of the Peninsula (ISTP) formally changed its name to Silicon Valley International School (INTL) to better reflect its bilingual programs, location, and international values.