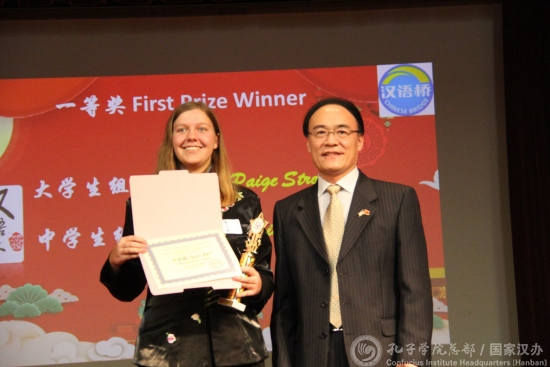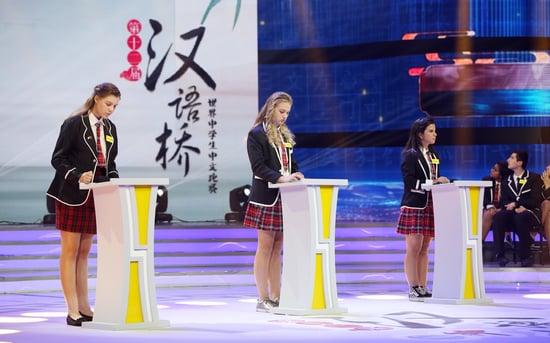 We are incredibly proud to announce INTL* alumna Christine H.'s impressive success in the Chinese Bridge Language Competition.
The competition, sponsored by the Confucius Institute and open to non-native Chinese-speaking students from around the world, is considered the "Olympics of Chinese Language." It attracts students from more than 100 countries each year, and one champion is chosen from each country to compete in the final global competition in Zhengzhou, China.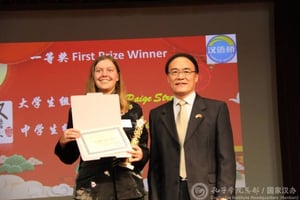 This year's winner for the Americas was INTL class of 2018 graduate Christine H.! As continent-wide champion, Christine was recognized as one of the top 5 most proficient non-native high school Chinese speakers in the world!
To be successful in the Chinese Bridge competition, students need to show both language fluency and a deep knowledge of Chinese culture. Students deliver a speech on a topic of their choosing, perform a talent, and show their cultural knowledge by answering questions from a panel of judges.
At the semi-finals in San Francisco, Christine delivered a stellar speech about her experiences with her "Chinese sister," a teaching intern from China her family hosted while at INTL.
At the global finals in China, she gave another personal speech, played the hulusi (traditional Chinese flute), participated in a skit, and answered tough questions from the judges. Throughout the competition, Christine showed photos of her experience growing up in the INTL Chinese program – riding on the Chinese New Year float, participating in Chinese New Year performances, traveling with her classmates to Beijing, Chengdu, and Taipei, and much more.
The final competition in Zhengzhou was a high-pressure event, with a large audience and national television coverage in China.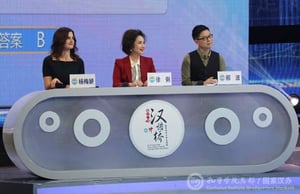 At the end of the competition, Christine was selected as 5th of 120 total competitors. For this remarkable achievement, Christine was awarded a full scholarship to a university of her choice anywhere in China!
Christine has accomplished all of this in addition to her full academic schedule as a Sophomore at Menlo-Atherton High School. Throughout the competition, she has been incredibly hardworking and brave, pushing herself to display her knowledge and talent in front of an audience.
Christine's father Tom says, "We are happy to give INTL much credit for her success. She used slides in the background of her presentations and my favorite is of 3-year-old Christine entering her nursery school classroom for the first time."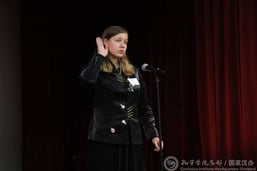 Christine's mother Juliet adds, "We are thrilled with her achieving the goal with which she went to China: to be champion of the Americas. It's an amazing achievement given she ended up in the top 5 out of 120 first place winners selected from a much larger group of competitors in their 90 home countries. She got a nice glass trophy and a certificate awarding her a 4-year scholarship to the university of her choice in China, but most importantly she made friends from around the world and has a much larger group she is communicating with on WeChat. It was a life-changing experience for the better!"
Congratulations to Christine on this incredible accomplishment! We are so proud to see our graduates continue to draw on the gift of a bilingual education after they leave INTL.
Check out Christine's speech from the global final in Zhengzhou, China!
*In 2020, the International School of the Peninsula (ISTP) formally changed its name to Silicon Valley International School (INTL) to better reflect its bilingual programs, location, and international values.