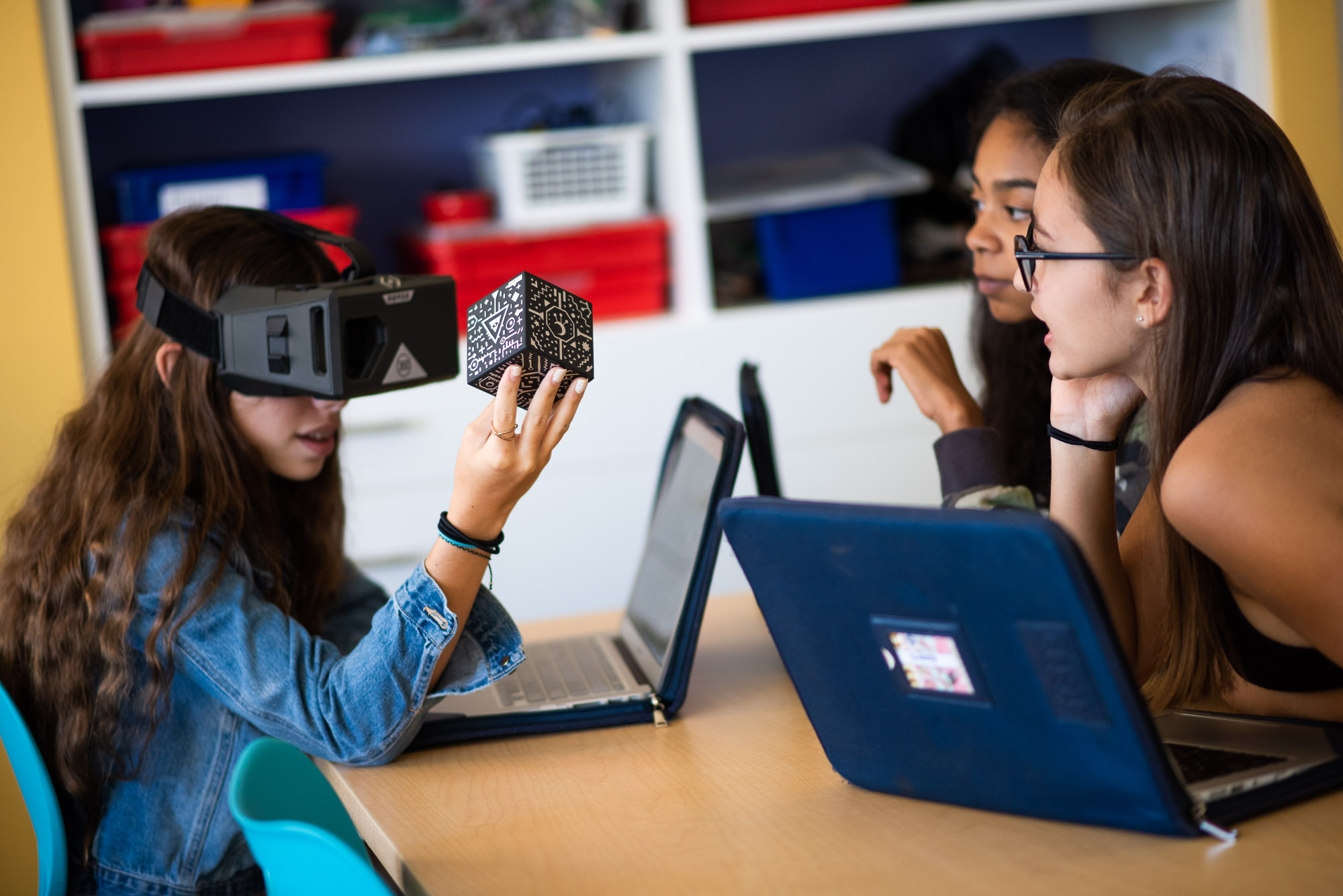 Imagine a student being able to dive underwater to explore the Great Barrier Reef, fly through Saturn's rings, or see their favorite story come to life in front of their eyes – these are just some of the exciting ways virtual reality (VR) and augmented reality (AR) can be used in the classroom.
Over the past few years, virtual reality (VR) and augmented reality (AR) have emerged as promising new educational tools. INTL* has long been a leader in embracing educational technology in the classroom, and we were naturally eager to see how we might be able to use VR and AR to enhance our students' education.
Why Use VR and AR in the Classroom?
At INT'L we never introduce EdTech without first considering the question – "how can we utilize this tool to bring about meaningful learning for our students?" Technology is not the end, but rather the means to help our students think more critically, solve problems, be inspired, and explore the world around them.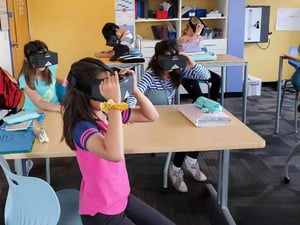 Véronique Merckling, INTL's Educational Technology Director, says "Immersive technologies provide opportunities for authentic learning experiences that have never been accessible before. Virtual expeditions (VR) give students the opportunity to visit places they may not be able to visit in real life, or places that would be impracticable, unsafe or impossible to see. For example, students can virtually explore volcanoes around the world to identify their characteristics, visit the solar system and learn about the planets in a realistic way, or explore inside the human body and see how it works."
With Augmented reality (AR), teachers can also use mobile devices to bring objects (for example, a human heart) into their classroom digitally so students can see, explore, and walk around them as if they were really there.
Because our faculty could see the promise of VR and AR, we dedicated 2019's Gala Fund-a-Need, in part, to raising funds to acquire the tools we would need to thoughtfully integrate virtual and augmented reality experiences into our curriculum (including iPod/iPad digital devices, light foam viewers for VR, and MERGE Cubes for AR). Thanks to our community's generosity, we have already been able to put these new tools to use!
How are We Using VR and AR at INTL?
This year, we have used the immersive education app Google Expeditions to take our students on virtual journeys around the world and back in time. For example, Véronique Merckling relates that "In Elementary, 5th grade students have experienced a virtual tour of Beijing and famous landmarks including the Forbidden City, the Temple of Heaven Park, The Summer Palace, and Beihai Park. Students were able to make connections with their unit of inquiry about the rise and fall of empires."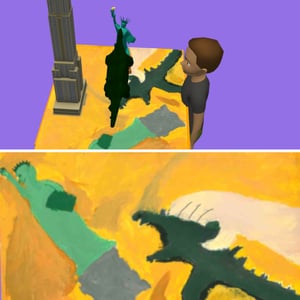 In the International Middle School, students have created immersive experiences in their design class. Using the online 3D creation platform CoSpaces, they can create 3D objects or 360º images and animate them with code. Using the platform, they created 3D virtual tours of Cohn Campus with virtual avatars as guides.
Middle school design teacher Elisabeth Lepert has also partnered with art teacher Anne-Sophie Gaudet to help students bring an original painting to life! After creating a painting of an object in motion, students coded a 3D animation of their painting in CoSpaces that will be brought to life on the augmented reality trigger MERGE Cube. Parents can look forward to experiencing this merging of art technology at Arts Night in December!
We are very mindful of using VR and AR in a safe way that takes the developing brains of children into account. Because young children can have difficulty distinguishing reality from fiction, we wait until 3rd grade to introduce immersive experiences. We keep experiences short (10-15 minutes) and make sure students are all safely seated while using VR goggles.
We are excited to see our teachers embracing VR and AR in the classroom, and look forward to using it for more meaningful learning experiences going forward!
*In 2020, the International School of the Peninsula (ISTP) formally changed its name to Silicon Valley International School (INTL) to better reflect its bilingual programs, location, and international values.