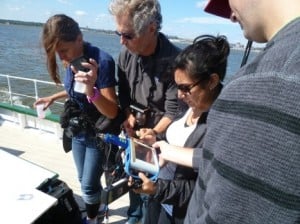 Three years ago, ISTP's middle school students participated in a Stanford University School of Education project called "LET'S GO: (Learning Ecology with Technologies from Science for Global Outcomes)". In the LET'S GO project, Stanford and Växjö University learning sciences and computer science faculty developed, implemented and researched a new paradigm for fostering student learning in teams for environmental science through the use of geo-location sensing, multimedia communication, information visualization and Web 2.0 mashup technologies. The LET'S GO project was supported by Stanford University, Intel, Pasco and the National Geographic Society.
As part of this project, Elisabeth Lepert, our middle school science teacher, taught a curriculum unit on water quality. Through a technology-rich inquiry-based approach, she introduced our students to the significance of pH, temperature, dissolved oxygen and dissolved salt content as it relates to water quality. Students were then asked to design and conduct experiments that investigated the quality of water using sensors and data loggers. In the end, these experiments not only taught the children important aspects of water quality, but also data collection and analysis skills. In an effort to learn more about the impact technology has on learning, Stanford researchers also filmed our students during this project.
For the past three years the LET'S GO project has garnered a lot of attention for its inquiry-based model that incorporates cutting-edge technologies in the classroom. It has also been expanded to other countries, including Sweden that rolled out the project to more than 500 students.
In September, the National Geographic Society organized an event for the LET'S GO researchers, curriculum developers and a few select teachers. Elizabeth Lepert was asked to join in this event to share her experience with other teachers and researchers. In the words of the researchers at Stanford, Elizabeth was invited because:
"She represented some of the best practices they had seen in science classrooms, integrating commercially available technology and involving the students through inquiry activities".
ISTP is extremely proud of Elizabeth and her participation in this event. She was very enthusiastic about the LET'S GO event and decided to write a short blog about it:
DAY ONE
After enjoying a very nice breakfast at the hotel on Friday morning, we headed to the National Geographic Society building. There I met my former colleague who now teaches in London, and was introduced to a group of teachers and researchers from Sweden.
At the conference, we started our day by breaking up in a few groups where we had to introduce ourselves and explain our role in the LET'S GO project and what we found valuable in this experience. I discovered that this project has been done on a bigger scale in Sweden(more than 500 students). Despite miles, language and different cultures, you realized that your colleagues encountered the same problem as you: skepticism of colleagues in front of technology and students who are much more at ease than you using these tools.
Just before lunch we had a presentation from the Vice-President of National Geographic explaining to us what geo literacy is. National Geographic works towards education a lot and wants to introduce and develop the concept of geo literacy in education curriculum. Basically it is essential that students understand how the world works but also how all the systems on earth are connected. Getting this knowledge and skills will help the students in making the right decisions in the 21st century.
After lunch we had a presentation about a few cool tools that have been incorporated on the National geographic website. For me, National Geographic is quite an old US establishment with beautiful magazines and videos but nothing really interactive. I was nicely surprised to discover that you can manipulate and create maps on their website and have access to tons of information regarding not only geography but also about ecology and earth science. I will strongly encourage my social studies colleagues to check their website.
We finished the day with an introduction about the tools we will use the following day on the Potomac River. National Geographic created Fieldscope, a web base platform that gathers water quality data from schools from Cheesepeak bay. I was happy to learn that they plan to do the same for the San Francisco Bay.
DAY TWO
On day two, we are able to collect data in the field and analyze them using National Geographic's tools.
We spent the morning on the Potomac River collecting data on water quality at different spots along the river. We measured nitrate content, dissolved oxygen and turbidity using the tools from Pasco. The Swedish team created an app to enter the data but also pictures from a cell phone. The weather on the Potomac River was sunny but not too hot, so it was a perfect day to be on the water. We were very busy, but luckily I remembered to take in the beautiful view from the Capitol to the Washington Monument.
In the afternoon we headed back to the National Geographic Society. The Swedish team entered quickly our data on the Fieldscope website. Elena Takaki explained to us the different tools that we could use to analyze our findings in addition to the population, origins of pollution and impervious soil.
I received a lot of information during this event, and at times felt overwhelmed, but know it will be good to include in our classroom activities. The team of researchers from Stanford asked all the teachers to comment on that day. I believe all of us enjoyed it and wanted to understand the possibility of doing these types of activities with our students on a regular basis. For example, I think ISTP students could go to the creek a few times during the year to study the evolution of data along the season but also along the years. With this kind of web-based tool we could even consider comparing our data from one country to another!
Having the opportunity to reflect was great as it is not something we can easily do during our workday. Workshops like this are important and will allow us to improve what has already been done, but it can also help us be more creative. It is something I should do more with the students too.