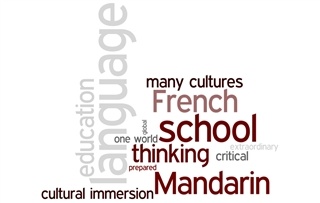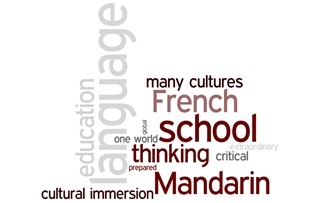 A couple of weeks ago, I asked our community a question: how would you describe INTL* in four words?
I was warmed by the dedication and passion so many of you obviously have for our school and the type of education we provide. I received emails from community members, happy to describe INTL in their own way. Here's a few to share with you:
Parents like Véronique Micha felt that we already had the perfect four words to describe our school: "many cultures, one world."
Cee Bird Farlie, PTA President, said that her four words would be, "globally prepared critical thinking."
Assistant to the Head of School, Sylvie Jannon-Shields, emailed me to contribute her four words, "bilingual minds, leveled education."
Eileen Horng, parent, believes that "INTL is about language and cultural immersion. For me, it is important that my kids learn correct Mandarin grammar and pronunciation as well as Chinese traditions and cultural norms. I don't think you can learn too much of the latter in an elective or after-school/weekend-school setting. To learn a culture, you have to live it. The best would be to spend an extended amount of time living in a foreign country — the next best is to attend a school like INTL."
Dan and Laura Vitkavage also believe that the everyday cultural immersion at INTL has a huge impact on our students, and that on a daily basis, our school is about, "Making the Extraordinary... Ordinary."
Have you thought about your four words? I'd love to hear what they are. Email me to share your thoughts.
*In 2020, the International School of the Peninsula (ISTP) formally changed its name to Silicon Valley International School (INTL) to better reflect its bilingual programs, location, and international values.