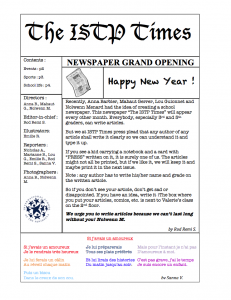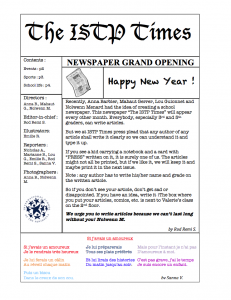 Earlier this fall, a group of 5th graders approached Mrs. Brooks, in her role as Student Council Advisor, about starting a school newspaper. Now, Mrs. Brooks and I have been down this road before, many a time. We don't have enough time with the students outside of their class time to really put together a full paper in the way that most dream of. We've had many a good start, and many a good idea, but it is rare that a group of elementary students have taken a "school paper" idea from start to finish.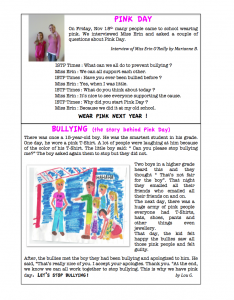 This year, this particular group figured out a number of steps. They sought out Mrs. Brooks to gain her support, and convinced her that this was not a project that she would have to do, just one that they wanted to advertise at assembly and to Student Council. They spread their word wisely, telling the student representatives from each class the details of what they were looking for and what they hoped to accomplish. They worked with Mrs. Brooks and me to be sure they had an opportunity to announce their project at almost every assembly, repeatedly reminding the student body that they wanted submissions, where to put them, what the guidelines were, etc. They worked together to be sure that a variety of areas of interest were covered and viewpoints were heard. Lastly, there was at least one parent who supported them in the finer technology points and helped them to achieve their goals.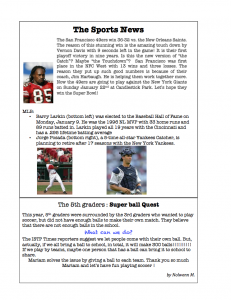 In the end, it was a wide group effort that resulted in the first edition of this year's INTL* Times". The core group of students worked hard and persevered to make the paper a reality, and hopefully what they created will bring more interest and submissions from and even wider body of contributors.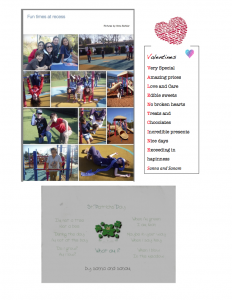 A hard copy of the paper is available to read in each library on the Cohn Campus, and families can download a copy online. We look forward to the next issue and congratulate all of the students involved in this issue.
*In 2020, the International School of the Peninsula (ISTP) formally changed its name to Silicon Valley International School (INTL) to better reflect its bilingual programs, location, and international values.