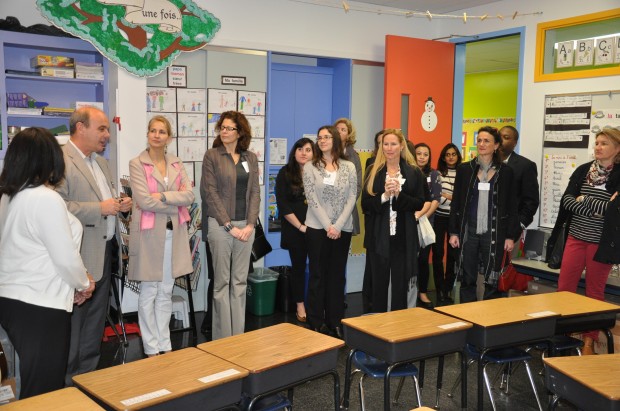 This past weekend, the Silicon Valley International Schoolof the Peninsula proudly hosted the annual AFIS (Advancement for French and International Schools) conference, where over a dozen schools were in attendance. This is a relatively new group of advancement professionals from the unique world of French immersion and international schools. Unlike the traditional private school, immersion and international schools have added challenges in regards to fundraising, community-building, and communications. The common challenges of languages and culture definitely come into play, so having a full-day conference with our peers helped us to discover best-practices, strategies, and benchmarks.
Over a dozen different French and international schools from across the country were in attendance, and we scheduled a full-day of learning and discussion - from alumni relations, major gifts, social media, web communications, marketing, donor database, and much more.
A highlight of the day was our keynote speaker, Pascal Baudry. He enchanted us with his soft voice, speaking to us of the similarities and differences between French and American cultures. I especially loved his observation regarding how the French "live in the gray areas", in comparison to his perception of Americans, describing them as having an affinity for categorizing things as either "wrong" or "right", or "black" or "white." I found this humorous, as I often think of myself as "living in the gray."
Another highlight was at the end of the conference -- where each AFIS attendee was given a piece of paper, and was asked to write one thing that they learned from the day's activities. Let me share a few with you:
"Start your live auction with an item that everyone in the room can bid on (like champagne for the table)."
"Empower your volunteer base."
"You MUST have 100% staff participation."
"It's okay to put your mission in English only."
"It's important to communicate what will happen if we won't raise the dollars -- what we will lose."
These are very illuminating tidbits for advancement professionals, but if you're a parent or a non-advancement officer, these tips may not mean much to you.
How about divining the reasons why a donor should give to an institution?
I was speaking to a colleague from an international school, who said he wished there was a way to convince his parent base that "we're not the only school that does fundraising."
I thought about this one for awhile -- and wondered if that was really the key. Would knowing that other immersion and international schools also had Annual Fund/Gala/Endowment goals to reach, encourage you to give a gift to your school?
I know that when I first moved to the United States, I had a hard time with the idea that in addition to tuition, I was also asked to give a donation. Honestly, I felt mildly insulted by that first ask. Later, I realized that there are many reasons behind an ask. Our job as advancement professionals is to connect you, as donors, with yours.
This was mine. What's yours?
In 2020, the International School of the Peninsula (ISTP) formally changed its name to Silicon Valley International School (INTL) to better reflect its bilingual programs, location, and international values.