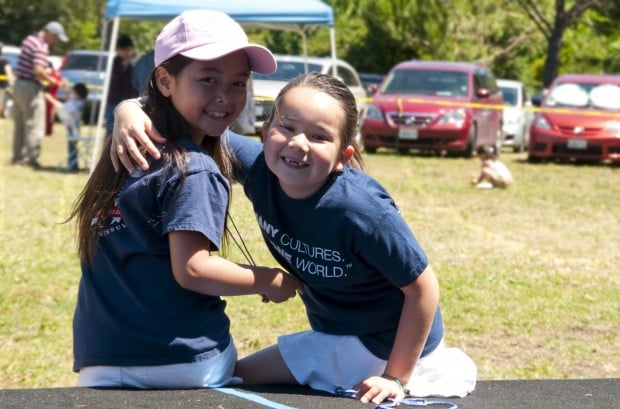 "Dear Abby" is the name of a famous American advice column founded in the 1950's
Dear Abby,
What is this Kermesse that I keep hearing about?
Dear Parent,
Kermesse is a wonderful, all school event, held in June on a Saturday. In the morning, children from Nursery through 5th grade perform for their parents. From midday, there is food available from the volunteer-run food booths, such as French, Chinese, and Middle Eastern cuisine, pizza, crêpes, coffee and desserts, popcorn and sno-cones. Also in the afternoon there are game booths for the kids to enjoy, such as "hit the can", soccer, the dunk tank, bouncy castles and basketball. For those seeking a bargain or cool gift, there are market vendors, selling clothing, jewelry, food and other unique items, as well as the INTL* rummage sale.

Dear Abby,
My child is hungry and thirsty, what should I do?
Dear Parent,
You should proceed at once to the pizza booth and buy your child a slice of cheese pizza, followed by an apple juice box from the drink booth. Other delicious lunch options are available.

Dear Abby,
My spouse is hungry and thirsty, what should I do?
Dear Parent,
Your spouse should be able to vocalize his or her needs by now, but if you do have to stage an intervention, tell him/her to go to the Food Booths and enjoy some excellent international cuisine. Available from midday. Also, there is BBQ - a new food choice for 2012!

Dear Abby,
My child danced so well in the class performance that I want to reward him. What should I do?
Dear Parent,
You should let your child run around at the game booths at Kermesse. He will have fun trying to hit the cans, or test his strength, or dunk the principal. Having a fun experience is a great reward.

Dear Abby,
My freezer at home is stuffed full of banana bread and cookies that I baked last weekend. I don't want to eat them all myself. How can I find a good home for them?
Dear Parent,
You should donate them to the Dessert and Coffee Booth at Kermesse. You can bring them along when you come for your child's performance or you can drop them off at Cowper on Friday, June 8. Please be sure to slice the cakes in advance and label them so that we know what you have given. If you want your cookie plate back, better label it clearly with your family name!

Dear Abby,
I have a lot of money and want to spend it all!
Dear Parent,
Go at once to the Rummage Sale, and buy yourself lots of wonderful books, decorations and fun games. Then go to the Vendor Stalls and see what cool gift items you can buy, such as earrings, shawls, food gifts and more.
Dear Abby,
Kermesse is fun, but by 2 p.m., I am tired. What should I do?
Dear Parent,
You can go and get yourself a coffee and a piece of cake at the Dessert and Coffee booth. That should perk you up for the rest of the afternoon.
Dear Abby,
What does it mean that the Kermesse theme is "The Americas"?
Dear Parent,
Each year the teachers and staff pick a theme for Kermesse. The theme guides the class performances and the food and game booth leads also try to pick names that match the theme. For a theme of "The Americas" you will see booths named after North and South American countries and cultures, and sometimes food from those regions.
Dear Abby,
I was cutting some gum out of my son's hair, and caught my finger. Ouch!
Dear Parent,
Go over to the ticket booth - near where you came in. There is a first aid station there with basic supplies and we can also call for specialist help if needed.
Dear Abby,
Wow, all these people sure do cause a lot of mess, even when they try to be polite and tidy.
Dear Parent,
I see that you are a good observer. If you are still at Kermesse from 3 p.m. onwards you can help clean up Cowper to get it back from a fairground to a school ground. Look for parents cleaning tables, carrying trash bags, or washing plates, and go help them!
*In 2020, the International School of the Peninsula (ISTP) formally changed its name to Silicon Valley International School (INTL) to better reflect its bilingual programs, location, and international values.