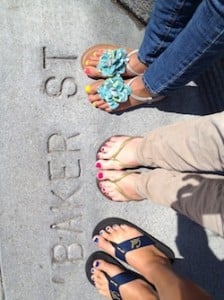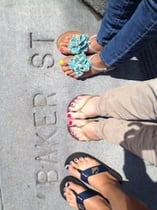 Two weekends ago, on Memorial Day, Sanam and Julianna came to my neighborhood in San Francisco for an afternoon spent with me. Sanam had won my Annual Gala & Auction Teacher Treasure and had kindly offered to bring Julianna along. The Teacher Treasures are "experiences" that teachers and businesses personally donate and families can be bid on them via our Online Auction. Funds raised go directly to our school – it's a win-win situation!
For my particular Teacher Treasure, I donated a fun San Francisco experience – pedicures and pie! We met in front of my house and walked over to the nail salon for manicures and pedicures. It was very fun picking out colors with the girls, and they even convinced me to get my fingernails painted a pretty blue color. We had a nice time relaxing and being pampered by the ladies at the salon. After that, we went next door for part two of the afternoon. The local pie place, Chile Pies & Ice Cream, had graciously donated a gift certificate for us to use as we liked. We had pie and ice cream. To ring in summer, all three of us had strawberry rhubarb pie. It was delicious!
We had some time left in our afternoon, so we took advantage of the beautiful weather and walked over to Alamo Square park, which is just a few blocks from my apartment. I showed the girls around the park a bit. I pointed out the Painted Ladies and got a picture of them in front of this San Francisco landmark before we headed into the playground. The girls were happy to have time to play on the playground, and the swings were a big hit. It was relaxing and cheerful to see the two of them have so much fun!
We headed back to my apartment and sat on the stoop to wait for their parents to pick them up. This afternoon made me realize that the Teacher Treasure can really be a treasure for both student and teacher. I had a delightful afternoon with Sanam and Julianna, and I know I will have a fond memory of it for years to come. I'm so glad that I am able to donate to the Gala in this way, and I look forward to more fun Teacher Treasures in the future.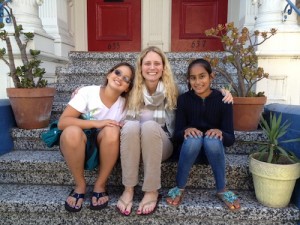 *In 2020, the International School of the Peninsula (ISTP) formally changed its name to Silicon Valley International School (INTL) to better reflect its bilingual programs, location, and international values.