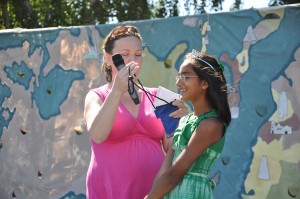 At the 24th Annual Gala and Auction, To Russia with Love, INTL* parent Paru Y. was the winning bidder of the King or Queen of Kermesse lot. Winning this lot meant one of Paru's daughters would have the opportunity to reign over Kermesse, play games to her heart's delight, and enjoy the amazing foods offered at the food booths. This lot included perks for the entire family, since they were also given tickets to enjoy more food from our "international food booths" than one could imagine!
There is no doubt that Sanam, Paru's youngest daughter, thoroughly enjoyed her day as the Queen of Kermesse. When asked what she thought about the experience, Sanam replied, ""It was fun! Everything was good!" As part of being the "Queen", she was able to dunk Philippe at the dunk tank two times in a row, and was repeatedly acknowledged as Kermesse Royalty.
As fun and exciting as it is for the King or Queen, this Gala auction lot isn't just about being special for a day. It is also a philanthropic gesture on the part of the parent who wins the lot for the child. As a Live Auction lot, King or Queen of Kermesse is one of nearly 30 opportunities throughout the evening of Gala to raise one's paddle and say, "I support INTL." Not only does your family enjoy a royal day, but the school is also supported through your bidding efforts. It is a win-win situation!
As mentioned before, Paru and the rest of her family had the chance to soak in some of the royal treatment. Yet Paru, as the Queen Mother, took a different approach. Paru spent the day giving back to INTL. Instead of taking advantage of the generous plates of free food included in this Gala auction lot, Paru dished up generous plates of food for others. At nearly any given time, one could have passed by the Indian food booth and seen Paru dressed in theme, with a kind smile, offering up delicious plates of Indian cuisine.
At the end of the day, everyone was a winner. Sanam, who was aglow as Queen; Paru, who enjoyed her daughter's joy and giddiness; each INTL community member who savored the delicious food served by Paru and her Chit Chaat team members; and INTL for having such a giving "royal" family.
*In 2020, the International School of the Peninsula (ISTP) formally changed its name to Silicon Valley International School (INTL) to better reflect its bilingual programs, location, and international values.