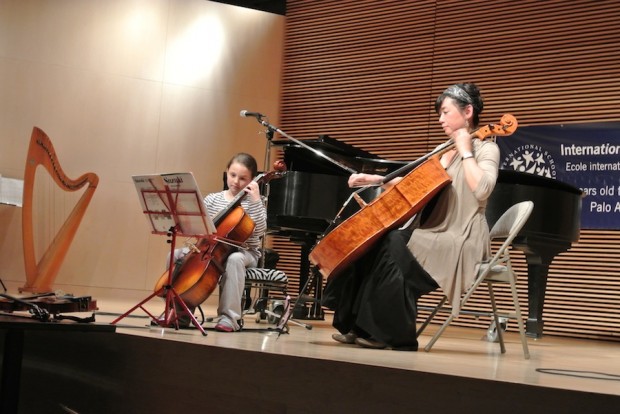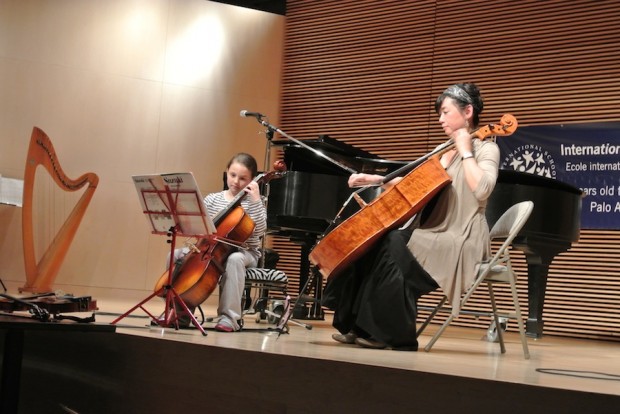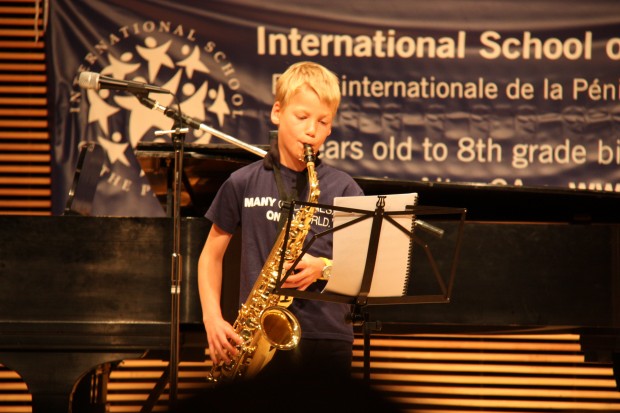 We recently held our annual PTA Spring Musicale, where students and parents sign up to participate in an afternoon musical showcase at the Finn Center. Kelly Bossut, INTL* parent and coordinator of the PTA Spring Musicale, talks about the special event in the below guest blog post:
The place to be on Sunday afternoon, April 29th, was at the INTL Spring Music Concert! The INTL community happily came together for an afternoon to share the joy of music.
INTL students, their families, and teachers danced, sang, and played a wonderful array of instruments and genre. The performers in the event were endearing beyond measure. We enjoyed music from the INTL Choir; a special performance by Genevieve Charlot (mother to INTL's French immersion music teacher, Jean-Baptiste Charlot); a dance performance by three of our INTL mothers; Roxane and Sophie D. performing a mother-daughter vocal duet, a father-daughter duet w/Chela N. on guitar and her father on recorder; the Verdiell sisters on harp and flute accompanied by their father; the Chou Family Quartet; the Krampe family; the INTL Quartet, and many more!
We had a record number of registrants for the event and were reminded how talented and inspiring our INTL students are and how gratifying it is to share live music in person. Special thanks to Jean-Baptiste Charlot and INTL Chinese immersion music teacher, Sue Yang, for volunteering to bring the INTL Choir. You can view the photo gallery here on INTL's website.
Please me if you are interested in helping with the event next year!
** photos provided by Lillian Kurtz and Philippe & Kelly Bossut
*In 2020, the International School of the Peninsula (ISTP) formally changed its name to Silicon Valley International School (INTL) to better reflect its bilingual programs, location, and international values.