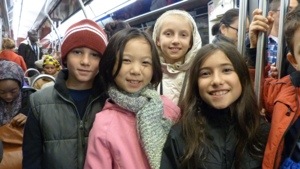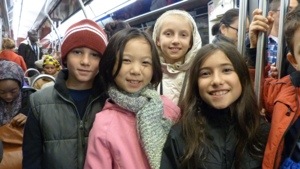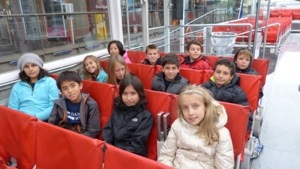 What an exciting day in Paris! We took the bus from Blérancourt to Paris, and our first activity was the Bateau Parisien. It was a wonderful way to orient ourselves in the city and see all of the major monuments along the Seine. After our boat ride, we took the bus just a few blocks away to meet our family and friends that live in France for our picnic on the Champ de Mars. We were able to spend a brief moment with our family and friends despite the rain. Unfortunately, we didn't manage to take a group photo due to the rain, but everyone who had anticipated seeing friends or family was able to do so
Our next adventure was a ride on the metro. The bus took us to the Arc de Triomphe, so that we could take the metro to our "rallye" in Montmartre. We learned all about the Paris Commune. The children were very impressed to see Sacre Coeur. What a beautiful building! We also got a wonderful view of the city even with the rain.
We took the metro to the Louvre after our "rallye" in order to go to the Virgin store to buy our French books, but we were disappointed to find out that the store is no longer there! Fortunately, we were able to make another plan, and the bus brought us to another Virgin store in Paris. The students were still able to buy French books, and they were all very content.
After a long and interesting day, the students were happy to get back on the bus to head home to their host families. They will spend the Sunday with their host families.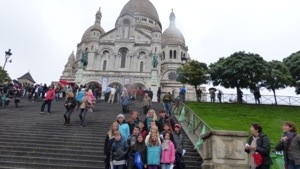 *In 2020, the International School of the Peninsula (ISTP) formally changed its name to Silicon Valley International School (INTL) to better reflect its bilingual programs, location, and international values.