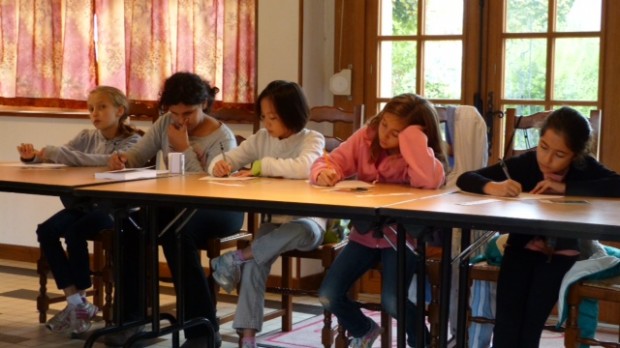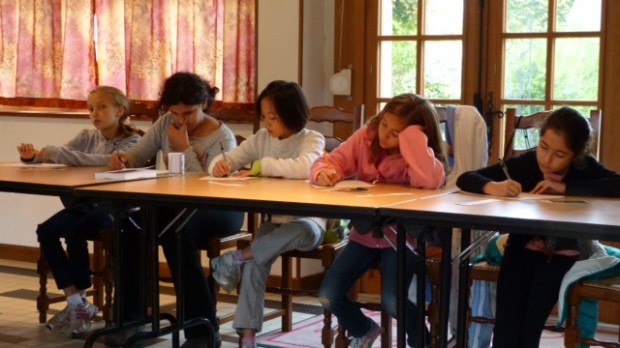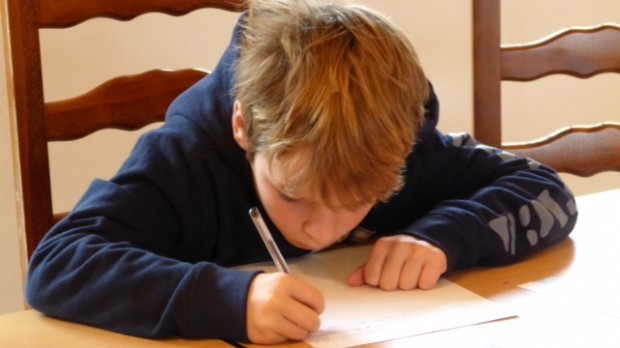 Today we met at the "Mairie" or Town Hall in English at 10am. We were all happy to be able to sleep in a bit this morning after a very busy day yesterday. We walked from the Mairie to the Monument aux Morts. Agnès explained to the students what this monument was for, and we studied the names and the dates on it. Every town, village, or city has one of these monuments dedicated to the soldiers from there who have lost their lives during one of the World Wars, and sometimes civilian victims are included in the names on the monument as well. The monument in Blérancourt was dedicated to victims of WWI and WWII. The students were able to tell the difference between who was lost in which war based on the dates.
After learning about this monument, we headed to the conference room in our hotel just next to the Château to work on our postcards. The students learned how to write a postcard the American way, using just the left side, and they all wrote one in French to send home. They chose these postcards at the gift shop in the Château d'Auvers yesterday. Unfortunately, they will already be home by the time the postcards arrive, but they will then be able to translate for those who don't speak French. We were impressed by the children's postcards, and they were all excited to write home to their parents and families.
Once the postcards were finished, we headed back to the Mairie to meet the host families. The students spent the afternoon with their host families doing various activities, such as going to the movies, riding horses, doing archery, or going to the ropes course. They all had a fun afternoon. We then had a wonderful reception at the Salle des Fêtes with the host families in order to thank them for their warm welcome.
*In 2020, the International School of the Peninsula (ISTP) formally changed its name to Silicon Valley International School (INTL) to better reflect its bilingual programs, location, and international values.