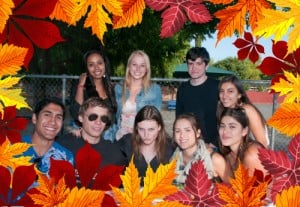 "Home for the Holidays." That's a popular phrase this time of year, and it resonates with the INTL* alumni who are away from home for their first year of college. For many, the upcoming holiday season will offer them a chance to return home for the first time in months!
For this current college freshman class, heading home for the holidays is so much more than booking a flight and packing one's bags. There are exams to study for, dorm rooms to tidy up, and plans for the following term to be made.
Wherever these far-flung alums may be, let's wish them a joyful and safe holiday season!
*In 2020, the International School of the Peninsula (ISTP) formally changed its name to Silicon Valley International School (INTL) to better reflect its bilingual programs, location, and international values.
High School Class of 2012 College List
| | |
| --- | --- |
| Arizona State University | Cambridge University England |
| Clark University | Concordia University |
| Duke University | Foothill Community College |
| Georgetown University | Harvard University |
| Lycée Honoré de Balzac | Lycée International Ferney Voltaire |
| Mount Holyoke College | Nanterre Université |
| New York University | Pratt Institute |
| Princeton University | Saint Mary's College |
| Santa Barbara City College | Science Po |
| Scripps College (2) | Seattle University |
| Smith College | St. Louis University |
| TASIS | Tufts University |
| Tulane University | University of California Berkeley (2) |
| University of California Davis (2) | University of California San Diego (2) |
| University of California Santa Barbara (2) | University of California Santa Cruz |
| University of Edinburgh | University of Oregon |
| University of Southern California | University of Washington (2) |
| University of Westminster, London | Whitman College |
| Yale University | |