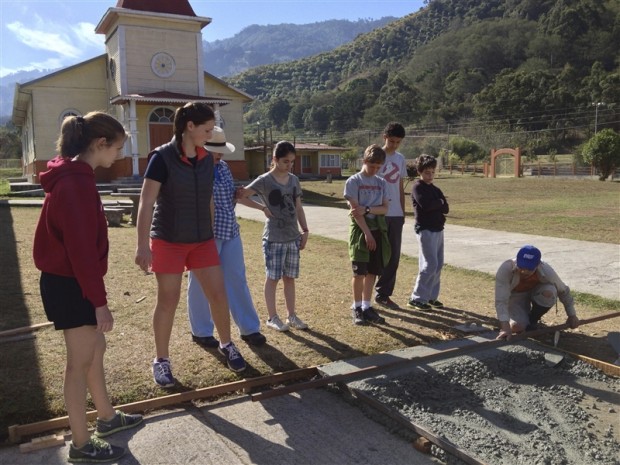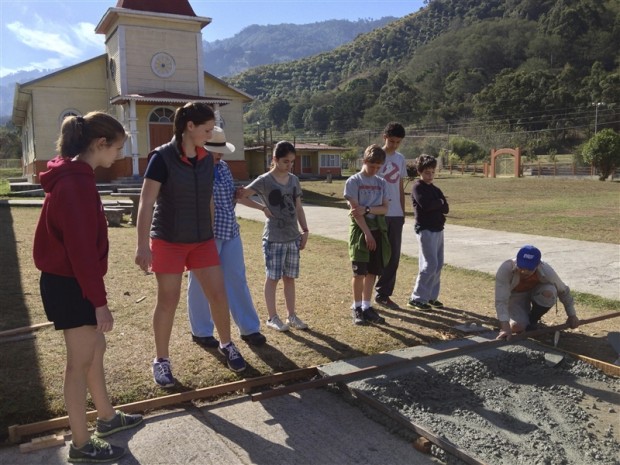 Right before Spring Break, a group of 7th and 8th graders travelled to Costa Rica for a service project. The 7th graders stayed with local families in the small village of Copey. The families were very kind and welcoming. Although it was hard at first communicating only in Spanish, it got easier as the time went on.
During our time in Costa Rica, the main service project for the 7th graders was the construction of a gym for the local High School in Copey. We spent three days working on it. The first day, we removed what was left of the remaining foliage on the building site, using pick axes, shovels and wheelbarrows.
The second day, we started mixing cement. The recipe required, per load, three buckets of gravel, two of sand, some water, and half a bag of cement powder. After shoveling the materials into buckets, we poured everything into a cement mixer. After this, we used the wheelbarrows again. The cement was poured from the mixer into the wheelbarrows. Next, we took the cement in the wheelbarrows to the opposite edge of the area and poured it out. Finally, we flattened everything over metal rod supports to make a strip of flat cement.
By the third and last day we had perfected the cement-making routine. However, a large number of us were sent out to the English learning center to help. This also happened the previous workday, but not to the same extent. By the end, we had finished four strips of cement floor. We unfortunately did not finish building the structure, but then again we did not have access to high functioning tools. We were able to imprint our hands and names into the wet cement, so the memory of our work there would last as long as the building itself.
Society's normal perception of poverty, below a certain income, is that people live very difficult lives. However, this trip showed me that a strong community can fill in the places that might otherwise be filled with money. The people in Copey did not have many things that we in the Bay Area are fortunate to have, but their lifestyle was very nice, calm, and welcoming, and that cannot be bought with money.
*In 2020, the International School of the Peninsula (ISTP) formally changed its name to Silicon Valley International School (INTL) to better reflect its bilingual programs, location, and international values.