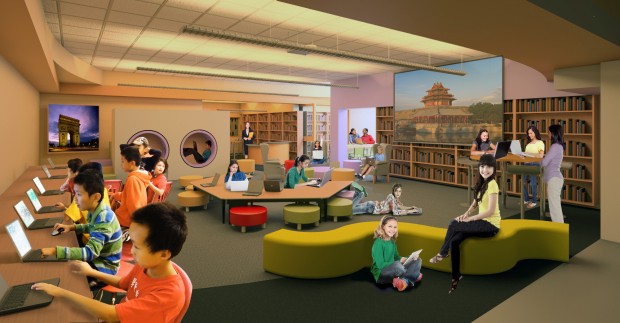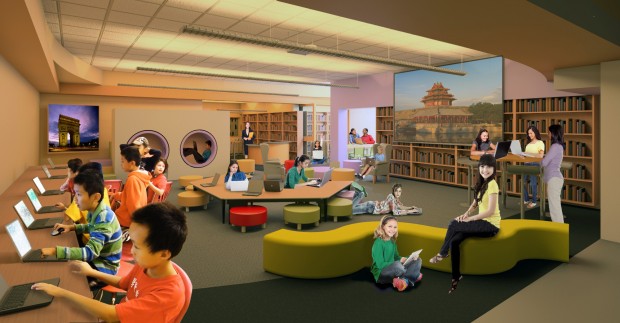 Imagine an open, bright space that forms the heart of the school, where students come to research on iPads or laptops, to discuss or present projects around spacious tables, or simply to curl up with a good book. INTL*'s new Media Hub will serve all these functions and many more. It is neither a classroom nor a library, but is an innovative new learning environment.
The Media Hub will be both the physical center of the Cohn Campus, and a center for learning and community. It has been designed with varied, flexible seating, to provide the perfect setting for individual and collaborative small-group learning for students of all ages. Younger students can gather on cushioned ottomans for stories, or draw on whiteboards mounted on the backs of mobile banquettes. Tables can be moved into any configuration, or even cleared to transform the area into a theater for dramatic performances. Older students can perch at café tables as they research on their laptops. A more private, conference room area will provide space for groups of students to collaborate on projects or give digital presentations.
The Media Hub is the perfect space for students to use the portable technology provided by our one-to-one iPad initiative in grades three to five, our one-to-one laptop program in middle school, and our shared iPad program in grades one and two. Technology support staff will be on hand and ready to help.
The Media Hub will also house our book collection, and the space will be served by our librarians. Students will especially love the fun, comfortable, cocoon-like reading spaces, which were designed to encourage a love of reading by offering an irresistible place to curl up with a fascinating novel or an exciting comic book.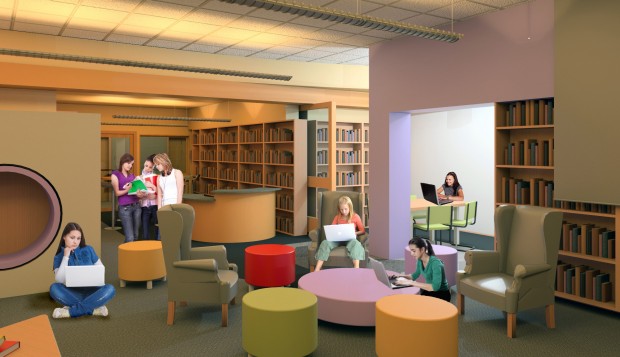 Assistant Head of School Kate Lussen shared that he Media Hub was "designed to be inviting – to be a place where students will want to be." The Media Hub will be open during recess and after school, so students will always have a place to go to learn, study, or simply relax and enjoy themselves. "The Media Hub will have the feeling of a University commons," Kate said. "It will be both comfortable and a place that inspires learning."
The Media Hub was specifically designed to support student-directed, differentiated learning – the type of learning INTL knows is essential for nurturing creative, exceptional students.
The construction of the Media Hub will mark the beginning of a new era at INTL. Construction will take place over the summer, and the space will be open for student use when school begins in the fall!
The new Media Hub is only possible with generous gifts from parents. Please consider making a gift to the Expansion for Innovation Capital Campaign. Learn more and make a pledge at www.ISTP.org/capitalcampaign.
*In 2020, the International School of the Peninsula (ISTP) formally changed its name to Silicon Valley International School (INTL) to better reflect its bilingual programs, location, and international values.