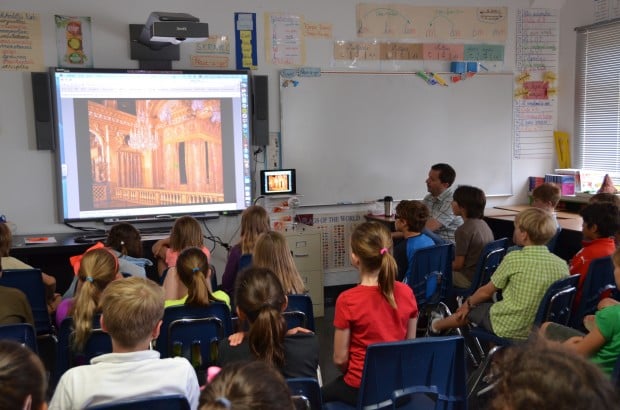 This past Tuesday morning, Lousi XIV's France came to the Silicon Valley. Olivier Monteil's 4th Grade French class was treated to a digital tour of the Château de Versailles. They visited the Hall of Mirrors, the Appartement du Roi, and the breathtaking gardens surrounding the palace – all without leaving their Cohn Campus classroom.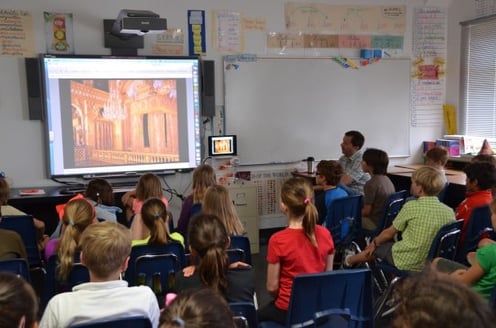 At 8:30 a.m., students connected live over the Internet with a professional guide in Versailles, France, where it was 5:30 p.m. local time. The guided tour was an interactive, multi-media, language immersion experience. In one corner of the screen, students could see their guide's face as she gave expert commentary in French about the images they were seeing. On the main screen, students saw video streaming live from various points in the palace. The guide was able to zoom the camera in to examine the elaborate art and decorations close-up. Students got to see exquisite tapestries and murals, and Louis XIV's bed and coat of arms up. The Versailles specialist also used beautiful photographs, movie clips, and period music to recreate the atmosphere of Louis XVI's royal court.
The Versailles tour complemented the unit the French Program 4th Graders had just completed on Louis XIV and the French monarchy. After the tour was complete, students had the opportunity to interact with the tour guide and ask questions. Students asked many interesting questions, including: Why did Louis XIV wear a wig? How many kids did he have? How did he brush his teeth? Olivier reported that he was "very proud of the students, because when they asked their questions, they really showed they had learned a lot in their studies and were curious to learn even more."
This is the second year that Olivier Monteil has arranged a virtual tour of Versailles for his students. The tour is part of a program subsidized by the French government that runs virtual tours of monuments throughout France. The Versailles tour has proven to be such a valuable learning experience that Olivier is thinking of expanding the program to include more sites next year.
*In 2020, the International School of the Peninsula (ISTP) formally changed its name to Silicon Valley International School (INTL) to better reflect its bilingual programs, location, and international values.