Reviewing the Math Programs:
Over the past year, we have engaged in a review process of the math curricula in Elementary School. In the French Program, we follow the curriculum defined by the French Ministry of Education, which teaches concepts in depth and integrates more concepts in the later grades. In the Chinese Program, we had followed the California State standards and used a textbook series from Houghton Mifflin, called California Math. This math was paired with math in Chinese an hour or two a week, mostly reinforcing the path of the English math program, but occasionally going to greater numbers, which is easier to do because of how numbers are labeled in Chinese. This math program was more focused on teaching how to do operations, and less on understanding the reasoning of why those operations work. It was a good program, but we felt we could do better and find a better balance of skills and concepts.
A Consistent Math Philosophy:
After research, training, and a process of comparisons, we decided that Singapore Math is an excellent fit for our school and allows us to have a consistent math philosophy. We feel that there should be a great understanding of the concepts studied that is balanced by a strong knowledge of operations. Both of these aspects of math should be put to use in developing the ability to regularly apply what is learned with ease. In math, this is most often in the form of word/story problems. Singapore Math offers approaches and tools that can easily fit with and enhance the French math program as well, while still following the directives of the French curriculum. Both the English and Chinese math teachers in the Chinese Program will use Singapore Math textbooks and methods, while the teachers in the French Program will continue to use French textbooks and use some of the Singapore Math tools and techniques to complement their teaching.

Why Singapore Math? What is it?
Singapore Math has long been on our radar, but the last time we evaluated the math program, it lacked in teacher and student resources. It has now gained more popularity and thus has more resources associated with it, including wonderful trainers and workshops to support teachers. It is a math program that requires a teacher to really understand and engage in the math process so that they can guide the students to engagement and understanding.
Singapore Math is based upon how math is taught in Singapore, but it has been adapted for use in the US, thus fully prepares students for "American" math in the higher grades. In fact, many schools that use Singapore Math find their students are ready for higher level math earlier and are more successful due to a better foundation of understanding. We are using the "U.S. Edition", and there are some differences from the CA state standards, but they are minor and are in fact closer to the Common Core math standards that many states' public school systems are adopting. For a scope and sequence by grade level, please click here. Singapore Math is based on moving from the concrete to the pictorial to the abstract, and teaching students effective tools that emphasize the concepts taught.
A Summary of Key Ideas (from Kirsten and HaiYing):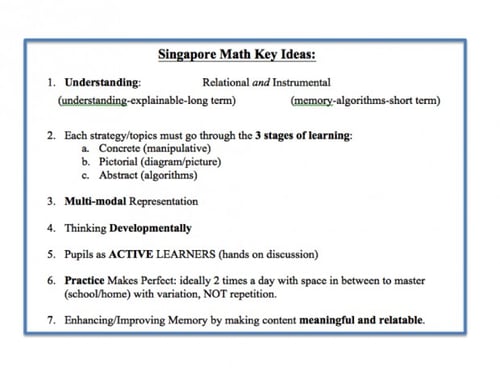 Implementation at INTL*:
In June, all math teachers spent an intensive two days on campus with a dynamic and inspiring trainer. Teachers worked with the trainer to learn the program, understand the concepts and tools, and then to develop and plan for the upcoming year. French teachers spent time writing French word problems and adapting approaches to the French curriculum. The trainer returned recently to work with teachers in the Chinese Program to ensure an integrated program that is taught in both English and Chinese, using Singapore Math. The trainer will return again in October for further follow up, and will hold an informational Parent Night on Monday, October 14, from 6-7:30 pm. The evening is intended primarily for Chinese Program parents but anyone interested is welcome to attend. Please register at:
https://www.INTL.org/podium/default.aspx?t=36644&rid=9412
Resources from Our Trainer, Cassy Turner:
Singapore Math's Recipe for Success
Manipulatives and hands-on activities that build conceptual understanding.
- Students learn why the math works, along with how it works.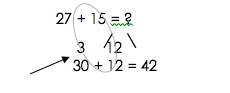 Unique strategies that build from year to year.
- Less time needed for review means more time
to focus on key concepts!
- Emphasis on number sense and mental math
- Bar modeling helps students visualize multi-step word problems:

User friendly student texts and workbooks.
Simple language with pictures and minimal distractions on the page make it easier for all students to focus on the key concepts being taught.
How to Help Your Student
If you put the Singapore curriculum on a continuum, you would find it between concept-based curricula, and skills based "traditional" curricula.

Students:
Practice

math facts

daily.
Parents:
You may see

home enjoyment

with fewer but more challenging problems.
Allow your child to work math using Singapore Math methods.
Work with your child to:
Memorize addition & subtraction facts through 100 (2nd grade and up).
Multiplication & division facts through 10's (3rd grade and up).
Count change.
Tell time on an analog clock
Measure - let them help in the kitchen, supermarket or on planning and building projects.
Resources:
Thinkingblocks.com
Arithmetic for Parents by Ron Aharoni
Interested in learning more about Singapore Math?
Visit the links at SingaporeMathSource.com for research, news articles and websites
that support the curriculum.
*In 2020, the International School of the Peninsula (ISTP) formally changed its name to Silicon Valley International School (INTL) to better reflect its bilingual programs, location, and international values.