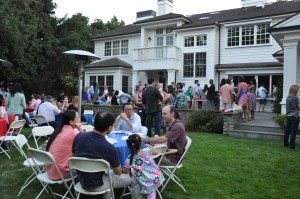 Red Carpet is always an exciting evening. The veteran INTL* families who serve as mentors are always eager to welcome the newest members of our INTL community and take them on as their mentees. The new families, while sometimes slightly anxious, are just as enthusiastic to meet new people who share an important common interest – INTL.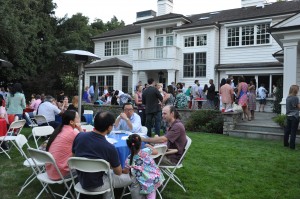 This year, one family who attended Red Carpet had only arrived from France two days prior. Their eldest son was completely exhausted and jet-lagged. However, as soon as he realized that a classmate of his was already there he brightened up. That is the magic of Red Carpet – it is a chance for our newest students to cement friendships with classmates outside of school, and it is also an opportunity for new parents to ignite their own friendships.
Red Carpet is an evening where these "bleu parents" can take advantage of their connection to INTL to form new (and deeper) levels of connection with fellow newcomers and "expert" INTL families (we call them "bleu parents" because in France the color blue is used to describe someone who is new, young, or inexperienced, analogous to the American expression that someone is "green").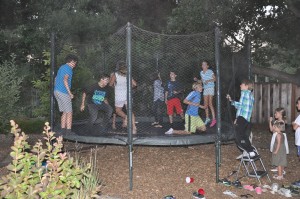 Great thought is put into how mentors and mentees are matched. Which universities people attended, where they work, what their passions are – these are all considerations when deciding which families are best suited to each other.
It thrills me when people come to me and say, "How did you know that about us?" Two mentee fathers (who share the same mentor) were amazed that I "knew" the sister of one had just accepted an offer to work at the firm where the other is a partner. Those coincidences just added to the joy and happiness of the night.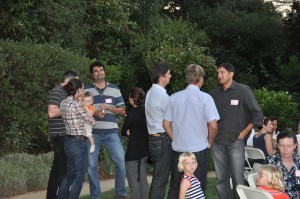 The matching process is a truly delightful task that allows me to get to know all the new families and understand who they are and where they come from. The process really feels like no work at all. The true work behind Red Carpet is the party itself. This parent-driven event doesn't just happen with the snap of a finger. Red Carpet Chair, Kusum Pandey, takes great pains to ensure that the evening runs smoothly and that everyone is having a great time. Making sure the yummy buffet of food is never empty, welcoming her own mentees, being a gracious hostess – she and her team of volunteers seem to be everywhere at once!
Thanks to alumni parents Marty & Sabrina Hodgett, we had a stellar venue to host this year's event. The Hodgett backyard has been home to Red Carpet for 6 years, and it was a real lifesaver when Sabrina offered her home again this year. Her generosity in opening her home to us when she no longer has a child at INTL speaks volumes of her commitment to our school and the Red Carpet program.
It cannot be easy to have 100 families descend onto one's home on a Friday night, but Sabrina tells us that the next day it was as though no one was there. The clean-up crew (who I cherish so much for coming at 9pm solely to clean) did an excellent job of making it appear as though no party ever took place. In fact, that is a sentiment echoed by most parents who allow us to host INTL events in their home.
All this work is done happily so that everyone can enjoy the evening. Seeing parents establishing new friendships and the excitement of the children as they nurture their own is one of the many reasons why I love my job. At the end of the day, the thing that makes this truly unique and diverse community work is our relationships with each other.
Creating and nurturing those relationships is the core of this school, and to see that blossom and unfold at Red Carpet is an absolute joy.
As I am always thinking ahead, the 2014 Fall Red Carpet is already at the forefront of my mind. I have a truly simple way for you to support the Red Carpet program that takes nearly no time or effort – hosting Red Carpet at your home. If you want to be a leader in our community and be part of the magic of Red Carpet, please email me at patricia@ISTP.org.
*In 2020, the International School of the Peninsula (ISTP) formally changed its name to Silicon Valley International School (INTL) to better reflect its bilingual programs, location, and international values.