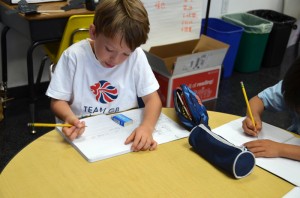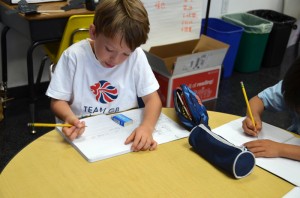 I've often recounted the story of my first attempt to go global. I came home from school one day and announced to my mother that I wanted to spend my tenth grade year of high school as an exchange student in Japan. The tears that immediately welled up in my mom's eyes let me know instantly that my dreams of becoming bilingual and experiencing another culture would have to wait. When a few years later, I learned that my father had passed up an opportunity to move the family to Germany, it was in my eyes that the tears began to form!
I would like to thank every parent at INTL* who has made the commitment to a robust bilingual education for their children. Having not had the opportunity to start studying Chinese until I was eighteen years old, I am absolutely in awe of the progress our students are making every day. When I was teaching Mandarin to high school students, my colleagues began to describe the students' ongoing chatter in Chinese as "ni-hao"-ling! I'm just delighted that the "ni-hao"-ling at INTL is several orders of magnitude more sophisticated than that I heard among my own students. And the one thing I've learned clearly is that this in no small part due to the incredible professionalism of our teachers.
Over the past few weeks, I've had the opportunity to welcome a number of visitors to our school, including Shuhan Wang, a national pioneer in the field of Chinese language education. Dr. Wang, who was previously Deputy Director of the National Foreign Language Center, spent two days at school with our teachers and in our classes. She has worked with Chinese language immersion programs all across the United States, in international schools in China, and extensively with the Ministry of Education in Singapore.Dr. Wang confirmed for me the incredible strength of our faculty and the successes our students are having throughout the program, and she will be helping us going forward to consider priorities and new directions. As we visited classes on both Cowper and Cohn, we observed how naturally and effortlessly students in the Early Years program are learning through language, including every modality of learning, from the five senses to physical movement, to exploration and discovery. We were awe-struck by students in the Elementary School developing literacy and other academic skills, and beginning to find their own unique voices as writers and critical thinkers. The high levels of proficiency and facility with sophisticated academic content displayed by our Middle School students were clear indications of the success of our program.
At INTL, I have seen a clear balance between providing the scaffolding and structure students need to become self-directed learners, and opportunities for students to discover, explore, and inquire (what I have described elsewhere as the guiding principles of "improvisation, inquiry, and insight" and the perfect fit between "academic rigor" and "student engagement"); a dual focus on developing both new (digital) and traditional (print) literacies; and an intertwining of academic with social emotional learning. This is precisely the kind of education necessary to prepare students for a rapidly shifting global future.
At an event two years ago with Michelle Obama to promote greater US-China educational exchanges, I heard a middle school student from Ohio declare that she now realized that she was doing much more than learn a language in a school classroom -- that she was preparing herself for success in a world in which having a global skill set will be essential. Those students who can develop these skills will own the future, and I am confident that INTL graduates will lead the way.
*In 2020, the International School of the Peninsula (ISTP) formally changed its name to Silicon Valley International School (INTL) to better reflect its bilingual programs, location, and international values.