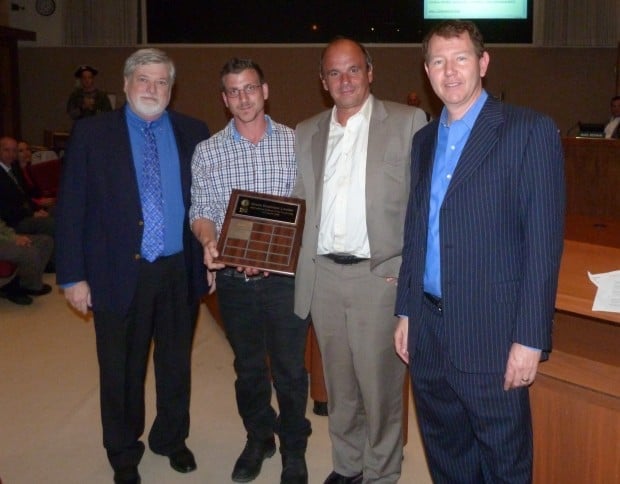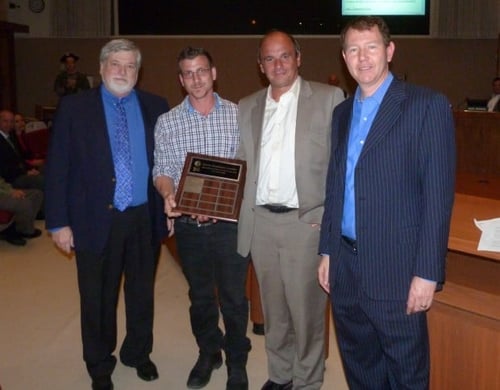 For the second year in a row, the City of Palo Alto has selected INTL* for special recognition for its leadership in green business practices.
This past Tuesday, Head of School, Philippe Dietz, Director of Finance and Operations, François Guèdenet, and Facility Manager, Nic Guèdenet attended a special gathering for the recipients of the 2nd Annual City of Palo Alto Mayor's "Green Leader" Award. INTL was one of only seven organizations in Palo Alto to receive this honor.
Mayor Greg Scharff stated, "there are dozens of local businesses who are leading the way down a 'greener path' here in Palo Alto, and as a community we want to recognize the most significant efforts. Another goal of the awards program is to highlight that saving money through improved energy efficiency is very smart business."
Eligibility for receiving the Green Leader Award is based on the U.S. Environmental Protection Agency Energy Star benchmarking process. The City recognizes all businesses with an Energy Star certified benchmark score of 75 or higher within the past year. This year, INTL has an anticipated score of 84, an improvement of 9 points over last year.
In recognition of winning this award, INTL received a plaque from the mayor and will be featured in advertisements and on the City of Palo Alto's website.
*In 2020, the International School of the Peninsula (ISTP) formally changed its name to Silicon Valley International School (INTL) to better reflect its bilingual programs, location, and international values.