February Break Mini Camp on Cowper Campus was a magical week in which we immersed ourselves in the richly imaginative world of children's book author, Maurice Sendak. We read many of Sendak's beloved stories, accompanied by his beautiful original illustrations, and created art projects inspired by his works.
On the first day of Mini Camp, the children read Where the Wild Things Are. Each child told us what they were "wild" about, created their own Wild Things puppets and masks, and painted a forest backdrop where their wild things could roam.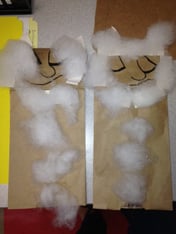 On Tuesday, campers read In the Night Kitchen, and experienced firsthand what it would be like to cook in Sendak's imaginary kitchen. Inspired by Mickey, the story's hero, students invented a bread recipe of their own creation. They discussed some of their favorite fruits and challenged themselves to explore different tastes with kiwis, melons, and pineapples. We ended the day with a delicious fruit salad prepared by the children.
On Wednesday, campers were introduced to the silly stories of Really Rosie: Alligators All Around, Pierre I Don't Care, Chicken Soup with Rice, and One Was Johnny. They continued to work on their Wild Things art projects, while listening to music inspired by the Really Rosie stories. Campers also got to stretch their legs and imaginations as we walked to nearby Mitchell Park and explored the garden. In the afternoon, campers helped to bake the bread from the Night Kitchen-inspired recipe the had written the previous day, in the Cowper kitchen oven.
On Thursday, the children got to enjoy three animated shorts based on Maurice Sendak's books. They watched Where the Wild Things Are, In The Night Kitchen, and Really Rosie. While watching these short films, the children enjoyed some healthy organic snacks, including a special snack that they made themselves during Cooking with Mickey activities on Tuesday and Wednesday.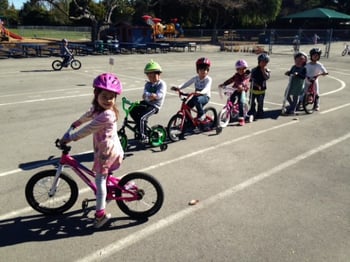 Friday was Wheels Day, when all the children brought a tricycle, bicycle, or scooter to school, with their helmet, to enjoy in the yard. Wheels Day is always a favorite day for campers, and it was the perfect way to end a fun and exciting week of Mini Camp! Teachers set up street signs and stop lights on the yard. Campers had a blast imaging they were on the open road. They stopped when they heard "red light," went when they heard "green light," and followed the one-way sign, just like real drivers!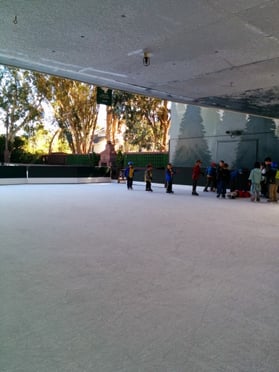 On Friday, the Kindergarteners also took a field trip to Winter Lodge to ice skate! Some enjoyed their first time on the ice with a little lesson from the Winter Lodge staff. The kindergarteners also had an exciting chance to skate with the 1st through 8th graders from Cohn Campus Mini Camp, who were also visiting Winter Lodge! Campers all had a great time meeting and interacting with the "big kids."
It was truly wonderful to spend a week exploring Maurice Sendak's world. Through Sendak's stories, we found fun, laughter, unforgettable characters, and artistic and culinary inspiration. Mini Camp this February was enjoyable, educational, and enriching for campers and teachers alike.
*In 2020, the International School of the Peninsula (ISTP) formally changed its name to Silicon Valley International School (INTL) to better reflect its bilingual programs, location, and international values.