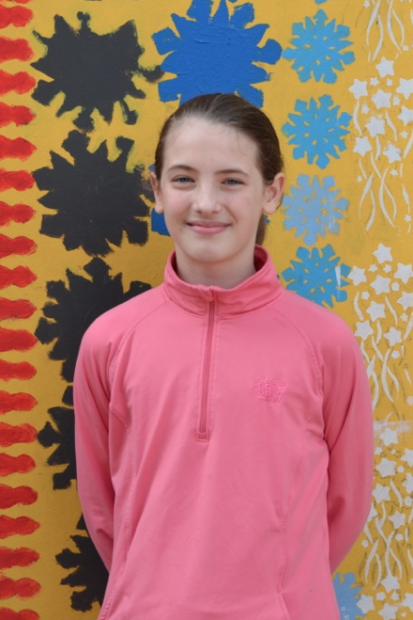 Anyone who has spent time in the INTL* community knows that it is a special place, filled with unique and talented people from around the world, not to mention our extraordinary, dedicated students.
Although we are not surprised when others see something special in our faculty or students, it still fills us with pride when their achievements are highlighted.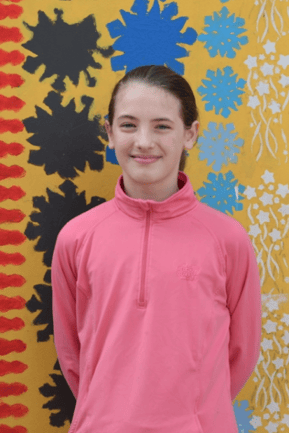 Recently, INTL was proud to see two members of our community receive special recognition, International Middle School 6th Grader Leyla G., and Pre-K Chinese teacher Ying Liang.
Leyla G. was recognized as a Writer of Distinction in the 5th and 6th Grade division of the CCTE (California Council of Teachers of English) Regional Writing Competition.
Her entry, The Tale of Lepreum, is a short story written for Heidi Smith's English Class. The assignment called for students to write stories inspired by Greek Myths, which they studied in class. Leyla's story is an account of the life of Lepreum, goddess of stone, diamonds, and crafting – a goddess Leyla dreamed up herself. The tale illustrates the moral of generosity and "paying it forward."
Leyla's achievement is a testament to her imagination, writing skill, and hard work, as well as the dedication of all of her teachers. Leyla will have the opportunity to read her story aloud when she is honored at Mercy High School in San Francisco, in April.
The INTL community was also recently excited to see one of our Early Years Program teachers grace the cover of an early childhood education magazine! Pre-K Chinese teacher Ying Liang and two of her students were featured on the cover of Teaching Young Children magazine.
Ying also appears in a full-page feature in the publication, where she gives insight into her teaching experience and philosophy. In the interview, Ying explains her approach to teaching: "Education is powerful because we are empowering others – as well as ourselves. I look at my work as an everyday learning process with children. When teachers participate in the process, they can better understand children's thinking. When children gain the power to develop their theories, they are able to construct knowledge, not just receive it."
Ying's interview shows a very thoughtful approach to bilingual immersion education, and we are proud to have her as one of our many talented faculty.
Congratulations to both Leyla and Ying, for your contribution to making INTL the remarkable learning community we all treasure.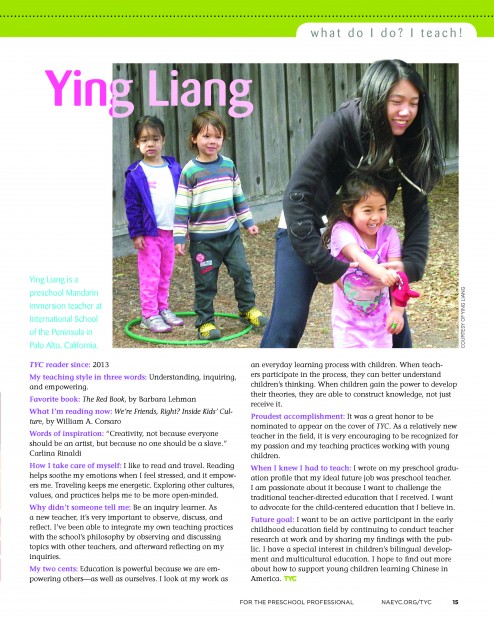 *In 2020, the International School of the Peninsula (ISTP) formally changed its name to Silicon Valley International School (INTL) to better reflect its bilingual programs, location, and international values.