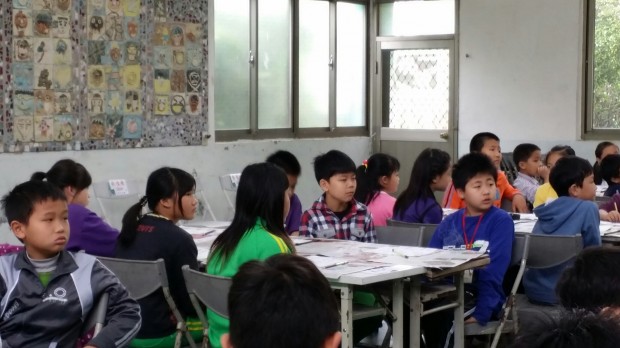 This is the first year that INTL's* Chinese Program students are visiting Taiwan on our cultural exchange program. With this blog, I am excited to share their adventures with you!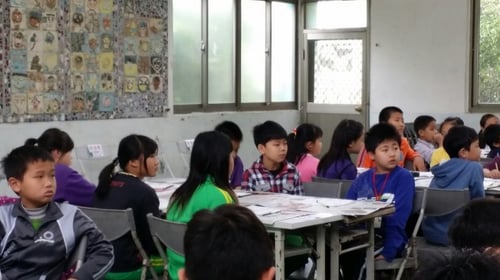 Day 4: Today students started their classes at Gaoyuan Elementary School with a special social emotional learning class. Parent volunteers from each classroom came and talked about how to work with frustration and conflict, using a smart board. INTL and Gaoyuan students all interacted with one another and worked together.
After that, the children learned one of the traditional Chinese arts, calligraphy. One of the school's administrators taught a two-hour lesson with the students. The students learned how to sit properly when writing calligraphy, and how to prepare their materials and tools for writing. Then, they practiced a few basic strokes in Chinese. Following along with the teacher, they wrote the name of the school, as well as their names, on special calligraphy paper.
After the morning class, the students took a tour around the campus. One teacher came to talk to the students about some of the plants that grow around the school – especially ferns and tung trees. They also spent some time visiting the school zoo, and they were amazed to see that the chickens were allowed to run wild in the school.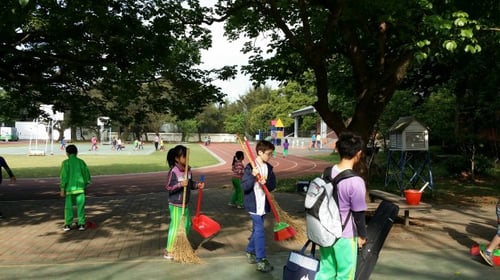 Today was a short day at school for the students. They went home with their host families after lunch, and they will spend the rest of the afternoon with the host families.
Day 5: Today students experienced a special "mobile library" at school. The "mobile library" is a truck that drives from place to place, providing children with books to read. It is quite different from the regular experience of going to the library that we are used to, and we found that many students were excited to come read every recess.
In the afternoon, after school dismissal, students went to the Principal's office for a special treat. They were presented with Chinese chicken nuggets and many other goodies around the table. This is something that they have been waiting for since we arrived in Taiwan, and the delicious treats did not disappoint.
Day 6: I just can't believe how fast the time flies. Today is our last school activity with Gaoyuan Elementary School. We participated in International Educational Day, a whole school event, featuring performances and games. Before students started any games, two of our students performed their Chinese speeches in front of the whole school. Next, all our students sang a Chinese song called "The Invisible Wing." After that, each one of our children said something in front the crowd to show their appreciation to the teachers and the school. They also said tearful goodbyes to the Gaoyuan students they had become friends with. Although it has only been 5 days, the local students and our students have already built a special bond, and it was very sad to say goodbye. Students from both sides exchanged email addresses, so they can continue interacting with one and another.
Our students have learned so much in the past 5 days at Gaoyuan Elementary School, and we are thankful for everything the school did to make sure our students had a great experience.
*In 2020, the International School of the Peninsula (ISTP) formally changed its name to Silicon Valley International School (INTL) to better reflect its bilingual programs, location, and international values.