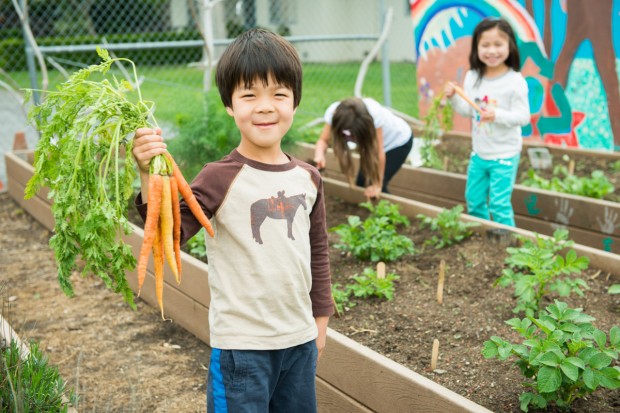 Guest bloggers and Early Years Program (EYP) Coordinators David Huang (Chinese), Cécile Roques (French), and Giselle Vallejos (English) share and provide examples of the intentional design and execution of collaborative projects and activities. Read more to find out what's been happening on Cowper Campus!
In the Early Years Program, we use a theme/project-based curriculum that incorporates all the academic subjects: language, art, math, science, PE, music, social emotional learning, and social studies. This is appropriate for our students, because everything around them is connected; there are no distinction of subjects. All the teachers consistently engage and collaborate with each other to create projects across grades and languages - this is in addition to their own classroom projects, which are intentionally designed so students can work together and acquire the necessary skills for their age group.
For example, throughout the year, many classes participated in a gardening project. Cowper Campus is home to a lovely garden, which provides a wonderful tactile and outdoor environment for the students. We all share this same garden, and all have a responsibility to take care of the plants. This environment is an opportunity to teach the obvious subject of science and math, but it also allows us to teach the students about discovery, responsibility, and taking care of our planet. For the gardening project, we also invited INTL's* 5th grade students to join us for a day of collaborative learning.
The entire Kindergarten (Chinese, French, English) also collaborated on the "rule posters" you'll find all along the hallways on Cowper Campus, demonstrating the various rules of the school (example: no tricycles between the blue outside tables, no running in the hallways, etc.). Photos of the students engaging in the "to do's" and "not to do's" were taken, and they all worked on putting these posters together. This project brought all of the Kindergarten students together, teaching them about respecting each other and their physical environment, and how to be safe on the playground and in the classroom.
Often, teachers are very flexible in finding a common theme between classes, so students can work together. For example, Chinese Nursery and French Nursery started a gardening project together, and the students were paired up as buddies. They spent time working together and bringing what they learned separately into their exploration.
Arts Night is a focused project where students work together to present a class "gallery." Each student brings something unique and sees how their project fits into the overall class project. Through their work, they gain a sense of community, and also develop skills to work with one another. We often see children using their strengths to help children who are struggling with certain parts of the project. This year's theme is "Many Cultures. One World." Through this Arts Night theme, students learn about different languages, cultures, and food. Then, they have opportunities to be teachers by teaching the other class something about their culture. In these types of collaborative projects, students learn that each person is unique and it is valuable to learn from one another. Besides collaboration at the class level, this year, one of the Chinese K class (Shuchun) and one of the French K class (Melanie) are working on a video project for Arts Night.
Project/theme based activities allow us to also focus on our core values. At INTL, we value diversity. Within the campus, there are many cultural exchanges that occur regularly. For example, the Chinese classes invite the French classes to join them for Chinese New Year Celebrations. Some classes would even prepare gifts for the other class. The French classes invite the Chinese classes to celebrate Galette and Crêpes. Annually, the English classes introduce a theme of "Around the World" to incorporate different cultures. They invite parents to come and share their backgrounds, and tell stories from their countries. The children are always excited to learn about another culture and experience different traditions.
The EYP provides an enriching environment for children to develop necessary skills to be successful in academic learning. We are sensitive to the children's development and needs, and we provide a stimulating environment for children to explore, experiment, and collaborate. The theme/project-based curriculum really allows children to learn through their curiosity and develop their love of learning. In this type of curriculum, the teachers work together and model collaboration to the children. We enjoy working together, and we are excited to see our students succeed in these projects.
*In 2020, the International School of the Peninsula (ISTP) formally changed its name to Silicon Valley International School (INTL) to better reflect its bilingual programs, location, and international values.