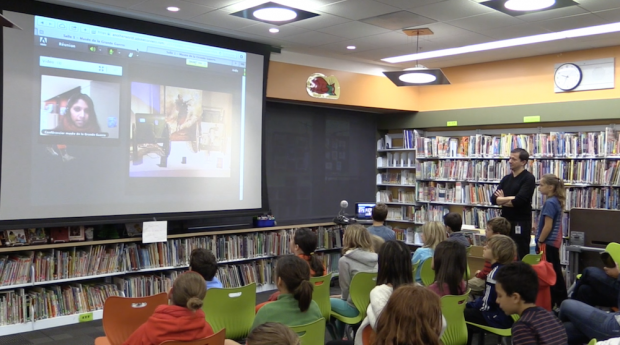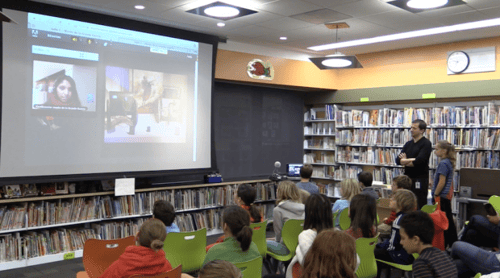 Last week, INTL's* French Program 5th Graders took a tour of the Musée de la Grande Guerre (a museum of the First World War) in Meaux, France. A guide showed students around, and explained the various exhibits, which included WWI weaponry, items belonging to ordinary soldiers, and full size reconstructions of French and German trenches.
It was a fascinating interactive learning experience for our students, but what was truly remarkable about this tour was that it took place virtually, from INTL's own Media Hub.
INTL has been working with the Musée de la Grande Guerre for two years now, and the museum selected us to be a "model school," to demonstrate to French officials and journalists how a virtual tour works.
The French newspaper Le Parisien reported on the tour in a full page article, including an interview with French Curriculum Coordinator Olivier Monteil, who organized the event. View article pdf here.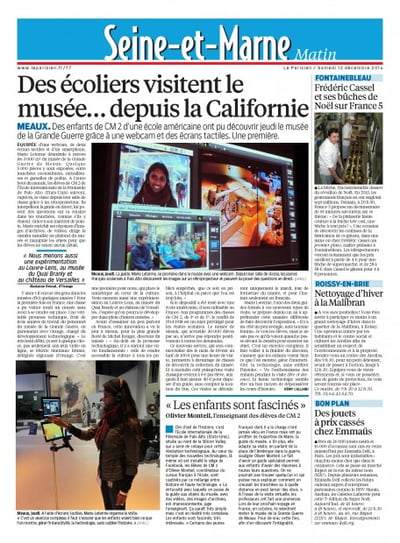 After the virtual tour, some of our students had the opportunity to ask the guide their own questions. Head of School Philippe Dietz thanked the museum on behalf of the school, and showed the guide a WWI artifact owned by our school librarian, Danièle Arsac – a shell casing engraved by a soldier in the trenches.
Olivier Monteil reflected on the experience, "A lot of people are scared about the impact of technology in schools because they imagine that kids will just sit in front of screens all day. In the virtual tour, technology was used to improve the way we teach, not as a goal in itself.
We were able to make a very human connection with our tour guide, and she helped our students understand the links between the French and American soldiers both fighting in the war."
Philippe Dietz agreed that the tour was a meaningful opportunity for students. "The tour was a valuable pedagogical experience, and it achieved what we set out to do – to place our students in the position to really understand what life in the trenches was like. The guide was able to design a tour that answered all of our students' questions.
What is fascinating is that on the virtual tour you forget you are 6,000 miles away – that is the magic of the Internet. Our visit to the museum was just as informative as a physical visit would have been. It is remarkable to experience something that was only science fiction 30 years ago."
Take a look at the video below to see the virtual tour in action.
[embed]https://www.youtube.com/watch?v=3RM8_i_7Cio[/embed]
*In 2020, the International School of the Peninsula (ISTP) formally changed its name to Silicon Valley International School (INTL) to better reflect its bilingual programs, location, and international values.