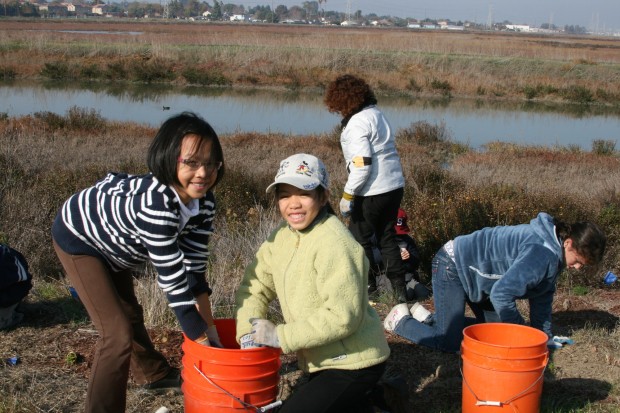 Each year since 2008, our International Middle School 6th graders have worked with Save the Bay, a non-profit organization that has been cleaning and restoring the San Francisco Bay for more than 50 years. On a yearly field trip, 6th graders assist with one of Save the Bay's ongoing projects at our neighboring Palo Alto Baylands.
The goal of this eco-friendly trip is to teach our students a sense of accountability and responsibility, and to open their minds to how pollution and climate change directly impact their own school neighborhood.
Once a year, students walk from Cohn Campus to one of the sites at the Palo Alto Baylands to work on a weeding or planting project.
When reflecting on their field trip, this year's 6th grade students are proud of the hard work they accomplished.
6th grader Aymeric M.'s best memory was "when we were getting rid of the invasive species and helping the environment. We packed a very big bag of mustard plants (40-50 lbs)."
Ella S. adds that she felt good "keeping the bay area animals safe and helping the eco-system."
6th grader Nick B. says, "I would like to live and work in the Baylands. Taking care of pollution is important."
Restoring the fragile ecological balance is critical for the marshlands next to INTL, which have been under constant threat for decades.
This collaboration between INTL and Save the Bay is living proof that education and information can make a difference in our local environment. In the future, students will remember to protect and care for the bay because they participated in these crucial programs and understand the value of conservation.
6th grader Emily L. summarizes it very well: "The project gives me a sense of preservation and helps me understand how to protect local flora and fauna."
Next year we will meet with our newest 6th graders at the Baylands, for another restoration program that will again make a difference for INTL's nearby environment, and teach our students important lessons about the world around them.
*In 2020, the International School of the Peninsula (ISTP) formally changed its name to Silicon Valley International School (INTL) to better reflect its bilingual programs, location, and international values.