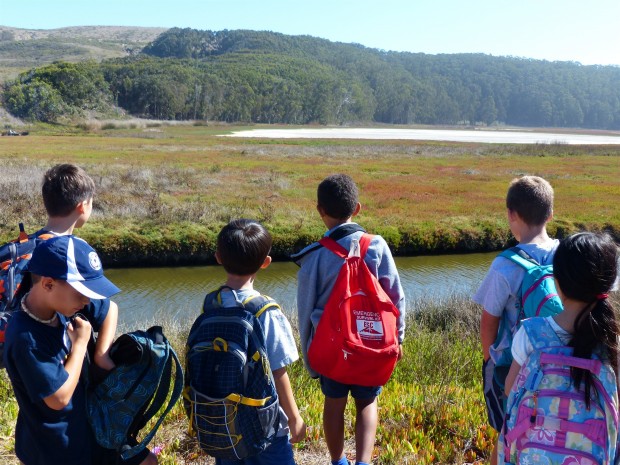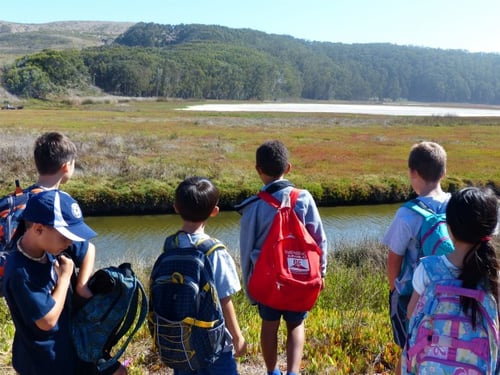 On Wednesday, September 23, 2015, the third grade team departed for two days of experiential learning in the redwood forests of Little Basin and Pescadero marsh. Upon returning, the third graders reflected on their trip and had the following to say: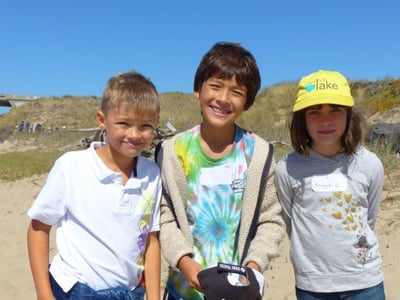 "At Little Basin it was really cool to be in a cabin because it was my first time camping and being away from home without my parents. We even saw deer jump over a fence! On the second day when we went on the hike I learned about Douglas firs." –Lorenne
"There were a lot of wild animals at Little Basin like fire ants and deer. There were cabins and some groups were in tents. I think that it was really cool and I would like to go there with my parents." –Rachel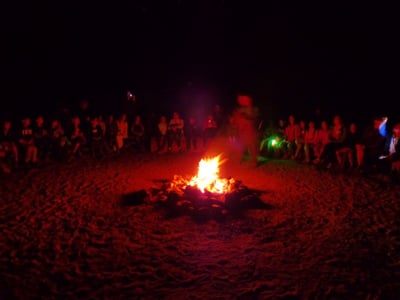 "I also liked when we went around the campfire and on the second day there was a talent show and we roasted smores!" –Noa
"I liked making the ropes and learning about how the Ohlones made ropes to help them fight and to do all the things they need. Also I liked making bracelets because after you had something you could take home."–Elizabeth
"Breakfast was very good! We had pancakes and cereal and eggs and even hot cocoa!" –Jack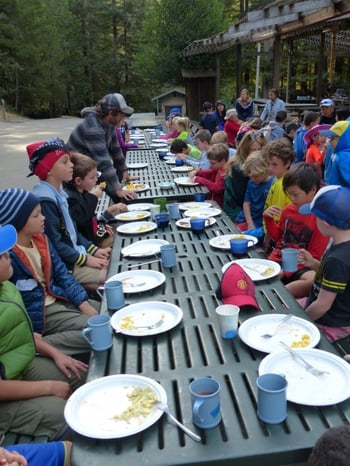 "During the talent show I didn't see anyone roast a marshmallow properly–they all burned their marshmallows!"–Mattheo
"On the last day when we got into the bus it was really hard to leave Little Basin because there was so much stuff to do and it was really, really fun." –Sophie
"I learned that fire ants are a little bit poisonous and I also learned that many Native Americans' favorite activity was beading."–William
"I learned that the great blue herrings make their nest out of bird poop and when we went on the bus to go back to school almost everyone closed the blinds to sleep and this was nice so we could sleep the whole way! While there I saw a lot of sea figs and learned that the Native Americans, the Ohlones, used to eat them." –Mattheo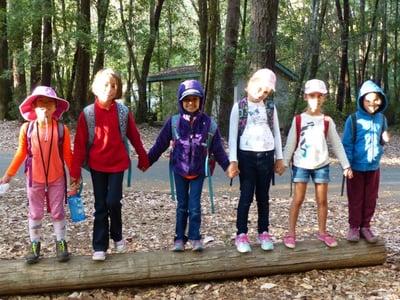 "My favorite part at Little Basin was when we were eating because the food was really, really yummy!" –Mathias
"My favorite part was going on the hikes on the second day, it was really tiring to climb up the mountains but at the top it was really fun because we got to taste acorns and we played a few games."–Talinn
"I saw a deer in the playground and I felt good because it was beautiful."–Philomène
The 3rd grade class sums up their experience: "Our field trip was a lot of fun, and the bus ride was really short. It was a good experience, we learned so many things, and Little Basin is so cool when you have Fieldguides with you, because they teach you a lot. We'd really like to go there again."
*In 2020, the International School of the Peninsula (ISTP) formally changed its name to Silicon Valley International School (INTL) to better reflect its bilingual programs, location, and international values.