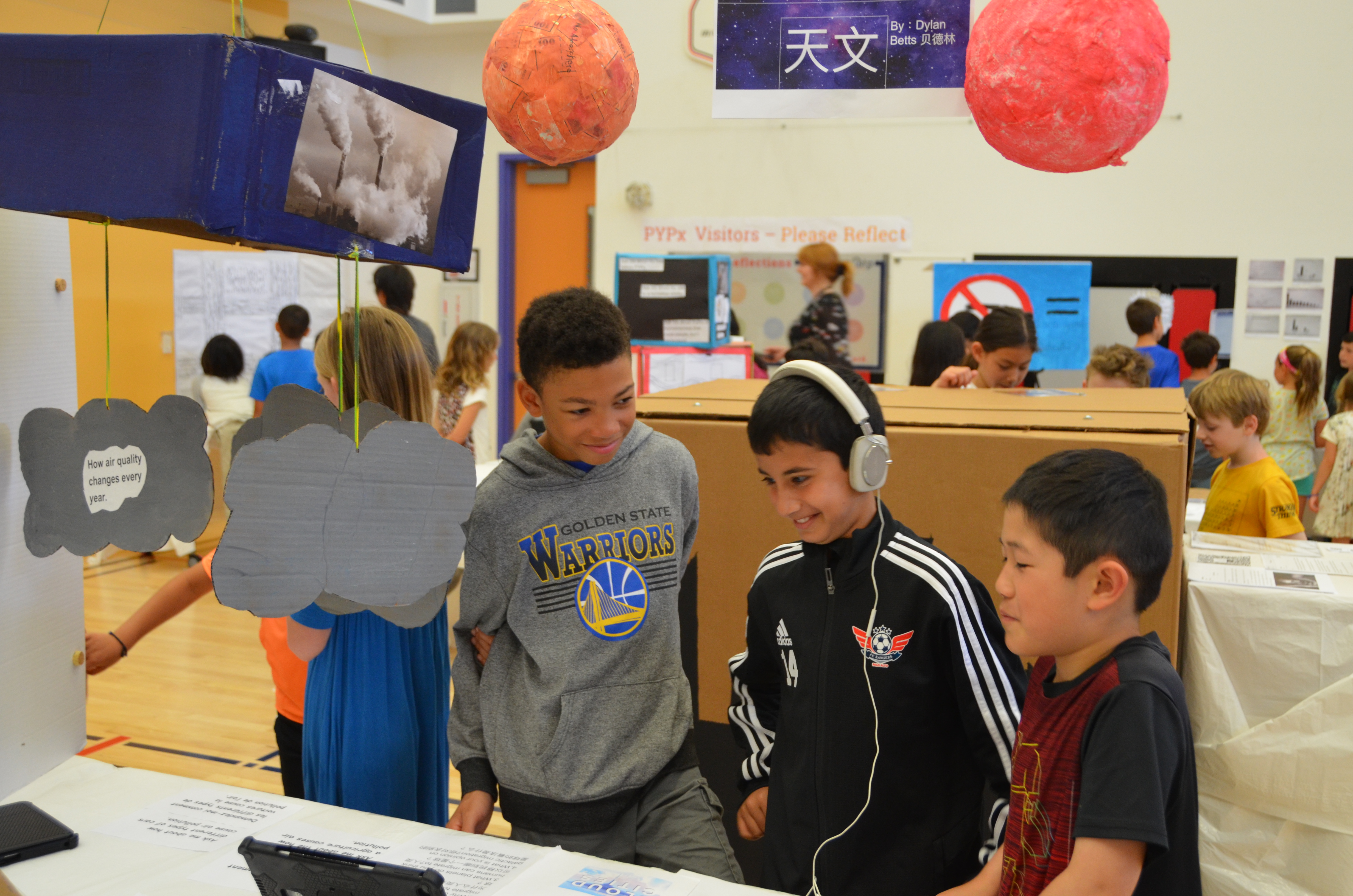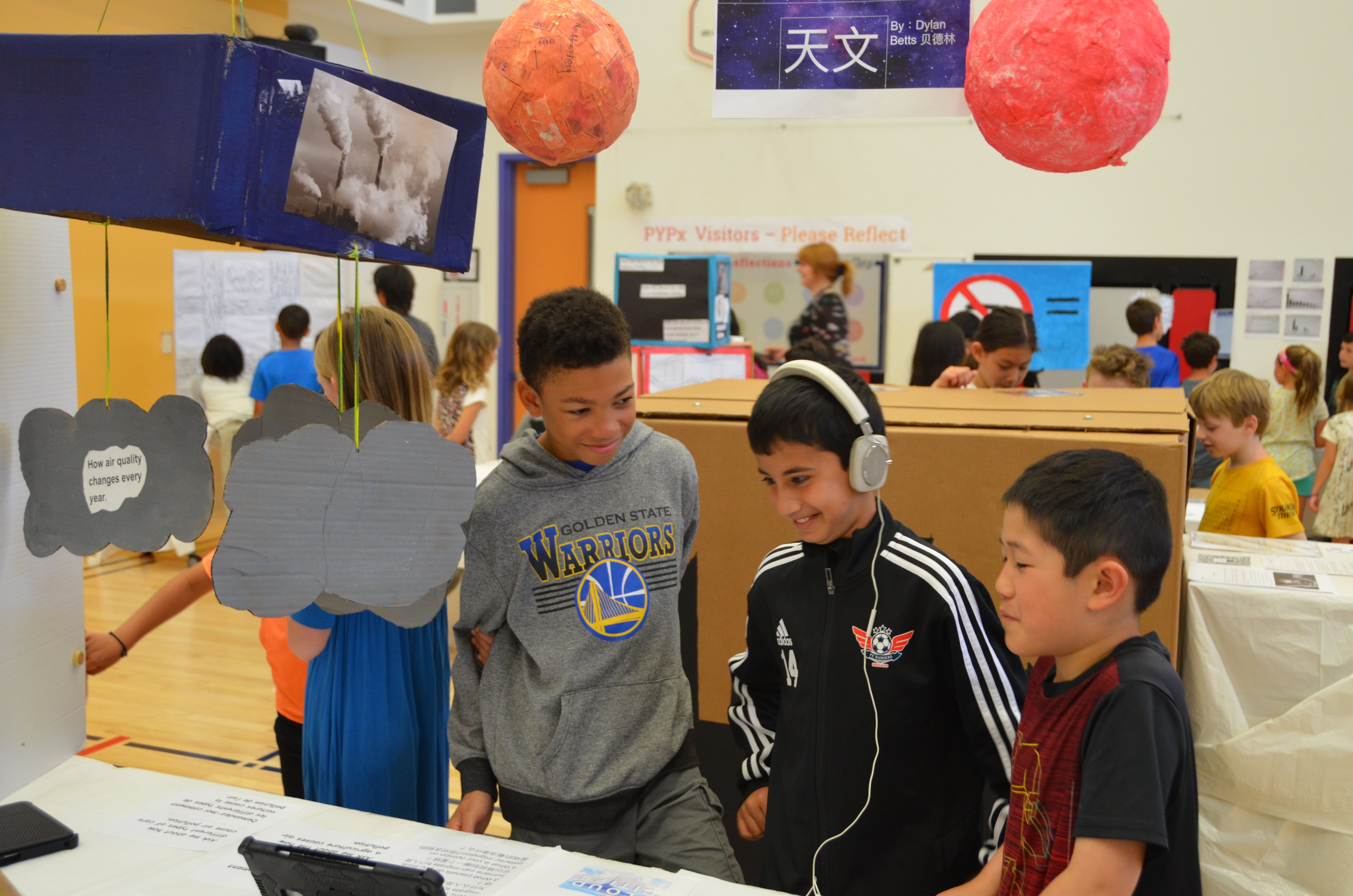 Silicon Valley International School's* first ever PYPx, the Rothschild Multipurpose Room was filled with evidence of our 5th graders' hard work, deep thinking, and self-motivated learning. Students confidently and enthusiastically engaged with parents and students of all ages about their lines of inquiry, and were incredibly proud to share what they had accomplished over the last 8 weeks.
The Primary Years Programme Exhibition (PYPx) serves as a culmination of a student's journey through the Primary Years Programme (PYP). Students are challenged to conduct an in-depth, long-range research project on areas of personal significance. They were free to choose any topic they were passionate about, inspired by the central idea the 5th grade teachers chose – "Developing an awareness beyond ourselves inspires us to act."
The diverse array of subjects students chose included – Religious Views and Conflict, Poverty and Education, Climate Change, Ocean Pollution, Gender Stereotypes, Racism, Homelessness, and much more. Many parents and teachers were impressed with the seriousness of the topics the 5th graders chose, and how thoughtful they were in pursuing their lines of inquiry.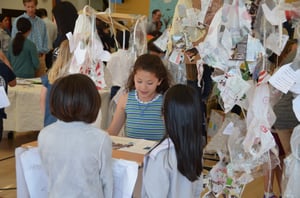 Students showed great strength as thinkers, using critical and creative thinking skills to conduct research and then synthesize what they had learned in an extensive essay in French or Chinese. They had to then use what they knew to develop a course of action to affect the world around them. Examples of student actions include – volunteering to help the homeless, beach cleanups, participating in community outreach/education, writing letters to politicians, and making changes in their own personal lives – to name just a few.
The PYPx was the culmination of the 8 week project, and was an opportunity for students to present their research in a visual way, and to educate peers and parents alike on the issues they had become very passionate about. We are so proud of the bravery and confidence the 5th graders showed in engaging with visitors throughout the day.
Our parents and teachers were all incredibly impressed with the PYPx – here are some of the thoughts they shared on our reflection wall:
"Thank you for being bold and brave in choosing topics that are so important! You all are leading us to a bright future!"

"I saw so much passion and self-initiatives in every presentation. Wonderful program!"

"I learned so much today! Thank you for teaching me so much about so many different and interesting topics. I am so impressed by your knowledge and passion. I am very inspired to learn more and take action! Great job!!"

"I"ll leave tonight having learned some fascinating facts, and I feel inspired to do better."

"Extremely impressed by all the efforts of the students and the wide range of topics researched! Amazing job done by all!"

"Very impressive exhibition! So much talent and maturity!"

"I am impressed by the creativity and energy. The kids are passionate and do a great job explaining!"

"So proud of all of you. It takes a lot of courage to talk to so many adults. You all spoke so eloquently and were very knowledgeable!"
A huge thank you to all the 5th grade teachers – Agnes Fleury-Gazet, Jingyu Li, Liz Evans, Patrick Boustiha, and Stephanie Wafzig, who supported and guided our students throughout this learning experience, and whose hard work made the PYPx possible. Thank you!
*In 2020, the International School of the Peninsula (INTL) formally changed its name to Silicon Valley International School (INTL) to better reflect its bilingual programs, location, and international values.