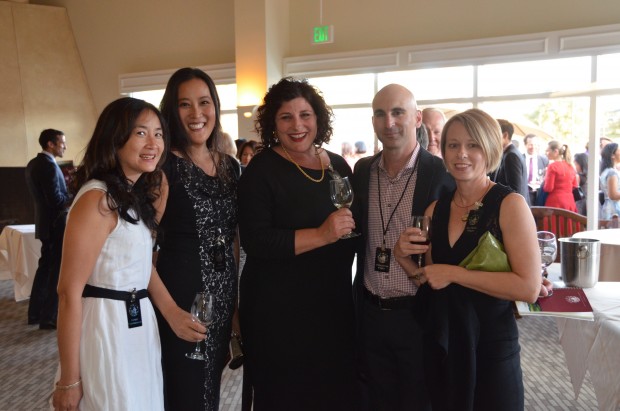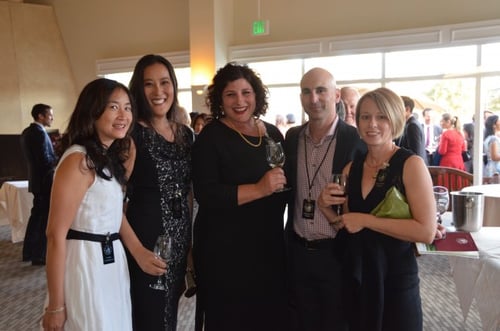 Sunday marked the 10th year of the Soirée du Vin wine auction, and the 10th year that this one-of-a-kind event has raised a generous sum for INTL*'s Charlotte de Géry Endowment Fund. Since its founding, Soirée du Vin has matured into a highly-anticipated evening, attracting more and more high-end pouring vintners each year.
The event's success over the past decade can no doubt be attributed to its serendipitous melding of California and France, bringing together two different geographies and cultures, to celebrate the essence of our school through wine.
In a sense, the Soirée du Vin is an event that only the INTL community could create. From our location in California, we use our strong connections to France to link two of the most prestigious wine-producing regions in the world, providing guests with a unique gourmet experience.
High-end pouring vintners, which this year included Thomas Fogarty Winery, Au Bon Climat, Bonny Doon Vineyard, Ridge Vineyards, and the Council, among others, continue to return year after year because they truly enjoy the evening, and love the unique international atmosphere of the event.
Jim Clendenen of Au Bon Climat said, "My life changed when I learned French and I used my knowledge of French to go to Burgundy to learn how to make wine and start my own company… so immediately when I came in and I met the founders of the event and school, and saw their passion for teaching French and French culture, it made me happy to come back each year. French culture totally changed my life, and I feel a real connection to the school."
Jim Varner of The Council echoed these sentiments. "I find the event to be very elegant…I love the international aspects; I have had many wonderful conversations with people from diverse cultures. I think the school motto, 'Many Cultures. One World.' is a great spirit to live by," and it is the same spirit that makes INTL's wine auction so vibrant and unique.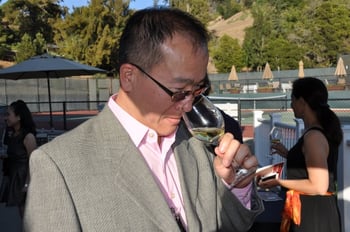 Keynote speaker Tom Fogarty Jr. of Thomas Fogarty Wineries continues to return each year because the sophisticated crowd stands above what he usually encounters at fundraising events. "It's my favorite event…everybody here is pretty passionate about wine, not the usual 'red and can I get a bigger pour' attitude."
This past Sunday, our passionate oenophile guests enjoyed beautiful early fall weather that allowed our pouring vintners set up on the sun-dappled terrace.
Mark Vernon of Ridge Vineyards, who has been part of Soirée du Vin every single year since its inception, customized his offerings to suit the lovely atmosphere. "Today everybody is really enjoying the chardonnay because it's a warm evening. We are outside, our chardonnay is a crisp, refreshing style, and I think it is going really well with the food and all the hors d'oeuvres."
After the pouring hour wound down, guests migrated indoors for a gourmet wine-paired five-course dinner and raucous live auction. The first dinner course was a surprise in honor of our 10th anniversary, featuring foie gras, accompanied by a glass of champagne!
During the live auction, the always-enthusiastic Jim Clendenen took to the podium to promote his "Au Bon Climat Wine Tasting Experience." His excitement proved contagious, as bidding reached $4,000. Jim then generously doubled the lot, creating two winners, and raising $8,000 dollars for the school in mere minutes.
The "Big Sky Country" lot, offering an authentic dude ranch experience in Montana, brought in $8,500, and many other lots received similar enthusiastic support.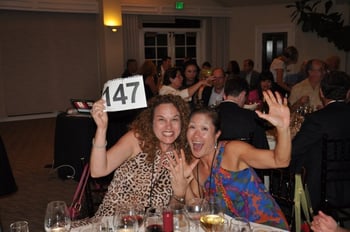 We would like to sincerely thank all of our guests who "bid high and bid often" during the spirited auction. One table in particular really rose to the occasion, raising a remarkable one-third of the auction total!
In the end, the enthusiasm and generosity of all our guests and donors has been the true secret to the success of the Soirée du Vin over this past decade. Event Co-Chair Thierry Nivaggioli summed up the celebratory feeling. "It feels great to have been part of this event for 10 years. It still feels like the first time, and I would love to do it all over again, for 10 more years."
*In 2020, the International School of the Peninsula (ISTP) formally changed its name to Silicon Valley International School (INTL) to better reflect its bilingual programs, location, and international values.