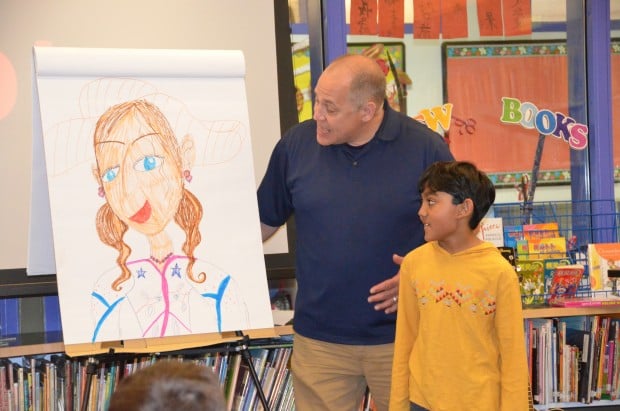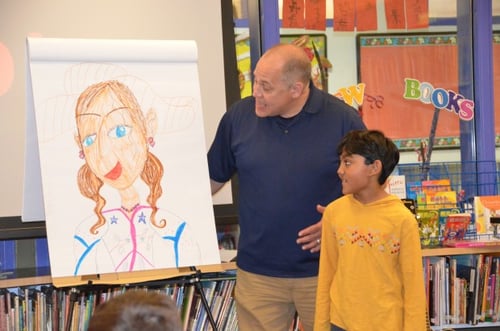 On March 10, 2016, an author named Chris Rumble came and told us about his life as an author. His visit started early in the morning, right when the bell rang. All 3rd, 4th, and 5th grade classes attended the first "Reading Pep Rally" session. Chris Rumble is also a musician and an artist. He asked 15 girls to come to the front of the MPR and sing one of his original songs with him, and we were chosen to participate. He split us into 3 groups. We were in the second group. Each group sang "My Book," taking turns. The first group sang it low, the second group sang it a little higher, and the last group sang it still a little higher. Then he asked a group of boys to come up. They were supposed to go down on one knee and sing "oooooooo." Almost everyone was laughing!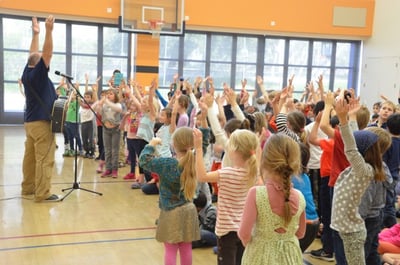 He also drew some illustrations from his book. He drew Uncle Stinky for us (Uncle Stinky is in the first book he wrote). A boy named Jackson got one of his books for free. It was one of the original copies! After that we went to class. The assembly was so much fun because we got to learn about Chris Rumble's life as an author! The 1st and 2nd graders also had this Reading Pep Rally, where they danced and sang songs, all about reading.
In the afternoon, 3rd grade visited with Chris Rumble in the media hub. Chris Rumble asked some 3rd graders to volunteer for different activities, such as singing, telling stories, dancing, telling jokes and drawing. There was lots of entertainment. He also worked with the 4th and 5th graders to help develop their descriptive writing skills. They had so much fun inventing their own fictional stories!
During his visit, Chris Rumble showed us how reading, writing and drawing has changed his life, and he encouraged all of us to follow our dreams. He encouraged us and inspired us to do what we love to do. We had lots of fun listening to the other 3rd graders show their creative skills. We had a great time learning from Chris Rumble!
*In 2020, the International School of the Peninsula (ISTP) formally changed its name to Silicon Valley International School (INTL) to better reflect its bilingual programs, location, and international values.