Achieving Excellence: The International Mathematical Kangaroo Contest
May 24, 2023
For over 25 years, students from all over the world have challenged themselves by taking part in the annual International Mathematical Kangaroo Contest, or otherwise known as the le Kangourou des Mathématiques for our French immersion students and Känguru der Mathematik for our German immersion students. Open to students grades 1 through 12, the annual competition consists of a single 75-minute round of a series of multiple choice questions that grow in point value as well as difficulty.
As with every year, French immersion students at Silicon Valley International School (INTL) took part in the contest including students from 3rd through 8th grade. However, this year's entrants from INTL also included both German and English speaking students as the contest continues to grow in popularity and competitiveness. In the Middle School, Chinese program students also took part. In addition, INTL alums Pandora G. (4th Grade) and Cassandra G. (6th Grade) made their way back to campus to be a part of the competition as INTL offered them the unique ability to partake in such academic rigorous endeavors. All Elementary School students took the test questions in their immersive languages while the Middle School students took the test in English and French depending on the language of their math class.

Elementary School French Program top award winners.
Standing out among their peers, INTL students excelled once again scoring among the top 1% of participants. While all of the INTL students shined, French program 3rd Grader Martin G. took home the silver medal with an impressive performance that placed him second among 25,400 students. Another prominent performance in the French program came from 4th Grader Charlotte R. who placed 13th out of 31,400 participants.
On the German side of the test which hands out its awards in tiers rather than rankings, a trio of INTL students took home first-place prizes. 4th Grader Niklas W. led the way for his class while 5th Graders Jonathan W. and Max C. each earned the top prize. A full list of INTL top performers can be found at the end of the blog.
For the INTL Middle School participants the results were just as impressive. 6th Grader Adam L. in the Upper School Language Acquisition program finished #51 out of 58,600. 7th Grade French Program student Max P. placed #543 out of 38,400 participants while 8th Grade Chinese Program student Remy C. finished #140 out of 21,300 participants.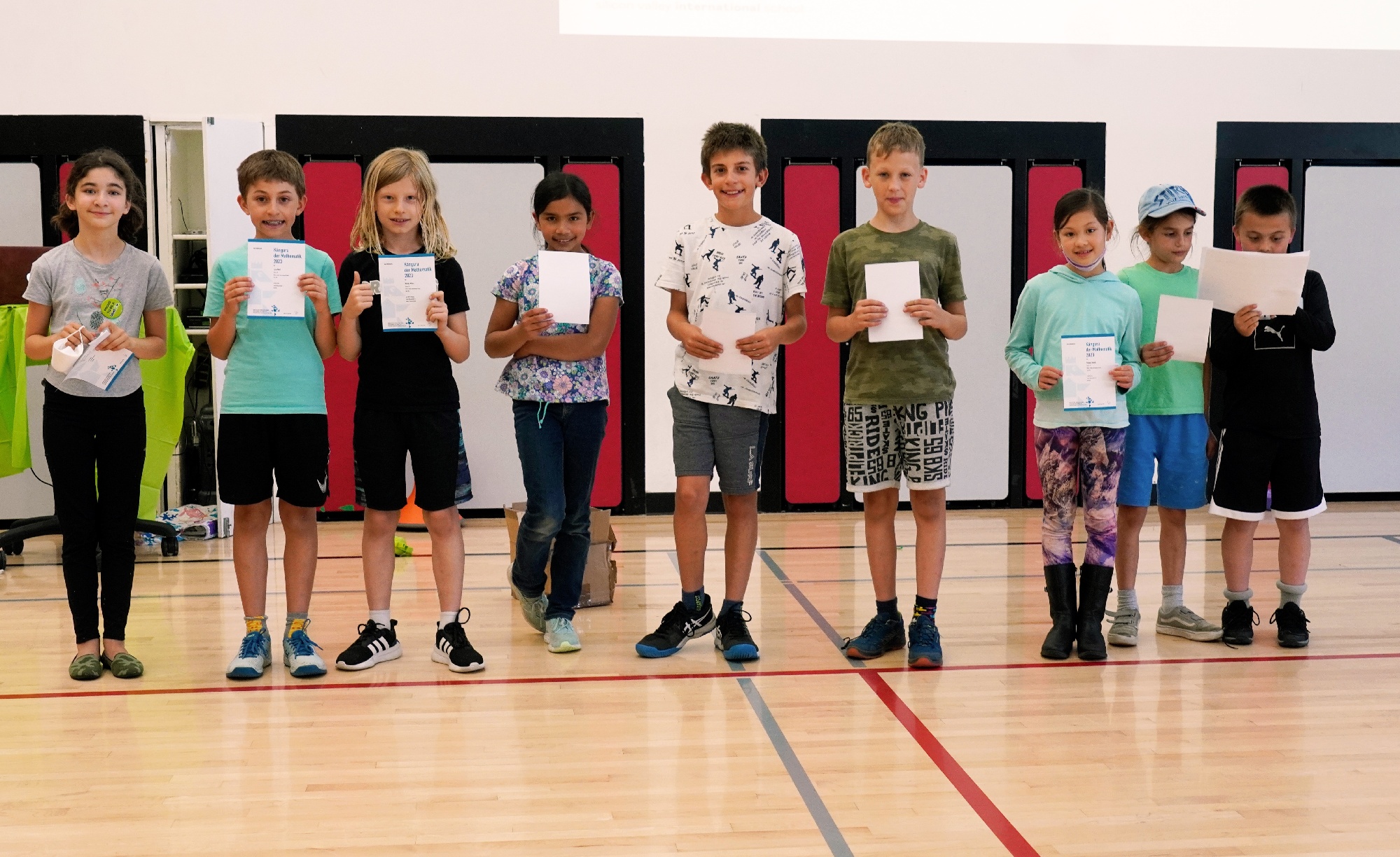 Elementary School German Program top award winners.
For all the students, the rigorous contest consists of a variety of problems using basic math, algebra, and geometry as well as a few logic questions. The tests are divided into three parts. The first third are easy, one-step, standard problems commonly seen in match curriculum that involve routine thinking and problem-solving. The second section involves more difficult questions that require the students to be more creative in their problem-solving and think even more critically. The final third of the test involves the most difficult problems that require the students to think in multiple steps and challenges them to the limits of their mathematical level.



Example question from 3rd-4th Grade English contest
The Kangaroo Math contest is just one of the many examples of the brilliant work done by students at INTL. Their ability to think critically and embrace complexity sets them apart and gives them the foundation to achieve excellence not only in math but in everything they set their minds to.
Top finishers by class

French Program
CE2 - 3rd grade
#1 Martin G.
#2 Sophie-Lang M.
#3 Noah A.

CM1 - 4th grade
#1 Charlotte R.
#2 Yoann A.
#3 Claire T.

CM2 - 5th grade
#1 Joseph L.
#2 Chloé M.
#3 Allegra K.




German Program
3G1 - 3rd grade
#1 Levin A.
#2 Sophia D.
#3 Lilly P.

4G1 - 4th grade
#1 Niklas W.
#2 Luca W.
#3 Saskia M.

5G1 - 5th grade
#1 Jonathan W.
#2 Max C.
#3 Daphne C.

Middle School Program
6th grade
#1 Adam L. (USLA)
#2 Ethan J. (Chinese Program)
#3 Sophie G. (French Program)

7th grade
#1 Max P. (French Program)
#2 Soledad Y. (French Program)
#3 Maxence G. (French Program)

8th grade
#1 Remy C. (Chinese Program)
#2 Mathilde M. (French Program)
#3 Alia B. (Chinese Program)