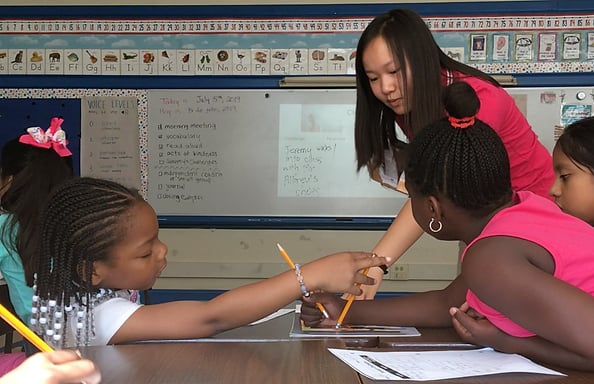 Alumna of the Month: Cara Green, '11 (8th Grade)
"During my time at INTL, I never imagined that I would one day become a teacher. And yet when I look back on my experience at INTL, it was the quality of teachers I was surrounded by that taught me the power of education."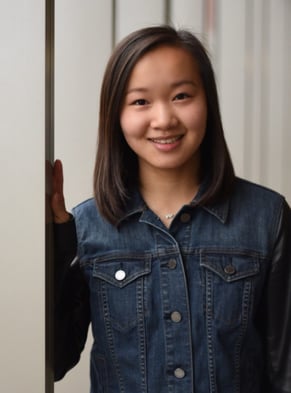 Cara Green graduated 8th grade from INTL's Chinese program in 2011. Her teachers left a lasting impression on Cara, instilling an appreciation for education that would later influence her to become a teacher herself!
"My teachers worked tirelessly to develop my gifts. Their lessons brought each subject to life in a way that was dynamic and engaging. I remember my math teacher taught us fractions by having our class make pancakes!"
In addition to remembering her wonderful teachers, Cara also looks back fondly on what the inquiry-based INTL education did for her beyond the classroom, on her experiences traveling and making lifelong friends.
"The annual outdoor education trips to Point Reyes, Catalina Island, Washington DC, etc. were among the fondest memories I have from my time at INTL. The friendships I developed have lasted through the years, and our class remains close even to this day!"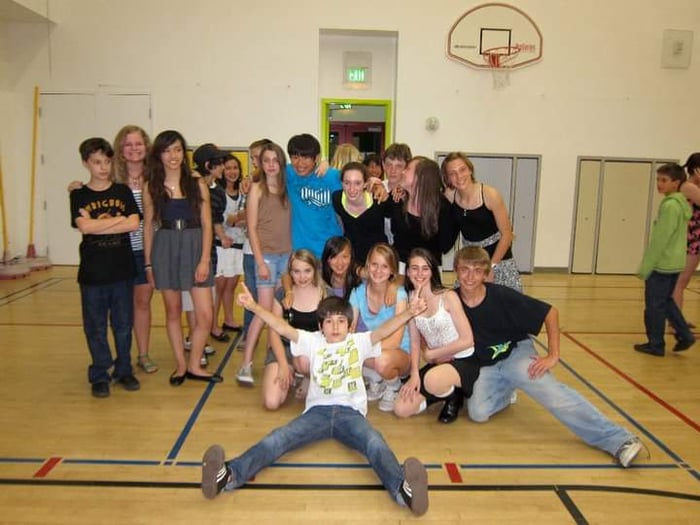 During her time at INTL, Cara learned many values and skills that are at the heart of the International Baccalaureate (IB) program. After graduating from 8th grade, Cara went on to pursue rigorous academic challenges, graduate from high school in an IB program, and lead a successful college career.
"I graduated from Sequoia High School with a full IB diploma (2011-2015). Afterwards, I double-majored in sociology and history, with a minor in education at UC Berkeley (2015-2019). I joined the Urban Teachers program in partnership with Johns Hopkins University. In May 2021, I graduated from Johns Hopkins with a Master of Science in secondary English education and a certification in special education."
In the midst of her college years, Cara used her INTL education to profound effect.
"In the summer of 2016, I taught English abroad in a small village on the outskirts of Nanjing, China. I went with a non-profit called Learning Experiences. Every English teacher was paired with a Chinese student from Nanjing University. This person would be our co-teacher and serve as a translator during our stay in the village. Lucky for me, I was already fluent in Mandarin, so I could communicate directly with the locals. Being able to connect with my 4th grade students in their native language meant that I was able to cultivate deep relationships that extended beyond the classroom. I lived in the village where my students lived, so we would get together and spend time outside of class. In the afternoons, the students would bring me around the village to their favorite places and show me the ongoings of daily life. The education I received at INTL proved to be invaluable."
Because Cara was fluent in Mandarin, she was able to connect with a community on the other side of the planet and in a way that none of the other teachers were able to. She sums up why speaking in Mandarin was so important to both her students and herself.
"Nelson Mandela once said, "If you talk to a man in a language he understands, that goes to his head. If you talk to a man in his own language, that goes to his heart." This summer of teaching in China remains one of my most precious experiences. The relationships I formed left a lasting impact on me, and I cannot emphasize enough the role that INTL played and continues to play in my life."
Today, Cara's appreciation for education and passion for teaching have led her to where she is today.
"I currently teach 8th grade English and am also the Verizon Technology Coach at Vanguard Collegiate Middle School in the Baltimore City Public School district."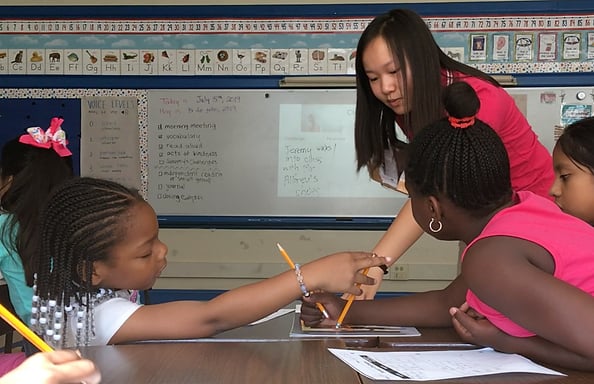 Cara carries over the great values of her INTL education into her own teaching, focusing on helping her students become open-minded, inquiry-based learners on a path of personal growth and development.
"My goal is to provide my students with opportunities to discover their passions, cultivate their academic strengths, and develop their character in, and outside of, the classroom. I believe that classrooms should be brave spaces where students feel comfortable to take risks and make mistakes. This means that all students are welcome to share their perspectives, engage in academic discourse, and make meaningful connections in class."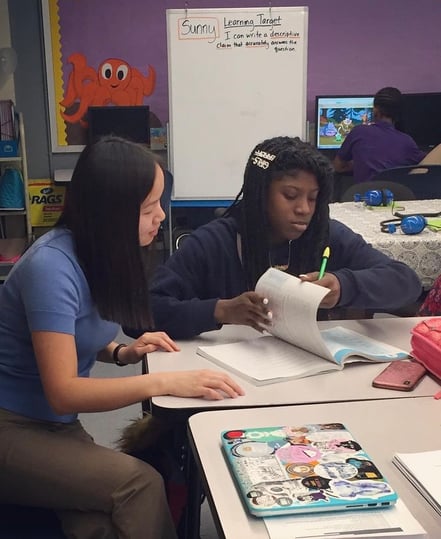 Even though Cara is the teacher, there are ways that her students teach her, and she continues to learn from them every day.
"Learning is a two-way street, where I work cooperatively with students to cultivate healthy relationships and guide them towards self-discovery and academic growth. Seeing my students excel as individuals inspires me to work harder each day. The students I serve come from diverse cultural and socioeconomic backgrounds. Their attitudes and perspectives of the world are shaped by lived experiences that add depth to our conversations in class. My students come to class with ideas, passions, mindsets, and understandings about their own humanity."
Cara found that having an INTL education was a gift. Thanks to our dedicated teachers, inquiry-based classwork, and cultural immersion, INTL did more than teach academics; it gave her IB values and prepared her to continue learning, to succeed in new environments, and to thrive in new situations long after graduating.
"Reflecting back on my time at INTL, I am deeply grateful for the quality of education I received. The teachers and administration were committed to helping me grow and encouraged me to cultivate my skills both in and outside of the classroom. The Chinese program at INTL offered a robust education in reading, writing, and speaking skills, all of which have helped me to become fluent in Mandarin. Even more importantly, though, the emphasis on cultural immersion at INTL gave me the opportunity to connect deeply with my Asian heritage, as well as opened my eyes to other European cultures. Growing up with this cross-cultural experience has helped me to be a more open-minded and globally conscious citizen, and I have the INTL community to thank for this!"
We are proud to give our students the excellent values and qualities of an IB learner, and Cara is no exception. From her statements alone, we can see that she demonstrates many aspects of the IB Learner Profile: Inquirer for her enthusiasm for learning and love of education, Communicator for using her bilingualism to reach across cultures and barriers, Open-minded for learning to appreciate different cultures and traditions, Caring for her commitment to special education and teaching low-income students, Risk-taker for demonstrating resilience and resourcefulness by overcoming rigorous academics and embracing challenges in her career, and Reflective for introspection and insight into her own experiences.
We are thrilled to see Cara using the skills and knowledge that INTL gave her, and we are even more thrilled to see that she is passing them on to new generations in her own teaching style. We are excited to see what is next for Cara and her students!