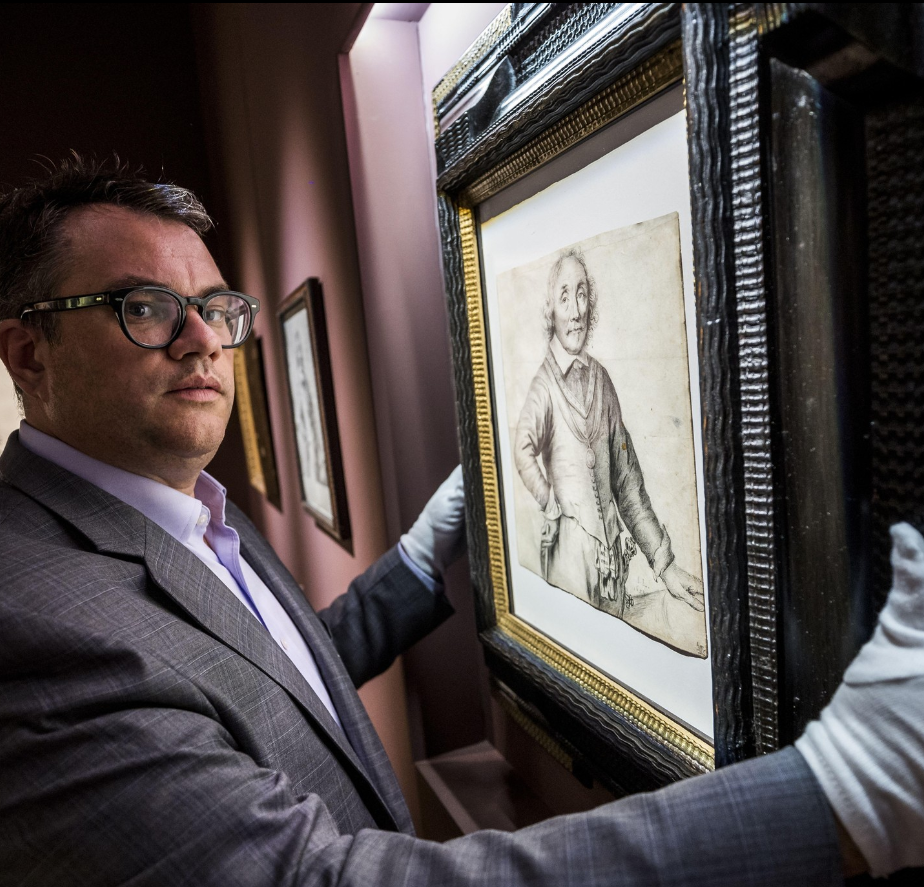 During his 2022 European tour, we had the privilege of speaking with alumnus Christopher Bishop '85 (5th Grade), a New York City art dealer. He had just finished packaging up the last of the sixteen works of art shipped to The European Fine Art Fair (TEFAF) in Maastricht by his eponymous fine art gallery before heading on to Christie's and Sotheby's London for its Jubilee Season, both stops including exhibitions showcasing masterworks spanning over half a millennium of art history.
This year's highly prized artwork was a rediscovered Jan Lievens (1607-1674) drawing of Maarten Harpertszoon Tromp (1598-1653), lieutenant admiral of the Dutch fleet in the Golden Age and known naval hero. Offered for $250 in a small Massachusetts auction house, Christopher identified the drawing and searched through the Internet and catalogs to find that the original work had not been seen in public since 1888. He bid on the drawing and came out on top. With further research, authentication, and restoration, the drawing was listed at TEFAF for more than one-million euros and has made media recognition, including in the New York Times. Its importance in art history and for the history of the Netherlands makes its debut at TEFAF a celebrated homecoming.
Christopher attended kindergarten as part of the first group of students in 1979, when the school was founded as the Peninsula French American School (PFAS)*. Enrolled by parents who wanted him to be established as an American but also incorporating a bilingual education with rigorous academics, his mother Simone Bishop, a French native, fondly recalls having "established a close relationship with my son by finding fun ways for him to memorize his French vocabulary," and remembers that "he was absolutely mesmerized by the visual arts class of Chantal Declève."
After completing 5th grade at PFAS, he continued on to Corte Madera Middle School in Portola Valley, and then Menlo School. Proving high academic performance in all of grades 9 through 12, Christopher was a National Merit Scholarship finalist.
He majored in Philosophy at the University of Chicago, and as a third-year took a number of classes in art history and studied abroad at the Freie Universität Berlin. An excellent professor of European Art in Berlin was instrumental in sparking Christopher's interest in art history.
After earning his bachelor's degree, Christopher spent several months in Perugia, Italy studying Italian in preparation for his future studies in art history. Surrounded by a magnificent historical town, architectural beauty, and access to the medieval and Renaissance works of the National Gallery of Umbria, it is no wonder he earned a masters from Yale University in Art History with a concentration on 17th and 18th Century Italian and French Art.
While at Yale, Christopher apprenticed for several art dealers, and began to consider a career in buying and selling works of art. Over the course of his studies and as a requirement of studying art history, Christopher continued to learn German and Italian, basic art history languages.
Upon graduating from Yale, Christopher decided to go out on his own and build a career as an art dealer. He shared, "I thought I would be a dealer in American paintings because that's what was very much of the moment during the years of 2000 to 2001. But when I went out there, I found that where I had the advantage was in Old Master drawings and prints. One had to understand the history of paper, the history of Europe, and be able to read the inscriptions in various languages. I fell back on the research skills I had developed, both as an undergraduate and as a graduate student. Finding new drawings in private collections and small auctions in the United States which needed their context back really became the core of my business."
His success is based on countless hours poured into research. "The recent drawing by Lievens that I found and that made sort of a splash here in Holland is a perfect example of that. It was missing for 130 years and it turned out that it was on the wall of a Massachusetts family for most of that time, and the family before putting it in auction had absolutely no idea who the artist or the sitter of the portrait was. These finds that seem like they come out of nowhere are in fact a result of years of experience and research, and looking, and education."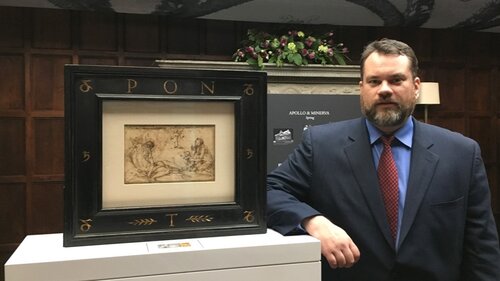 For those interested in a career as an art dealer, Christopher shares of a typical day, "I might be meeting with a client, going to see a drawing at an auction to decide whether I want to buy it, in the gallery physically hanging an exhibition, or spending my day writing a catalog or an essay for a catalog. I do a lot of my own research in the library. What I love is it's a field that really rewards the deep dive. The drawing that I exhibited in Holland is a result of not only a trip up to Massachusetts to see the drawing in October 2020, but also a subsequent six months of research and working very closely with art restorers on the restoration of the drawing, followed by a good six months of writing a catalog for this particular fair, and then planning the exhibition. Even though the exhibition itself is a week long, it's really the result of a full year worth of work."
Christopher shared that his time at an international school and immersing in another language at a young age influenced his choices in his education and entering a field that requires a knowledge of history, particularly European, underscoring that "all the material is rooted in an appreciation of language and history."
"I have lots of French friends, colleagues, and clients. I go to France at least once a year. Speaking a second language broadens your view of the world, and having that background and a mother who is French, I have both understandings of the world: an American understanding of the world and the French understanding of the world. It broadens not only who you can talk to but the ways in which you can think about the world because you're forced to consider multiple perspectives, culturally and politically, which is a healthy thing. It allows you to experience France and Europe and the francophone world in a way that would be difficult to do without the language. Being bilingual really changes the way you think, and it gives you a different window into the world; one which is quite valuable."
It is evident in the interview with Christopher that his educational experience at Silicon Valley International School (INTL) has made an indelible impact on his life and career. When asked to recall a favorite memory at INTL, Christopher says, "As a young person, memories are fragmentary. I remember the place and the classrooms and the teaching style. When I was a child, the things that made the biggest impression on me include récitation de poésie. We were asked to memorize certain passages from literature and recite these out spontaneously from memory. Children were taken very seriously, with the idea that even young children can be exposed to great literature and the arts without needing to predigest the material for them. It was an optimistic education model where the idea is to expose children to the best of the best, French literature, and poetry going way back. Through practice and exposure, we could assimilate the education."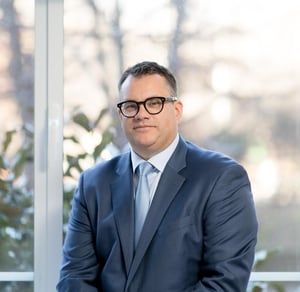 Christopher Bishop has emerged as one of the best young eyes in the field in the past decade. Specializing in Old Master Drawings, he has gained a reputation during this period for important new discoveries. His keen understanding of historical materials and styles has allowed him to uncover an uncanny number of sleepers in the auction houses and private collections of America and Europe. Honed during his years crisscrossing New England to find fresh works, his nose for important, forgotten works is an extension of his study of 17th and 18th century Italian and French art at Yale. Part art of memory, part perseverance, the connoisseurship which he practices is a learned skill reinforced through repetition and discipline. Learn more about Christopher Bishop and his gallery located on Manhattan's Upper East Side at www.christopherbishopfineart.com.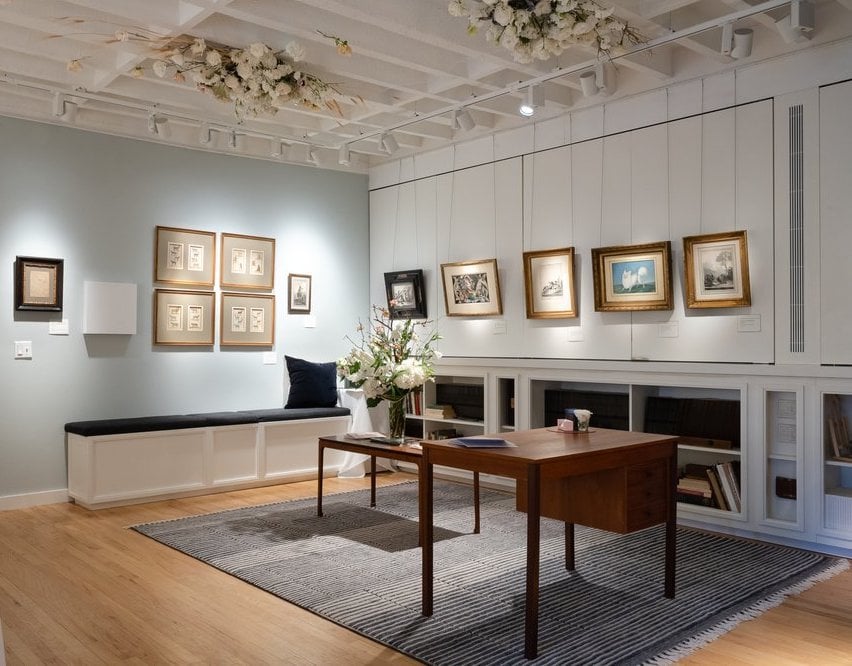 Additionally, discover all the people and the places that becoming a student at INTL opens for students by clicking here.
*In 2020, the school formally changed its name to Silicon Valley International School (INTL) to better reflect its bilingual programs, location, and international values.