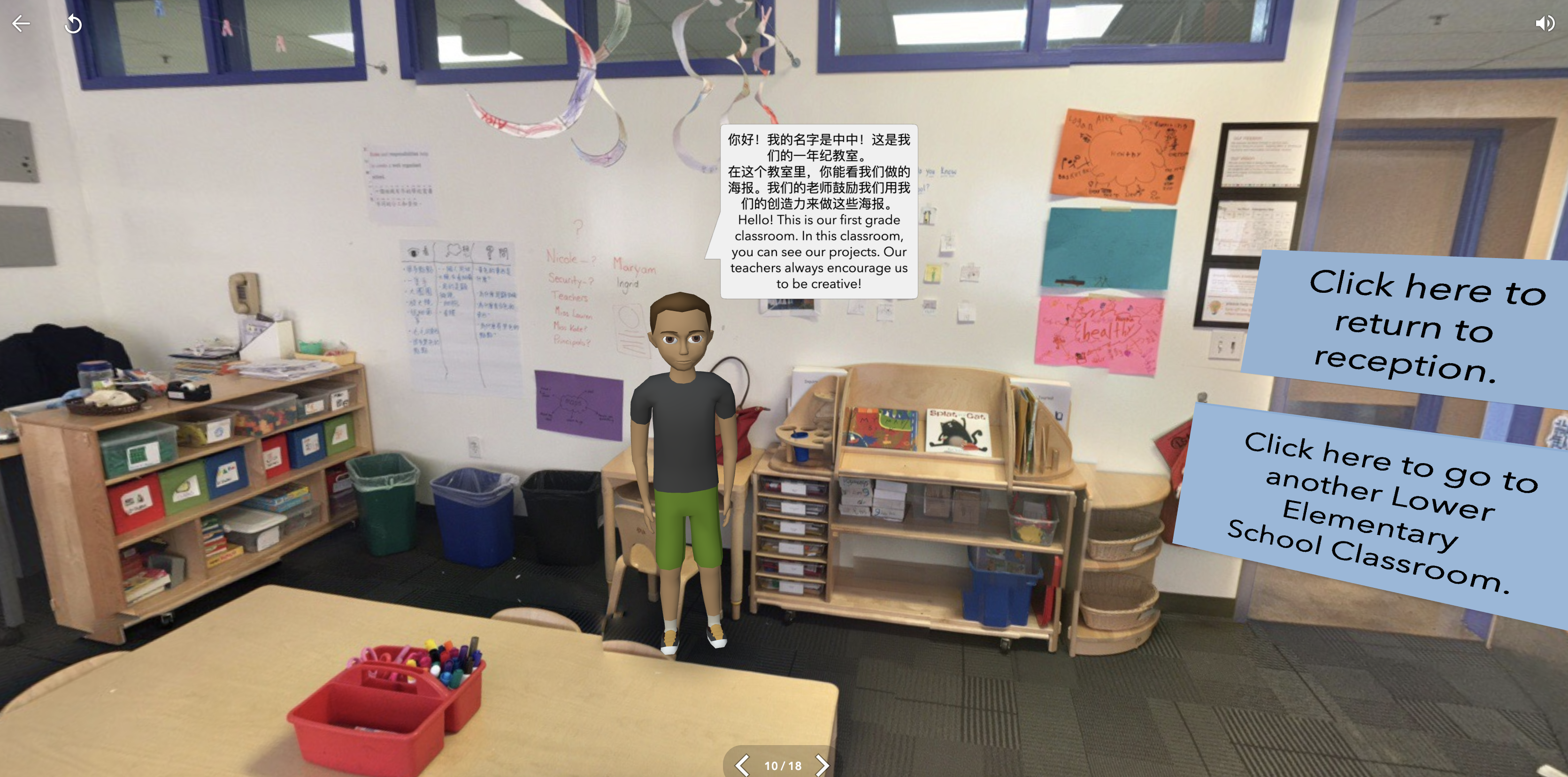 What might a prospective parent want to know about our school's Cohn Campus? What spaces would they like to see? These are the kind of questions the Middle Schoolers had to ask themselves when creating an interactive virtual tour of Cohn Campus for their design class, in a project that combined design thinking, coding, and virtual reality.
Creating a product for someone else and thinking from another's perspective is an essential part of the design thinking process. This project challenged the 8th graders to create a "product" for the Admissions Office – a virtual tour to help prospective parents learn about INTL*, even if they couldn't physically visit Cohn Campus.
Students designed their virtual tours using the online 3D creation platform CoSpaces, which allowed them to create 3D avatar tour guides and other points of interaction, imposed over photos of spaces around campus. A virtual visitor can use the Google Cardboard VR viewer and app to experience a fully immersive tour, but the tour can also be accessed on a desktop or mobile phone.
When a user "enters" a particular space – such as an elementary school classroom, the media hub, the playground, or the MakerSpace – they are greeted by a virtual guide. The guide explains where they are on campus, and answers common questions the middle schoolers decided a prospective parent might have about the space.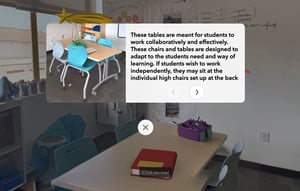 For example, the guide may direct the visitor to take a closer look at the classroom furniture – a click would give them a more detailed view and explain how the chairs and tables are designed specifically to adapt to student needs and facilitate collaborative learning.
Elsewhere, in an an elementary French classroom, you can click on an icon for more information about the French Program. In the hallway, you can click on a display to learn more about our exhibition for Hispanic Heritage Month. Throughout the tours there are multiple opportunities for interaction and for the visitor to learn about a bilingual education, from the perspective of the students themselves! Students also thoughtfully included elements in Chinese and French, both to show the languages spoken at INT'L and to help visitors who might not speak English.
This unique project was developed by middle school design teacher Elisabeth Lepert, who says that the project was challenging for students, with many photos to gather, decisions to make about what spaces and information to include, and avatars and interactions to code in CoSpaces. However, students were really motivated by the chance to create something to fulfill a real need, which is what the design thinking process is all about!
Experience three of the very cool virtual tours of Cohn Campus yourself at the links below!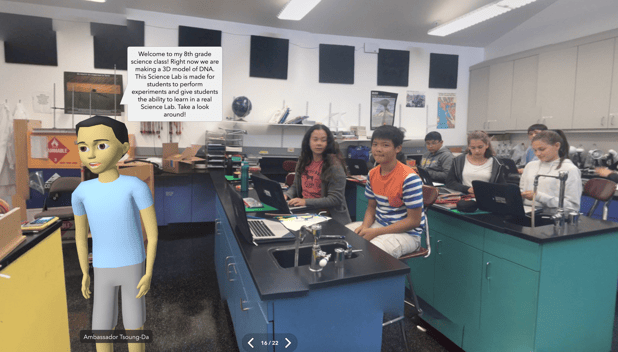 *In 2020, the International School of the Peninsula (ISTP) formally changed its name to Silicon Valley International School (INTL) to better reflect its bilingual programs, location, and international values.