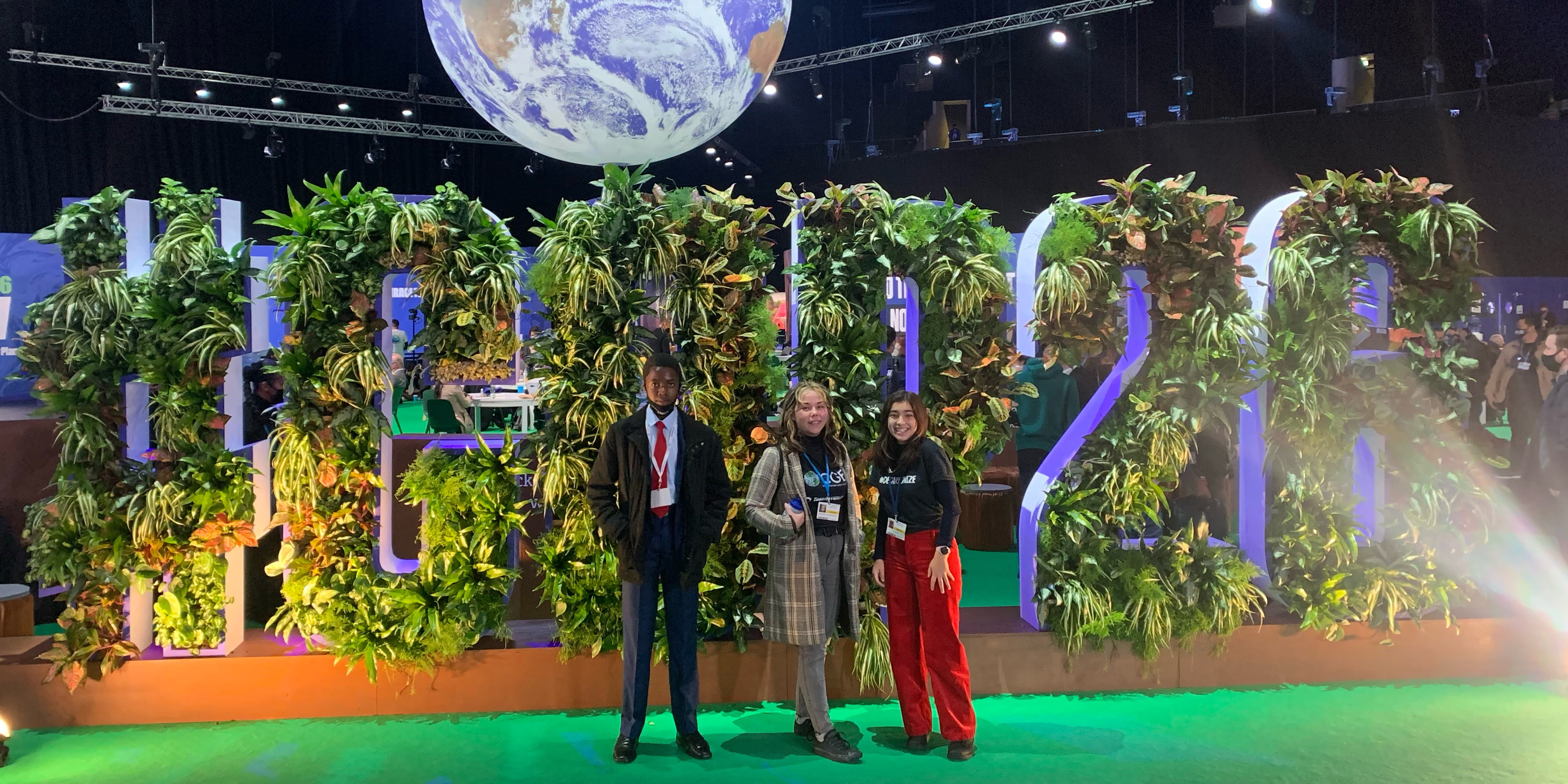 It isn't every day that you get to meet Al Gore and Bear Grylls as well as present a keynote speech at a World Wildlife Foundation event. Nyla H., Silicon Valley International School (INTL) 9th Grader, did just that and more at the 26th UN Climate Change Conference of the Parties (COP26) in Glasgow last month.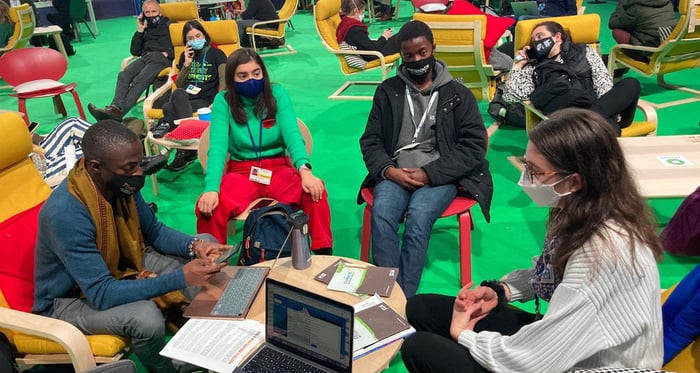 Meeting with the Ambassador for the UN Youth Envoy
Nyla first got involved in sixth grade when she joined an environmental club through #Decarbonize: #Decolonize, a collaborative, school-based project created by TakingITGlobal (TIG) that brought together K-12 students and educators, involving over 35,000 participants from 43 countries. That involvement soon spread out into a deeper engagement, expanding into connections with schools across the globe. The students would discuss the environmental issues and challenges they faced in their respective countries, which eventually ended up bridging to larger projects. Last year, Nyla was the club leader and scheduled to attend COP, a plan that was unfortunately canceled due to the global COVID-19 pandemic. While understandably disappointed, she continued with another initiative through a webinars series and talking to professionals in the climate sector.
This year, the leaders of #decarbonize and TIG heard about Nyla's work after leaving the club and invited her to become a Global Lead and the North American Lead, joining a team of seven other youth from around the world to represent the organization as Youth Delegates at COP26.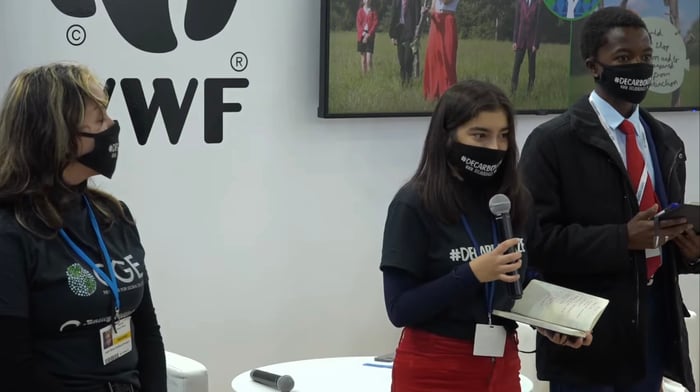 Speaking at the WWF event
COP is a yearly event to assess progress in dealing with climate change and to establish legally binding obligations for developed countries to mitigate the climate crisis. The event is attended by heads of state, delegates, and scientists. One can also find other crucial environmental action individuals, like Al Gore, who Nyla managed to meet as he came out of a meeting. The event is divided into a restricted Blue Zone for delegates and other authorized individuals and a more public Green Zone. Nyla describes her experiences there:
"So for me, there were two things that I was there for: listening and learning as well as attending conferences. And also, I spoke at a few events. I opened the WWF [World Wildlife Foundation] Pavilion on Youth Day, and that was when I got to speak. And that's when I got to meet Bear Grylls because he was a keynote speaker as well."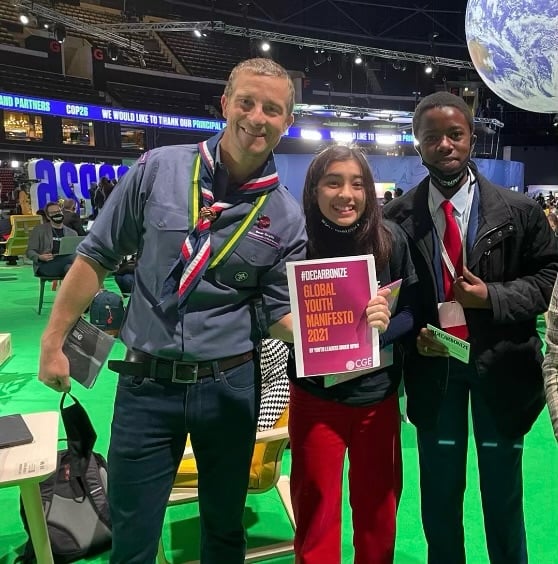 Presenting Bear Grylls with the #Decarbonize Global Youth Manifesto
Nyla's speeches focused on youth involvement in pushing for change and enacting solutions to the climate crisis. She also spoke about incorporating underrepresented voices in the climate conversation, in particular women and people of color. Nyla found that the "behind the curtain" access to the Blue Zone provided her with a valuable perspective on efforts and involvement of the government and nonprofit organizations.
"Usually you'll see WWF, you see the panda adverts and everything, but when you stand in the pavilion, and you get to talk to people and say, okay, what initiatives are you actually doing? Because when you're standing on the outside, you say 'okay, maybe they are actually trying', or 'maybe this organization isn't allowed in'. When you are actually in there, you get a much better idea of what is really happening and what isn't happening. Some of the green zone and even parts of the blue zone sometimes felt like a PR event. And they were like saying, 'well, we're giving you a voice.'"
"We have a voice. We need you to give us a platform."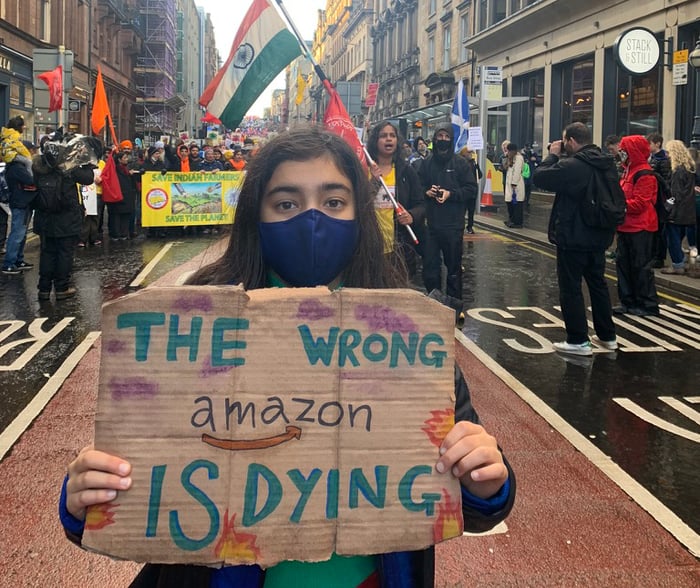 At the 100,000 person climate march
Nyla recommends that there are two things people can all do right now. Firstly, one should gain a deeper understanding of what the climate crisis is. There are scientists, researchers, speakers, and advocates providing a wealth of information to develop a better sense of the climate crisis beyond just global warming.
She also recommends supporting established environmental movements and organizations rather than creating a new one that duplicates existing services.
"The biggest thing is if you're going to raise money, then give it to existing organizations. I think a lot of people just jump into making their own. Then the unfortunate thing is that a lot of times, the existing organization has more resources than the smaller organization. And the small one just kind of gives up and thinks there's no point. There is a point. I think that it's extremely valuable to have your own individual opinion, but also be able to take that individual opinion and say, 'This is what I'm giving to the world, but it's not just my voice against the world. There are a lot of people who I can unite my voice with as well.'"
INTL is proud to have Nyla as a member of our community and a shining example of the IB learner profile attribute, principled, which states: "We act with integrity and honesty, with a strong sense of fairness and justice, and with respect for the dignity and rights of people everywhere. We take responsibility for our actions and their consequences."