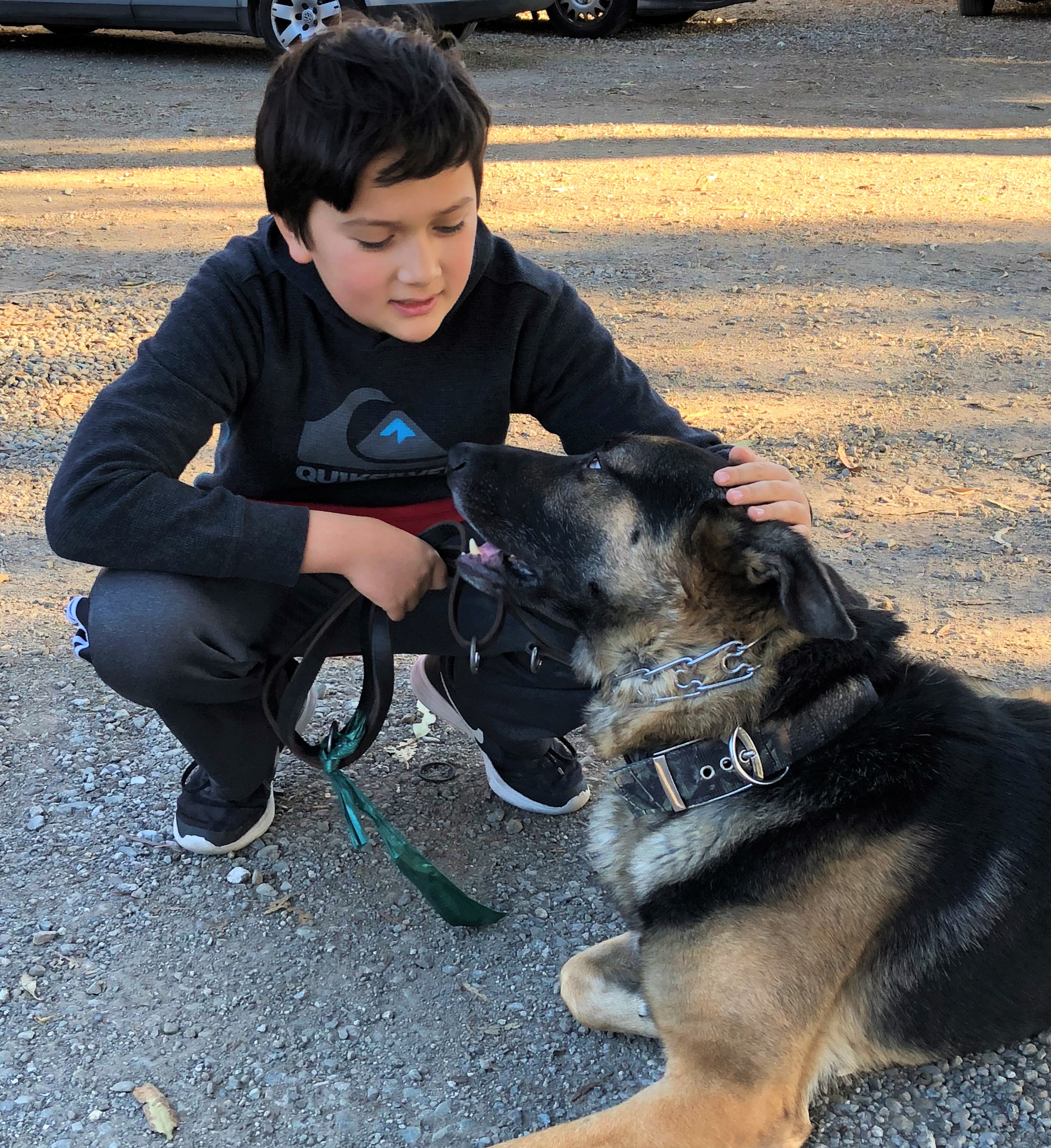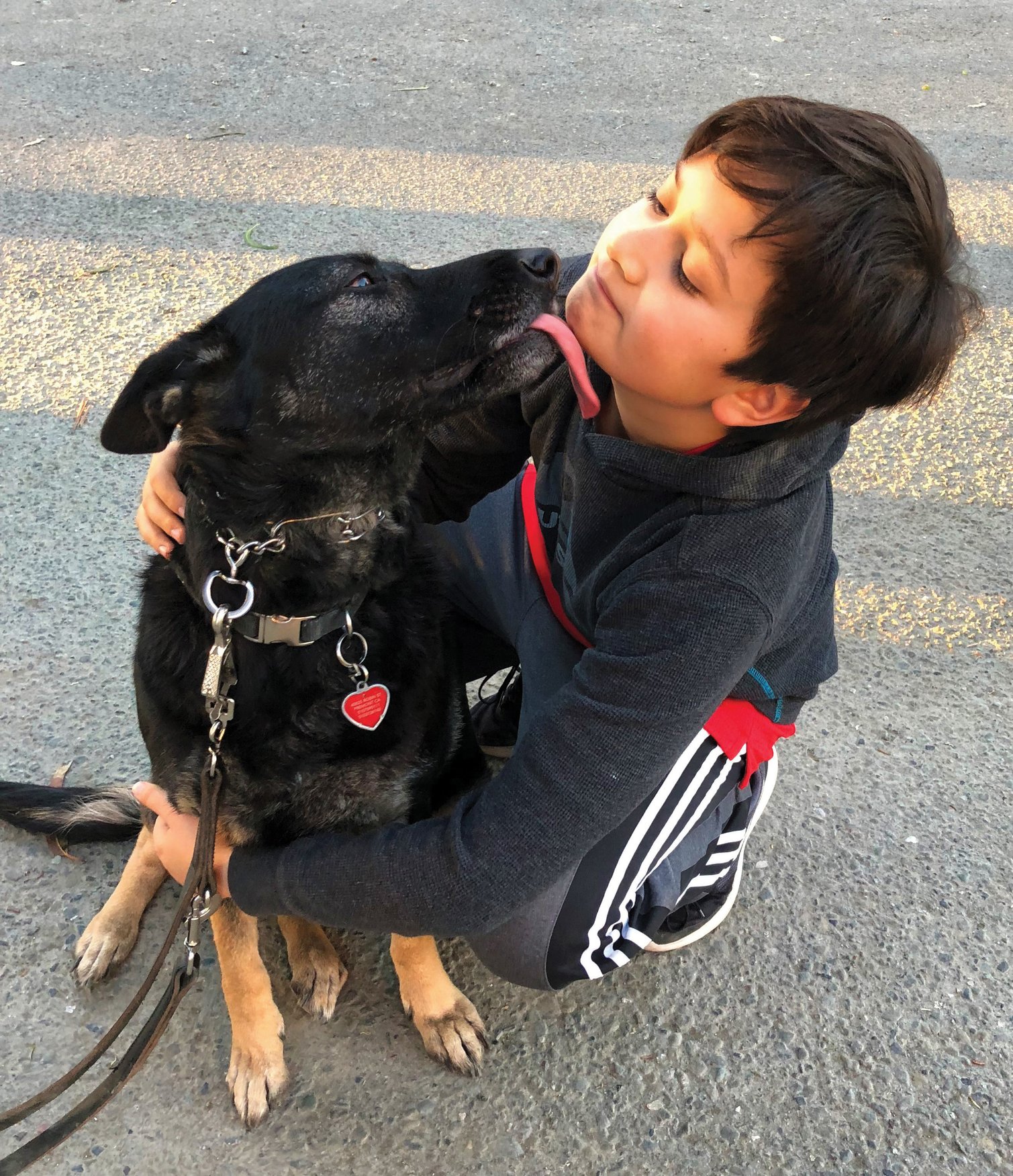 Last month, our International Middle School 6th graders created their own service learning projects as part of their unit on The Giver by Lois Lowry. They thought about their personal interests and abilities and then located needs within their community where they would enjoy volunteering. This project was an incredible opportunity to reinforce important learner profile attributes – including principled, caring, reflective, and courageous, .
6th grader Kasper H. wrote this reflection on his experience.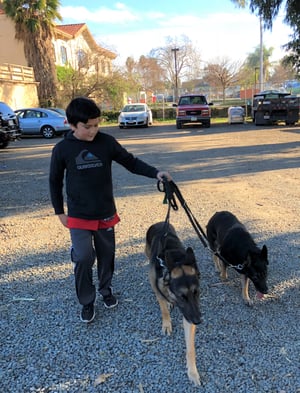 I chose to volunteer at an organization called "American Canine Institute." This organization provides many dog training sessions in different cities throughout the week. Upon arrival, I saw that all the trainers' dogs were in their trucks. When I asked them what I could do to help, they said I could help keep their dogs company and train them while they teach class. Of course, the dogs are fine with being in the car, but they prefer to be trained and active.
The first dog that I met was Max, a German Shepherd. According to trainer Gene, he was on the death row at a kill shelter. I was so relieved that he was rescued by Gene! I noticed that Max was quite calm and very obedient, just like a therapy dog. However, as soon as Robert, another trainer, brought in three more German Shepherds, Max got very excited. I decided I wanted to train Max for a little bit first, and then meet the other three German Shepherds. I started with the simple commands: sit, down, and stand when walking him around the parking lot. After that, I moved on to the harder ones: stay and come. I walked him to the end of the parking lot, and told him to sit and stay. He did obeyed the stay command well, but when I said "come," he immediately took off toward one of the puppies that was taking the class. Fortunately, I gained better control of Max as I trained him more.
Next, I met all three of Robert's German Shepherds, Zeus, Simon, and Zena. While Zeus and Simon were very aloof, Zena was loving and affectionate. Whenever I'd pet or show attention to another dog, she would come right in between us, as if to say, "Hey! I'm not being loved and another dog is?! I want love too!"
After I got to know Zena, I decided to train her because she seemed to be very easy to handle. First, I walked her to the end of the parking lot and told her to sit. She didn't budge. I commanded her again, and she still would not sit. Finally, I decided the best way to get her to sit was to bend down, touch the ground with my hand, and then give her the command. However, Zena seemed to interpret my bending down as a signal that she had officially been permitted to kiss and snuggle with me! So she came over, licked me all over my face, and moved her head against my body affectionately. Although I love hugging and showing love to an animal, the master trainers had asked me to train Zena. So to get back on task, I patted her and gave her a brisk hug, and tried yet again to convince her to sit. It took a while, but I finally succeeded by giving her a little push in her rear. Then, I told her to stay while I walked away to the trainers. Lastly, I told her to come, and she came running to me and gave me many doggy kisses. I took turns training Max and Zena for the rest of time until class ended.
One of the principles I demonstrated during my volunteering was faithfulness. I believe that after a loved one passes away, it is not right to move on and pretend nothing had happened and that that loved one was trivial. In my case, my beloved German Shepherd Magic, was killed by a speeding car on January 27th 2018. I didn't just want to volunteer at any dog training organization. Instead, I remained faithful and assisted the trainers at the dog training organization that my mom had taken Magic to for over 4 years. Therefore, faithfulness was one of the principles that I had demonstrated.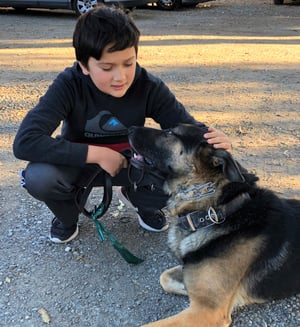 Another principle I demonstrated was courage. I believe that I should never be afraid to face a tough situation. In this case, the fact that Magic died and I had to go where he was trained presented a challenging situation. I wasn't afraid to go back to where he was trained and to help train German Shepherds who resembled him in physical appearance. Further, I wasn't afraid to miss Magic or feel nostalgia, or to get emotional if I had to.
The last principle I demonstrated was positivity. I think that you should go into any situation, tough or easy, with a positive attitude. In this case, the situation was going to where Magic had been trained after he had passed. Instead of being negative and spending all my time moping around, I reflected on the good moments we had shared together. Instead of being an outcast and not willing to interact with other German Shepherds, I trained them, had fun, and found joy in spending time with them.
Although I experienced different emotions during the volunteering hours, I did not feel that I was making any sacrifices for the community. I think that when you enjoy and find satisfaction or comfort in what you are doing, it will not feel like a sacrifice. In this case, I was volunteering to train German Shepherds who will always hold a special place in my heart because of Magic. Therefore, because I had the opportunity to train German Shepherds, my favorite dog breed, I did not feel that this was a sacrifice for the community. As a matter of fact, it was a very rewarding and healing experience that helped me grieve for Magic.
*In 2020, the International School of the Peninsula (ISTP) formally changed its name to Silicon Valley International School (INTL) to better reflect its bilingual programs, location, and international values.