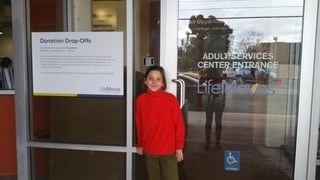 Last month, our International Middle School 6th graders created their own service learning projects as part of their unit on The Giver by Lois Lowry. They thought about their personal interests and abilities and then located needs within their community where they would enjoy volunteering. This project was an incredible opportunity to reinforce important learner profile attributes – including principled, caring, and reflective.
6th grader Claire Y. wrote this reflection on his experience.
For our summative assessment this unit, we were asked to volunteer in our community to help someone or solve a problem, then write a reflection about our experience and the attributes we demonstrated.
For the summative assessment, my first idea was to go to an animal shelter. Sadly, that idea did not work out because there was a minimum age requirement and I did not make the cut. Therefore, I abandoned the idea. My next idea was to help sort clothes at a clothing resale store in East Palo Alto which is similar to Goodwill. Unfortunately, the organization emailed us back saying that they were already all booked up with volunteers. Then I tried to volunteer with Katya at her grandmother's senior home but I was gone all break so I could not go with her. Then I had the idea of making useful care packages for homeless women. Luckily, that idea was turned into reality.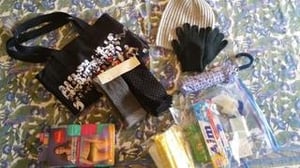 For my project, I decided to make care packages for homeless women in need. The care packages included: an umbrella, feminine products, underwear, gloves, beanie hat, toothbrush, toothpaste and Vaseline, all put in a tote bag. When I finished them, I brought them to an organization called "Opportunity Center." The reason this center was built was to address the problem of homeless people and people on the verge of becoming homeless in our community. At this center, homeless people can go to get job advice, health care, resources, gift cards for meals, sleeping bags, bus tickets and just things that they need in general to survive.
While making the care packages, I felt like I was already making a difference in our community even though it was just a small start. I feel like I showed empathy and was an inquirer while making the packages because I had to put myself in their shoes to figure out what things that they might need because of the problems they face every day. I also feel like I showed caring while working on this project because I had to care about those in my community and not only people I know but also strangers in need. I also needed to be reflective about where my interests and skills could be used in my community.
On an everyday basis, many people see homeless people in the streets and most people with a good conscience feel bad for them, but only a small percentage of those people actually try to make a difference.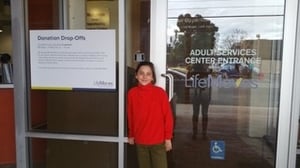 When I arrived at the center, we saw several people outside with signs and in ragged clothes. I could already tell that even though that this project was small, that I was going to make some people happy with the care packages.
I do not necessarily think that my project was a huge sacrifice for me because, although it did cost me some money and time to create the care packages and deliver them, I enjoyed the planning and creative aspect of the project and it made me feel good to think that I might be making someone's life more comfortable in a small way.
It was surprising to me that the Opportunity Center was just outside the Town & Country shopping center where I often shop with my mom at Trader Joe's, yet I never knew it was there. This project made me think about the people all around us who are struggling and we might not know it or even notice. I am glad that this project made me look a little harder around me for people who might need help and encouraged me to help them. I hope to continue volunteering to make my community a better place.
*In 2020, the International School of the Peninsula (ISTP) formally changed its name to Silicon Valley International School (INTL) to better reflect its bilingual programs, location, and international values.