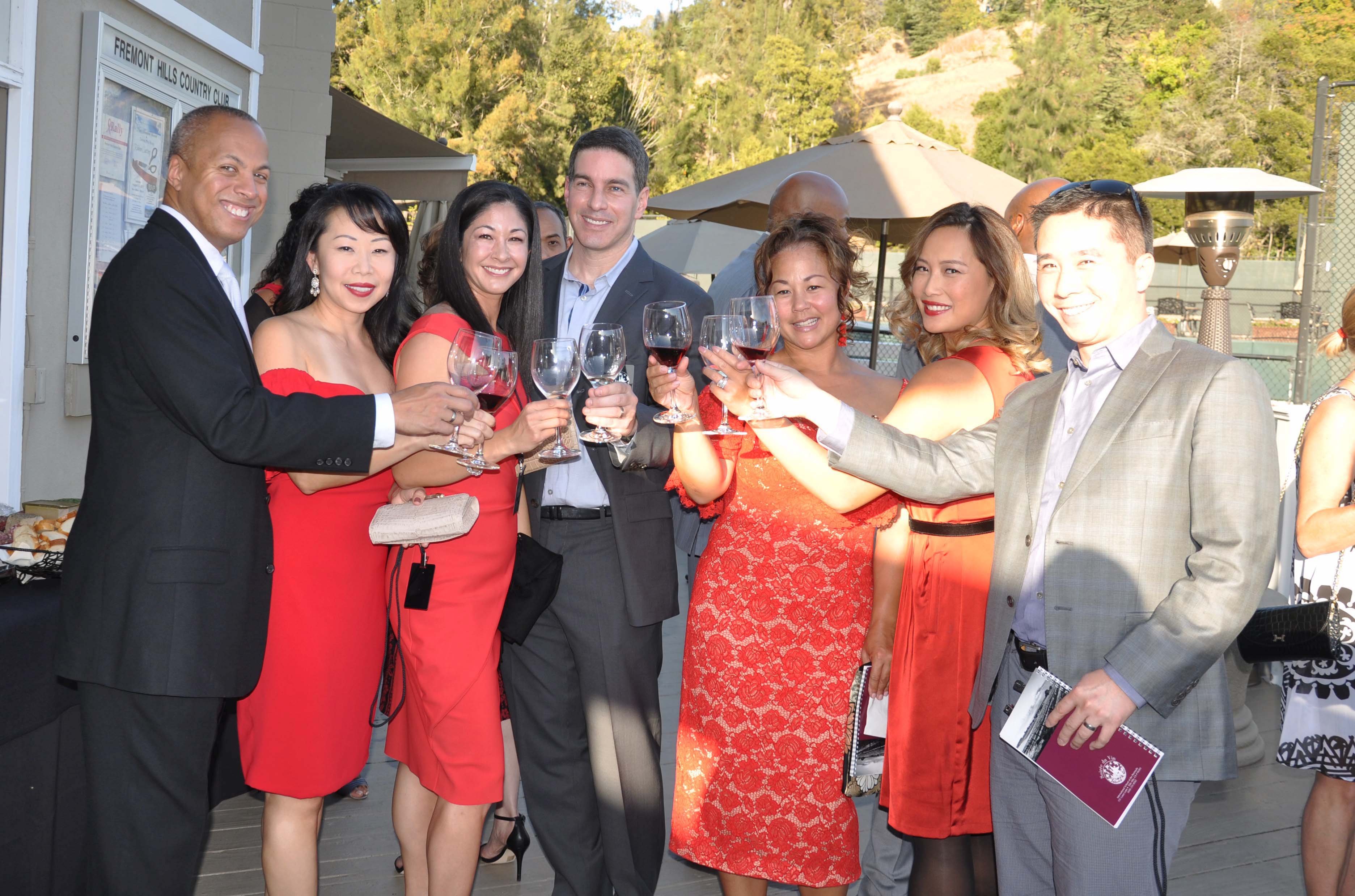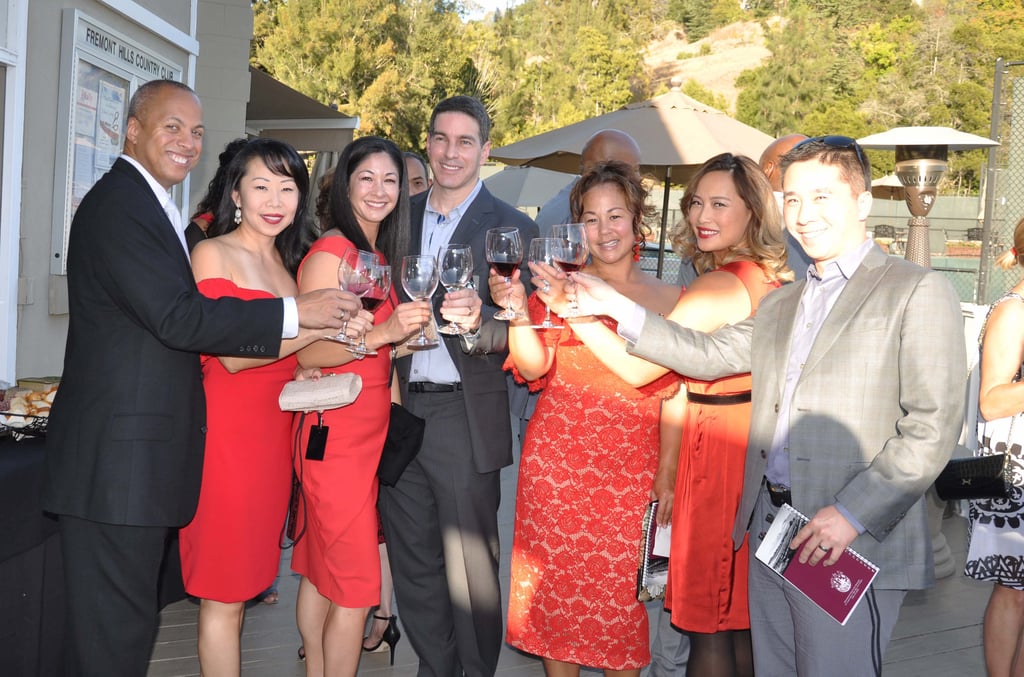 There was definitely something special in the air at this year's Soirée du Vin Wine Auction. The night began with perfect early autumn weather for our pouring hour on the sun-dappled terrace of the Fremont Hills Country Club. Guests embraced the "rouge et blanc" theme, and came in their most elegant red and white cocktail attire. While sampling the offerings from seven prestigious California vintners and mingling with great friends and fellow INTL* parents, it was clear from the beginning that this was going to be a special night.
That feeling was borne out during the dinner and live auction, which generated more excitement and spirit than we have ever seen at any previous Soirée du Vin, raising an unbelievable $160,000 for our Charlotte de Géry Endowment Fund – far exceeding last year's figure – as well as $20,000 for Fund the Future.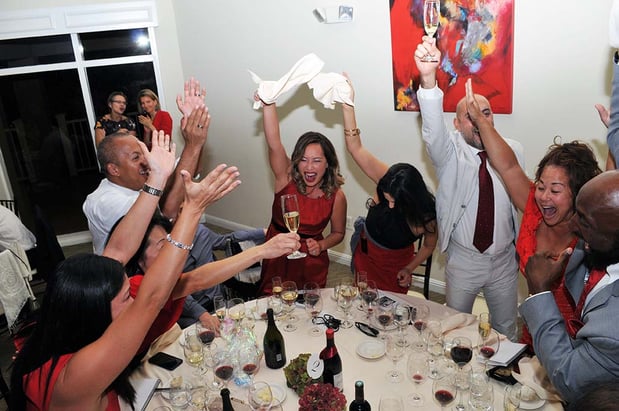 This incredible achievement came about because everyone in attendance – our parents, friends, donors, and the winemakers themselves – pulled together to encourage each other to greater and greater feats of generosity.
Two winemakers in particular deserve special recognition for their contributions to the auction – Rob Jensen of Testarossa Winery, the night's special guest speaker, and Jim Clendenen of Au Bon Climat Winery.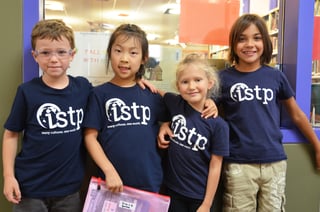 Mr. Jensen kicked off the evening with a keynote speech about the history of Testarossa Winery and their very Silicon Valley success story, beginning in a garage and transforming into a renowned California vintner. He related how Soirée du Vin is near and dear to his heart because "I have an engineering degree but I minored in Italian and studied and lived in Europe, and that is a big part, if not the sole reason, why I am now in the wine business. So, supporting international education and bilingual education is a very important passion for me personally."
His passion shone through during the auction. When competitive bidding for a Testarossa Winery tour reached $10,000, Jensen quadrupled his lot in an unprecedented act of generosity, singlehandedly raising $40,000 for INTL, and setting a record for the most valuable Soirée du Vin auction lot ever!
Au Bon Climat's Jim Clendenen also helped to make the auction special. His Santa Barbara Wine experience, including a stay at his ranch, gourmet wine and food, and an insider's view into the operation of his winery, always proves to be one of our most coveted lots. This year, Mr. Clendenen took to the podium to speak about how blessed he feels to have hosted more than 20 wonderful INTL parents over the years, and the feeling was obviously mutual, because a bidding war for his lot broke out between two couples who had both won the lot previously and wanted a return visit! Clendenen was touched that they were so eager to return, and he doubled the lot, adding an additional day to each visit so that both couples could make a special return trip – raising $14,000 for the school.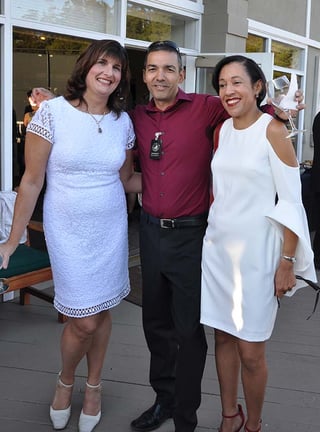 Of course, bidding only rose to these extraordinary levels because of our amazing parents. The enthusiasm of one table in particular at the front of the room led the way, motivating the whole room to bid ever higher. Parents were also eager to support each other, and auction lots put together by groups of INTL parents proved to be particularly popular. An 80s dance party organized by six INTL parents sold for $12,000. A Judgment of Paris dinner, also organized by a group of parents including Co-Chairs Tania and Stéphane Hauradou, finally closed at $11,000 after an intense bidding war.
There was indeed something special in the air at this year's Soirée du Vin – enthusiasm, community, generosity, and above all a passion for supporting INTL.
Special thanks to first-time Soirée du Vin Co-Chairs Tania and Stéphane Hauradou. They put in countless hours of hard work, and it was their dedication to the event's success that made this uprecedented evening possible.
*In 2020, the International School of the Peninsula (ISTP) formally changed its name to Silicon Valley International School (INTL) to better reflect its bilingual programs, location, and international values.