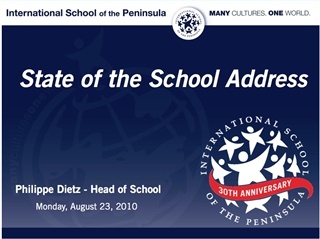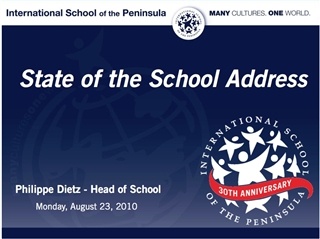 On Monday, August 23, we had our New Parent Orientation Night onCowper, and welcomed approximately 79 new families to INTL*. Unfortunately for all of us, an unexpected heat wave hit Palo Alto. While we were burdened by the stifling heat, everyone still stayed to not only listen to a presentation specifically for new parents, but were also joined by current parents to listen to the State of the School Address. This was the third time in the history of our language immersion school that we have had a State of the School Address, and I thank all the families who were in attendance.
It's important to understand the factors that make us who we are, to share budget and financial information, and to discuss our goals and our plans for the future. As I stated last night, one of our main goals is not to just be a good school, but to be a great school. That happens only with the cooperation and support of all of our constituents; it really is a triangle of support between parents, teachers/administrators/staff and students.
*In 2020, the International School of the Peninsula (ISTP) formally changed its name to Silicon Valley International School (INTL) to better reflect its bilingual programs, location, and international values.