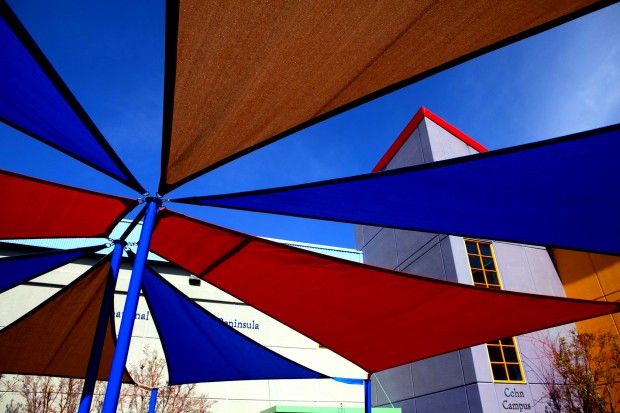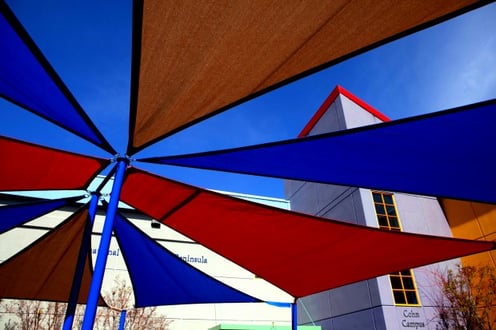 Anyone who spends time on either of our campuses immediately senses that INTL*is a caring and safe learning community. This feeling was verified by a recent school safety assessment, in which INTL was found to be one of the safest schools in Palo Alto.
This past Monday, Officer Dan Pojanamat of the Palo Alto Police Department toured both our campuses to assess the safety of our buildings and grounds. Pojanamat is the PAPD's School Resource Officer, a position devoted exclusively to ensuring the safety of Palo Alto schools, both public and private. INTL has worked with Officer Pojanamat in the past - earlier in the year, he came to campus to conduct a safety training seminar with our faculty and staff.
After touring Cohn and Cowper, Pojanamat related that of all the schools he has worked with, INTL, along with Castilleja, ranks at the top in terms of safety. He cited several reasons why INTL is so safe. First, unlike many schools, all entrances to our school are locked – including all building doors and playground gates. On Cohn, even the parking lot is secured with locked gates. Second, from the time the first student arrives to the time the last student departs, both our campuses are guarded by security officers. Lastly, Pojanamat cited INTL's visitor sign-in system, through which we carefully monitor who is on campus at any given time.
Officer Pojanamat was very impressed with the safety measures we already have in place at INTL. But he also proposed some additional measures we could take to make our campuses even safer. We are currently pursuing these suggestions.
We would like to extend our thanks to all the donors to this year's School Security Fund-A-Need for making these new safety improvements possible.
*In 2020, the International School of the Peninsula (ISTP) formally changed its name to Silicon Valley International School (INTL) to better reflect its bilingual programs, location, and international values.